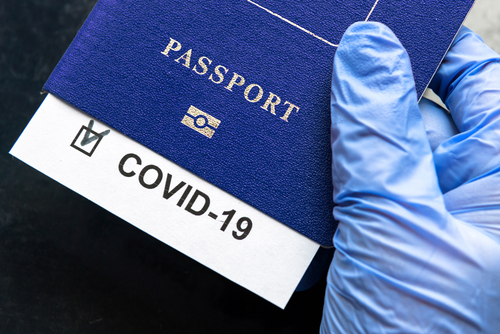 Proof of vaccination or of recovery from the infection is increasingly being demanded, not just for international travel but also within many countries. The rising demand for a covid passport threatens our liberty going forward because COVID is certainly no more lethal than the flu and appears to hit the same age group. With every disease, there are always exceptions. Some countries are looking at considering booster shots of vaccines also being mandatory. But the real problem here is it surely will not end with COVID. Once we move down this path, the end game is to eliminate international travel as much as possible. For will we need mandatory flu shots every year as well? What about every other disease?
Israel began giving extra shots of the Pfizer/BioNTech jab to over-60s this week and intends to have 1m vaccinated by the end of August. I seriously doubt that Israel would be vaccinating their population if they believed that the vaccine would be lethal in the years ahead. The real problem is that we are all not the same. The vaccine has been lethal to some people and not to others.
There really should be studies undertaken the determine who should not be vaccinated. But this mad rush for everyone to be vaccinated has been cleverly pulled off by Bill Gates for has been funding EVERY government agency around the world not just in the USA right up to the World Health Organization. Then he owns a huge chunk of the vaccines and his conflict of interest would be criminal for anyone else in the financial industry. But the SEC lets Bill Gates free on every count.
France has decided to provide boosters from September to 1.7 million people in care homes, those over 75. Additionally, those who have health conditions that make them vulnerable will also be vaccinated. Germany is following suit. Britain has not decided whether it will distribute booster shots. China does not think the general population will require boosters within a year of vaccination. In the Middle East, Bahrain and the United Arab Emirates will offer a shot of Pfizer to some people. Indonesia plans to give healthcare workers booster shots.
The emergence of the Delta variant is spreading rapidly and is infecting the fully vaccinated. Senator Lindsey Graham was fully vaccinated and he came down to the Delta COVID variant. Graham said he "started having flu-like symptoms Saturday night" and went to the doctor Monday morning. After testing positive, Graham said he would quarantine for 10 days. He further said:
"I feel like I have a sinus infection, and at present time, I have mild symptoms, I am very glad I was vaccinated because without vaccination, I am certain I would not feel as well as I do now. My symptoms would be far worse."
Yet I know people who had COVID and it was like the flu and gone in a week without vaccinations. While the vaccine is NOT lethal for all people, it is to some. But the real concern here is long-term when Moderna admits it designed its vaccine in 2 days. What is clear is that the fully vaccinated can still get COVID and can still spread it to others. So these vaccines DO NOT offer a 100% guarantee against COVID and they will NOT stop such a pandemic.
So what is the whole point of COVID Passports? This appears to be more control than anything else and then what about every new variant and other diseases? With all of this hype, it is not simply going to go away. This is NOT a coincidence that Socialism is collapsing and the negative interest rates have wiped out the bond markets. This Great Reset has been grasped by politicians for they fear civil uprisings when pensions fail and governments can no longer function if they cannot borrow. Welcome to the REAL all-new Great Reset – where you will not be allowed to travel to prevent uprisings and your pension will vanish to be replaced with Guaranteed Basic Income.