by Ruby Henley
We woke up this morning, August 29, 2017, to hear the UN Security Council is meeting on North Korea.  Russia surprisingly said "sanctions do not work." President Trump has also spoken about putting new sanctions on China.
We know that North Korea just launched a missile over Japan.  Some say it was actually three missiles, and some say it was one broken into three parts.  We do not know yet what President Trump wants to do, but he just said "all options are on the table." Are talks going on behind the scenes between the United States and North Korea?  It does not appear to be happening. However, the current war games between the United States and Japan have not helped the situation. North Korea is determined to become a nuclear power, and the United States is going to have to accept that or go to war.  Which will it be?
President Trump is flying to Texas today to oversee the floods in Houston; however, this morning, we hear it is has become more severe.  Plus, now Louisiana is flooding, so Trump has his hands full, a historic challenge to any Presidency.  However, Trump has remained calm and focused.  Below are three BLOOMBERG videos that will help bring all of this into perspective.



How are the markets reacting to possible war with North Korea and the deluge in Texas from Hurricane Harvey?
www.bloomberg.com/news/articles/2017-08-28/yen-gains-s-p-futures-fall-after-korea-missiles-markets-wrap
Stocks slumped across Europe and Asia and havens including gold jumped after North Korea fired a ballistic missile over Japan, rattling markets from London to Sydney. Gasoline climbed as energy companies braced for another hit from Tropical Storm Harvey.
As equities retreated, volatility rose and bonds gained in classic risk-off moves. U.S. stock futures also tumbled, Treasuries jumped and the dollar weakened. Gold surged to the highest this year, while the Swiss franc and the yen were the best-performing major currencies. The euro climbed above $1.20 for the first time since 2015, adding yet another headwind for the region's stocks. Gasoline headed for a sixth day of advances as Harvey picked up strength again after inundating refineries along the Texas coast.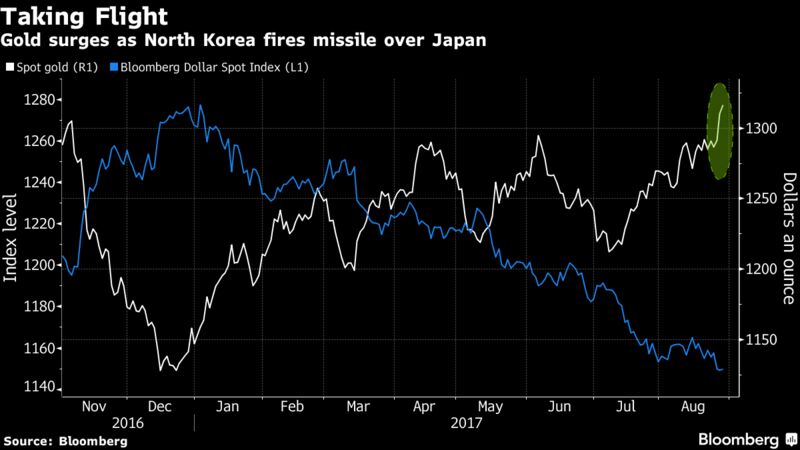 With Hurricane Harvey continuing to wreak havoc in Texas, its full economic impact is still unclear. Current estimates range from $30 billion to $100 billion, either of which would make the hurricane among the world's most costly catastrophes since at least 1970. And this is happening in what was considered a few short weeks ago as a fairly tame weather year. According to Swiss Re, total economic losses from disasters were $44 billion in the first half of 2017, down 62 percent from the first half in 2016. The biggest losses were from thunderstorms, and more than half of the $44 billion was insured. Although forecasters are reluctant to estimate how much of Harvey's damage insurers might pay, Chuck Watson, a disaster modeler with Enki Research, puts the figure at about 27 percent, far less than the 47 percent paid out for Hurricane Katrina.
It's already clear that "an abnormally high portion of economic damage caused by flooding will not be covered," according to an Aon Plc alert to clients cited in a Bloomberg News story. This scenario doesn't make sense from a human perspective, and lawmakers in Congress are moving on measures to provide emergency funding.
Most Houston properties aren't in zones that require flood insurance.


But the shortfall doesn't make sense from a market perspective either — not when there is ready money willing to backstop this type of risk. Debt investors are clearly interested in buying catastrophe bonds. These securities raise money for covering disasters by offering holders above-market returns to compensate for the risk that severe losses could wipe out principal. Investors bought a record amount of such debt in the three months ended June 30, according to industry trade publication Artemis, and many deals had more potential buyers than bonds to sell.
The National Flood Insurance Program has yet to attempt offloading risk in public bond markets. In fact, it only just started working with insurance companies to offset potential losses, purchasing reinsurance for storm losses above $4 billion earlier this year, according to Bloomberg Intelligence. Theoretically, it would be cheaper for the government to get financed through an open market process. While flood-linked catastrophe bonds wouldn't be the entire solution, they could be an important tool for filling the funding gap, according to Gary Martucci, an S&P Global credit analyst.
Rebuilding from floods will only become more costly for taxpayers in the years ahead. Many analysts expect large, unpredictable storms to become more frequent as seas get warmer. For now, there's an odd disconnect between the market for flood insurance and everything else.
As the rest of the U.S. helps Houston rebuild itself, it's important to find ways to expedite future recoveries. This means that the program will have to be honest about the amount it needs to charge homeowners, and work with investors to determine a reasonable price to pay for protection against catastrophes.  This is only going to become more common. It's irresponsible not to deal with it head on now.


3,104 views