Last week, a woman fell ill of COVID-19, not long after categorizing the virus as a "hoax".
In a Facebook post, Karen Kolb Sehlke criticized the "media-driven" hoax "controlled by the radicals in power."
Karen also believed that "our government is under attack from within" while comparing the virus to "the impeachment hoax" and saying that the people who think the current crisis is real "panic like sheep."
In addition, she referred to the coronavirus as the "beginning of socialism." Here is some of what she wrote.
"Wake up!!! This is what the beginning of socialism looks like!

…

They are leading with fear causing you to panic like sheep.

… You don't need hand sanitizer, toilet paper, and Lysol. You need common sense, a sense of direction, faith, a will to fight, and of course guns!

Now wash your hands and live the life they don't want you to have!"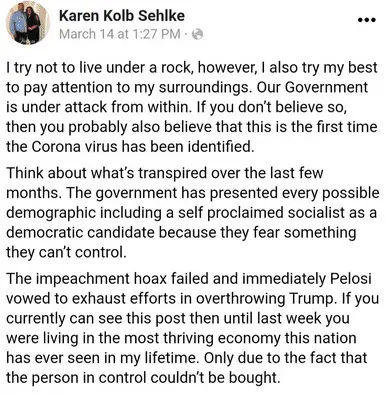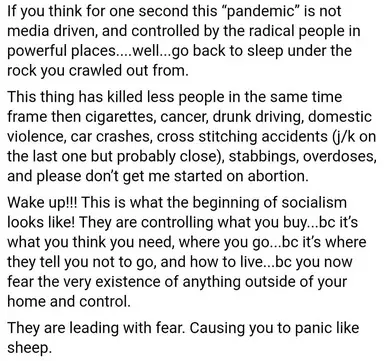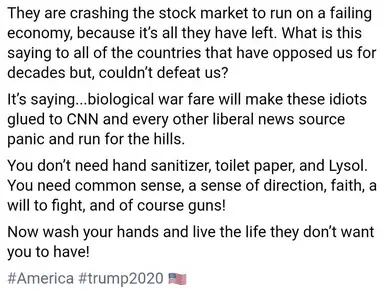 According to reports, she passed away on April 2 in Tomball, Texas due to kidney problems caused by the coronavirus. After her passing, her family created a GoFundMe page in order to cover the funeral costs, which has thus far raised $35,090.
Here is how some people reacted to the story:
March 14th: *posted COVID-19 hoax, anti-socialism rant on FB*

April 2nd: *died of COVID-19, family asking for GoFundMe donations*

I post this not to mock Karen Kolb Sehlke's death, but to underscore the tragic risk one takes when taking this pandemic for granted. #RIP #StaySafe pic.twitter.com/MAKYAYVyGx

— Sunn m'Cheaux (@sunnmcheaux) April 4, 2020
www.iheartintelligence.com/woman-who-claimed-coronavirus-was-media-driven-hoax-dies-from-covid-19/amp/
86 views