You've Been Warned…. h/t @epomboy pic.twitter.com/G5K8CKVmmg

— Alastair Williamson (@StockBoardAsset) September 20, 2017
" the pace of dividend cuts for the third quarter is at a level that is consistent with recessionary conditions" t.co/eNfb40qQMl

— Alastair Williamson (@StockBoardAsset) September 19, 2017
Despite having the potential to be the best quarter in 2017, the pace of dividend cuts for the third quarter is at a level that is consistent with recessionary conditions being present in the U.S. economy. Based on our near-real time sampling of dividend cut declarations, those conditions are largely concentrated in the oil and gas industry, which has accounted for 23 of the 37 dividend cuts announced since 1 July 2017. The financial and real estate industries rank second, accounting for 10 of dividend cuts that have been announced so far during 2017-Q3.
Compared to a year ago, however, we see that 2017-Q3 is faring slightly worse than 2016-Q3.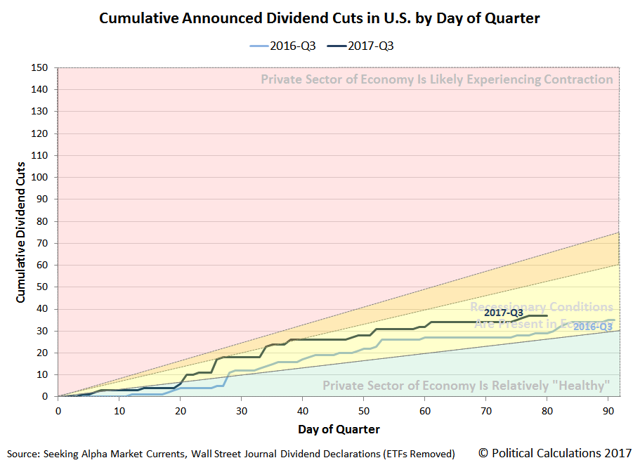 We'll wrap up the stories for dividend cuts in September 2017 and for 2017-Q3 on 3 October 2017.
stockboardasset.com/insights-and-research/pace-dividend-cuts-slows-near-end-2017-q3/
Something something retail left to hold the bag pic.twitter.com/rG45qTLz1B

— Teddy Vallee (@TeddyVallee) September 19, 2017
Toys R Us couldn't even survive in a zero lower bound. LOL. Is Best Buy Next? pic.twitter.com/RjX9oLzkps

— Alastair Williamson (@StockBoardAsset) September 20, 2017
The U.S. Economy Is Dead in the Water
Meanwhile, back in the U.S.…
Business revenues (sales) are becalmed… growing at less than 1% a year over the past 10 years. And that's before you account for inflation!
And business profits are going nowhere. They're rising at a rate of about 2% a year… or roughly equal to the rate of inflation.
Household incomes and hourly wages – though subject to a lot of fudging – are dead in the water, too.
Officially, they are now back to where they were at the end of the last century.
But for some segments of the population – men with no college education – the situation is catastrophic; they've lost real income for the last 50 years.
A dead man lies immobile for a long time. But a debt-fueled economy cannot even sit down. It is inherently unstable. It must move forward… or collapse.
Consumers spend money now they hope to earn later on. The feds, too, promise benefits they can afford only if the economy – and tax revenues with it – grows fast enough.
Over the next 10 years, the U.S. government is on course to spend $10 trillion it doesn't have. It has also committed to a further $80 trillion in entitlements for which it has no known source.
Only growth can save it.
But like a bicycle that has slipped its chain, you can pedal as hard as you like; you still won't get anywhere. The only thing that may help the economy now is a major tax reform.
But that is almost impossible…
bonnerandpartners.com/the-u-s-economy-is-dead-in-the-water/
 
The Federal Reserve is setting America up for economic disaster
thehill.com/opinion/finance/351153-the-federal-reserve-is-setting-america-up-for-economic-disaster

Toys R Us files chapter 11, it looks like Best Buy might be next. The entire economy is a myth, the stats, the stock market are all manipulated. The Fed has been manipulating the economy since they came into power. The global economy is out of control and the debt gdp ratio is hitting an all time new high. Russia decides to end the dollar at it's ports.
1,979 views