The verdict was unanimous; tax cuts would lead to a massive jump in economic growth.
The Atlanta Federal Reserve GDP NOW estimate used to be one of the most bullish, at over 5%.
Now the Atlanta Fed is tracking a 1.8% GDP print. This economy is slowing, and there are implications for your money.
At the end of 2017, tax reform was passed to great fanfare. Media pundits, administration officials, and market predictors assured us that this would lead to massive economic growth in the neighborhood of 4-5%. We were assured that corporations were standing by and just waiting to invest in America and a boom awaited us.
CAPITAL EXPENDITURES REMAIN WEAK
Yet the economic data has thus far not corroborated that prediction. In fact the opposite is proving itself to be true. Instead of seeing a rise in capex spending, we are seeing a decline and a worsening trend developing. This is of course nothing new, as capex spending levels have remained below their pre-financial crisis levels for some time. Corporations remain unwilling to invest in the future of their businesses, and instead have been using cheap debt to finance corporate share buybacks and dividend increases, while sitting on trillions of dollars in cash. Corporations have had this cash for some time and yet chose not to invest it. As a business owner myself, it is hard to believe that lowering marginal tax rates on corporations would have a meaningful effect on their capital investment when they were already sitting on trillions of dollars of cash.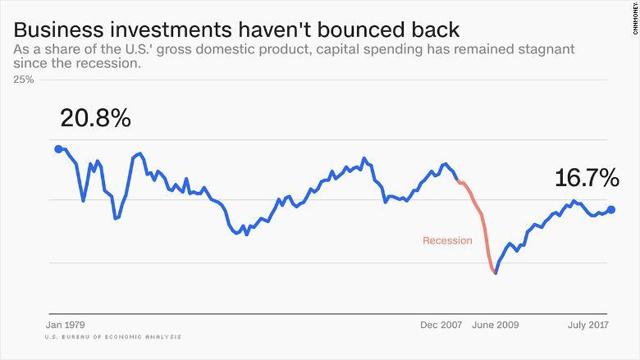 It is very early, and I understand that major capital expenditures take time to plan and price, but the trends we are seeing so far in 2018 demonstrate a slowing in capex, not an increase as was projected. As you can see at the tail end of this graph, a lower trend seems to be developing from already low levels, as the chart above demonstrates.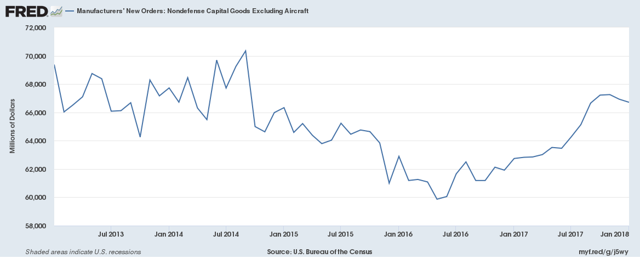 U.S. CONSUMER DEBT SOARING
Consumers are throwing caution to the wind and spending on credit. Consumer debt is rising, which is contrary to the thesis of cutting taxes so consumers have the money to spend. Instead, many consumers will need to use any additional cash they see from the tax reform bill to pay down debt. Household debt is soaring, driven by auto and credit card spending, and student loan borrowing, leaving many consumers maxed out.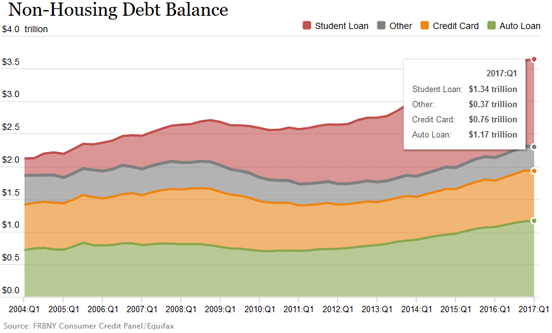 GDP EXPECTATIONS FOR FIRST QUARTER ARE CRATERING
Economic data continues to show a slowing economy, even in the face of fiscal stimulus from tax cuts. GDP estimates for the first quarter have fallen from 5%, as the optimists told us the tax cut would lead to growth, down to 1.8% as reality is setting in. I expect the economy to continue to slow as we move through 2018.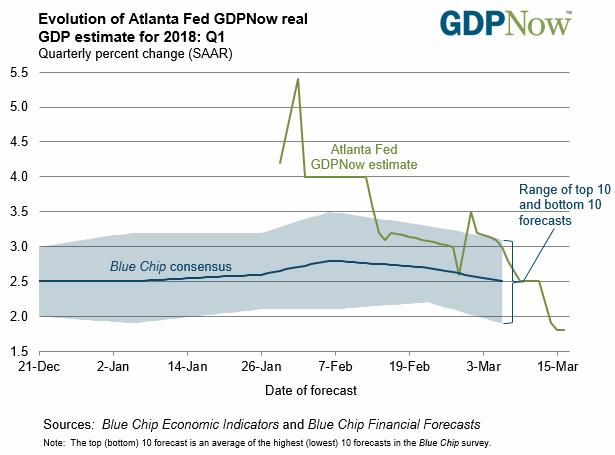 875 views