50,000 coronavirus cases in one day—mapped state by state
The United States reached a grim milestone on Wednesday as the number of confirmed daily coronavirus cases soared past 50,000.
On Tuesday, the U.S. had about 2,635,780 active coronavirus cases, according to the Johns Hopkins COVID-19 tracking project. That number swelled to 2,686,480 on Wednesday, an increase of 50,700 active cases.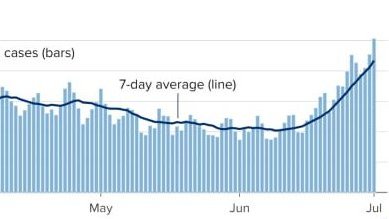 PEAK VIRUS NOW: USA sees record cases in past 24 hours…
Florida shatters daily count with more than 10,000…
FAUCI: 'Way beyond worst spike'…
GALLUP: Assessment of Situation Increasingly Bleak…
Experts fear July 4 weekend will exacerbate spread…