Wells Fargo CEO Survives to 2019 as Scandals Burn Through Bank's Ranks
Tim Sloan's year featured a cap on growth and calls for ouster

The months ahead mean 'more distraction, more personal pain'
Tim Sloan's biggest achievement of 2018 might be surviving the year as chief executive officer of Wells Fargo & Co. And there's no sign that 2019 will be easier.
Sloan is finishing a year in which the Federal Reserve told the bank to stop growing, scandals emerged in more divisions, and the stock tumbled 25 percent — harder than at its biggest rivals, JPMorgan Chase & Co. and Bank of America Corp. Politicians including Senator Elizabeth Warren repeatedly demanded Sloan be ousted. At one point, the bank's chair, Betsy Duke, denied rumors the board was working on it.
$56B Cashed Out of Mutual Funds Week Ending December 17, Most in 10 Years
(Bloomberg) — Investors are bailing out of mutual funds as if it were 2008.
Mutual funds suffered redemptions of $56.2 billion in the week ended Dec. 19. That's the biggest outflow since the week ended Oct. 15, 2008, according to data released Wednesday by the Investment Company Institute. And the numbers over the last several weeks have only gotten worse as the chart below shows.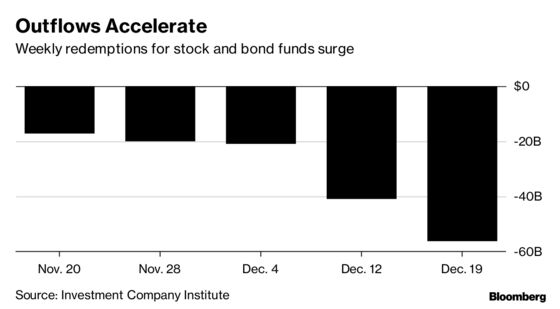 Yet even as investors were dumping mutual funds last week, they added $25.2 billion to exchange-traded funds. And a group of optimists — corporate insiders — have stepped up their buying over the past two months.
984 views