Bank of England Governor Mark Carney says investment funds that promise to allow customers to withdraw their money on a daily basis are "built on a lie." The chief investment officer of Europe's biggest independent asset manager agrees with him.
"There is no point denying we are faced with a looming liquidity mismatch problem," says Pascal Blanque, who oversees more than 1.4 trillion euros ($1.6 trillion) as the CIO of Amundi SA.
As I wrote earlier this month, market liquidity can melt away faster than a dropped ice-cream in a heatwave. That prospect is one of "various things keeping me awake at night," Blanque told me earlier this week.
In the wake of the global financial crisis, regulators have obliged investment banks to bolster their balance sheets. That has reduced the amount of capital those institutions are willing to commit to the securities markets. So in many areas, liquidity is already drying up. For example, daily turnover in U.S. high-yield debt is at its lowest since 2014, as noted by my Bloomberg Television colleague Lisa Abramowicz: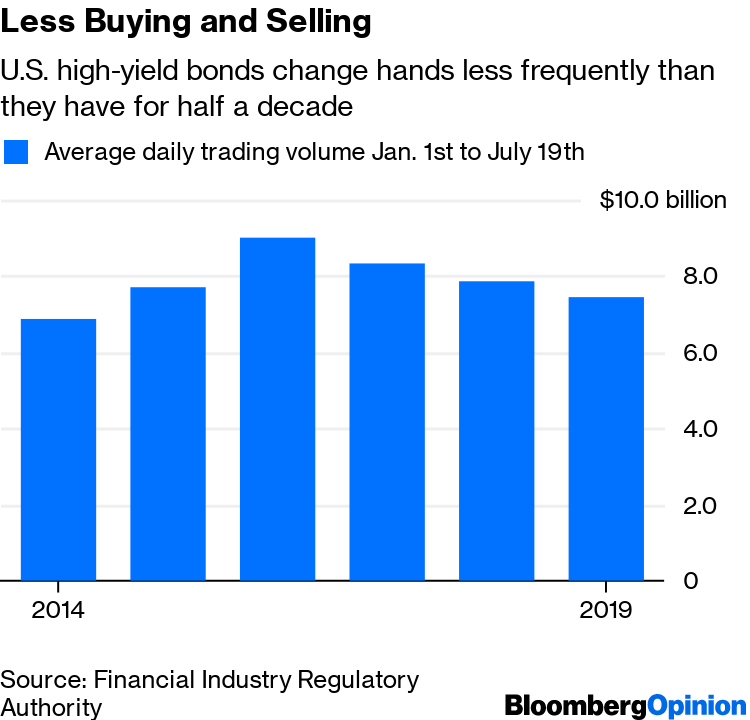 Market making, where firms generate prices at which they are willing to either buy or sell financial products, is effectively "a public good," Blanque says. As that activity declines, the drop in turnover reduces the banking industry's exposure to a collapse in prices or a surge in volatility. But the dangers are simply transferred, rather than diminished.
www.bloomberg.com/amp/opinion/articles/2019-07-24/-1-6-trillion-amundi-fund-warns-of-liquidity-bomb
632 views