by Umar Farooq

The Brexit vote, unaffordable valuations, and tax increases on investors are all taking its toll on the London's housing market. All these factors cumulatively have shunned demand and has caused the biggest annual decline in eight years in the London's housing market.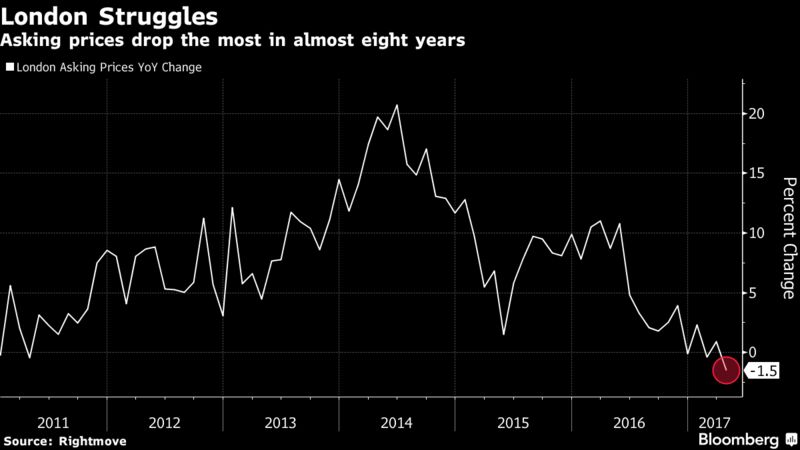 Source: Bloomberg

The loss of momentum may signal that buyers are becoming more cautious as accelerating inflation erodes real earnings and the start of the formal process of the U.K. to leave the European Union clouds the economic outlook.





Source: Bloomberg

"While the rest of the country enjoys a spring surge with most regions seeing a price boom and new price records, some parts of the London market are still re-adjusting," said Rightmove Director Miles Shipside. "The more discretionary upper end of the market is having to tempt buyers with cheaper asking prices, offsetting the higher purchase taxes."

"House prices in the capital grew at annual rate of 7.3 per cent in the year to January, compared with 6.2 per cent for the UK, according to figures published by the Office for National Statistics. The average house price in London was £491,000 in January, versus £218,000 across the country. However, since the Bank of England limited to 15 per cent by value of a lender's mortgage book the number of new loans it could issue at more than 4.5 times a borrower's income, the opportunity for large LTV mortgages in the capital has dwindled. "There is a concern that there is a bubble in the London housing market, but I don't think that's going to happen," said Mr Donnell, Hometrack research director, a housing market research group." Financial Times


Source: Financial Times

Henry Pryor, a buying agent, said that in his view most of the slowdown had taken place in the "hollowed out" expensive inner London markets, while prices and transaction levels had held up in the outer zones. "It's the Krispy Kreme effect. There's nothing of any interest or excitement in the centre. Only around zones 2 and 3 do you start to get any enthusiasm."
In short, London is not going to face a house price crash due to the high levels of equity required to buy property in the capital and the difficulty of mortgage financing at high loan-to-value ratios for all but the biggest earners. Research by Hometrack, a housing market research group, found the average loan-to-value ratio (LTV) in the most expensive tenth of properties was 23 per cent and 40 per cent in mid-priced zones, compared with a UK average of 53 per cent.




Source: Financial Times