by SpontaneousDisorder


www.bloomberg.com/news/articles/2018-02-20/buy-the-dip-isn-t-dead-in-fact-it-s-just-getting-stronger
This behavior is more evidence of a larger "short volatility" trade that imploded with recent drop. Bloomberg presents this as a strong fundamental, but the best fundamentals occur at tops. Whilst corporations buy the dip they are followers of the larger trends.


www.financialsense.com/sites/default/files/users/u4844/images/2017/citi-buybacks.png
Funny. John Hussman tweeted a 1987 comparison.
Never a fan of price overlay charts unless more important factors also overlay, e.g. extreme valuations, extreme bullish sentiment, divergent internals, rising rates. Then again, we've got that here. Who knows? Might be that starting point matters and identical time scale doesn't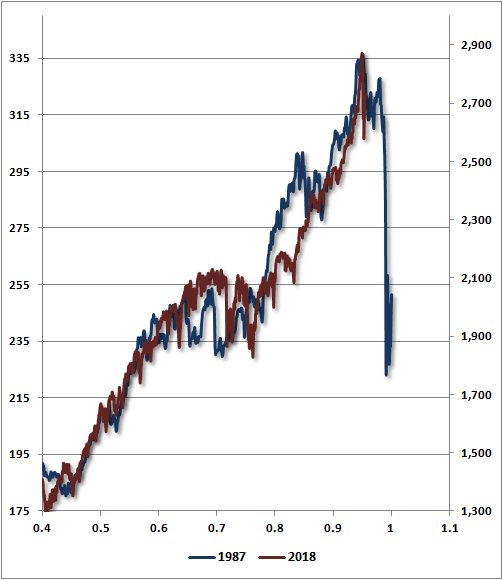 twitter.com/hussmanjp/status/966072016687202304
3 different articles talking about Deutsche Bank laying off 250 mid/senior level Investment Bankers. Why is this significant enough to get this much attention?

Household Debt Sees Quiet Boom Across the Globe
A decade after the global financial crisis, household debts are considered by many to be a problem of the past after having come down in the U.S., U.K. and many parts of the euro area.

But in some corners of the globe—including Switzerland, Australia, Norway and Canada—large and rising household debt is percolating as an economic problem. Each of those four nations has more household debt—including mortgages, credit cards and car loans—today than the U.S. did at the height of last decade's housing bubble.

At the top of the heap is Switzerland, where household debt has climbed to 127.5% of gross domestic product, according to data from Oxford Economics and the Bank for International Settlements. The International Monetary Fund has identified a 65% household debt-to-GDP ratio as a warning sign.
In all, 10 economies have debts above that threshold and rising fast, with the others including New Zealand, South Korea, Sweden, Thailand, Hong Kong and Finland.

In Switzerland, Australia, New Zealand and Canada, the household debt-to-GDP ratio has risen between five and ten percentage points over the past three years, paces comparable to the U.S. in the run-up to the housing bubble. In Norway and South Korea they're rising even faster.
archive.fo/pnpxk#selection-2157.0-2175.278