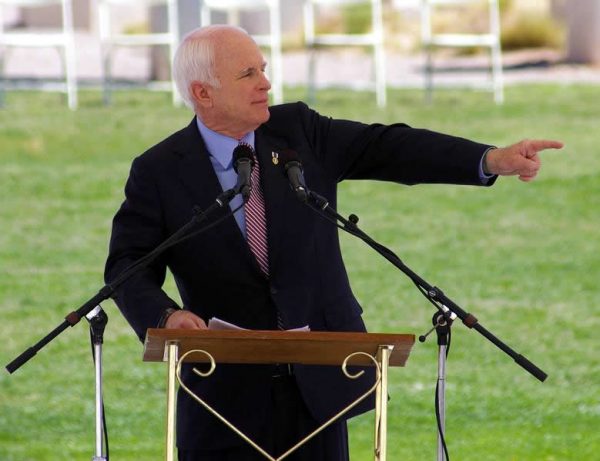 Some are claiming that NBC made a "mistake", while others are claiming that NBC had ulterior motives for a very strange incident that happened on Saturday night.  After reporting the breaking news that John McCain had died, NBC immediately cut to a scene in a previously-aired episode of America's Got Talent that involved two men in strange dolphin masks performing an extremely bizarre erotic dance as they moved in "for a passionate kiss".  What made this even more jarring was the fact that there was absolutely no transition between the McCain report and the erotic dolphins.  Could it be possible that NBC was attempting to mock McCain or to send the rest of us some sort of "hidden message"?  If you have not seen video of this yet, you can find it right here…
It would have been really easy to run a commercial or two before returning to "regularly scheduled programming", but for some reason NBC 
decided not to do that
…
But after presenter Richard Lui had delivered the report – which featured early tributes to the former presidential candidate and Vietnam war hero – the channel cut straight back to what had previously been broadcasting.

This meant viewers saw a repeat of an America's Got Talent episode, featuring shirtless duo Yumbo Dump performing what they called a dolphin dance. There were no intervening black out or adverts between the two segments.
A lot of people are claiming that this was just some sort of strange coincidence, but NBC could have cut in to the show at any time.
Somebody ultimately made the decision that the dolphin act was the perfect time to air the breaking news about McCain, and needless to say, a lot of people were outraged…
The interrupted act that aired Saturday night was a dolphin love story, complete with romantic music and masks shaped like the marine mammals. The performers used air nozzles to make their bellies emit dolphin-like squeaks — which intensified as the 'dolphins' moved in for a passionate kiss.

Collectively, the Internet wondered what the gods of media broadcasting had just subjected them to. Some criticized NBC's timing and suggested that whoever was in charge of the programming maybe shouldn't be in charge of programming ever again. NBC did not immediately return a call seeking comment.
John McCain knew that his time was very limited, because his brain cancer was growing increasingly worse.  So he had been wrapping up his affairs, and he had made a couple of very odd choices by requesting that Barack Obama and George W. Bush deliver eulogies at his funeral.  The following comes from CBS News…
John McCain requested that former Presidents Barack Obama and George W. Bush deliver eulogies at his funeral, CBS News has confirmed. McCain, who had been suffering from an aggressive form of brain cancer, died Saturday at the age of 81 at home in Arizona. Both Mr. Obama and Mr. Bush will deliver their remarks during a service at the National Cathedral.
In recent weeks, McCain had also alienated many conservatives by publicly ripping Sarah Palin and President Trump.  If McCain had been kinder to President Trump, the White House probably would have issued a statement praising McCain when he passed away.  But instead, a proposed statement that had been prepared was nixed by President Trump…
President Trump nixed issuing a statement that praised the heroism and life of Sen. John McCain, telling senior aides he preferred to issue a tweet before posting one Saturday night that did not include any kind words for the late Arizona Republican.

Press secretary Sarah Huckabee Sanders, Chief of Staff John F. Kelly and other White House aides advocated for an official statement that gave the decorated Vietnam War POW plaudits for his military and Senate service and called him a "hero," according to current and former White House aides, who requested anonymity to discuss sensitive internal deliberations. The original statement was drafted before McCain died Saturday, and Sanders and others edited a final version this weekend that was ready for the president, the aides said.
Instead, President Trump posted a tweet expressing his "deepest sympathies" for McCain's family…
"My deepest sympathies and respect go out to the family of Senator John McCain. Our hearts and prayers are with you!"
John McCain always seemed to be at the center of attention in the U.S. Senate, and now thanks to NBC the announcement of his death will mostly be remembered for the erotic dancing dolphins.
Whether or not NBC did this on purpose, they owe all of us an explanation, but an explanation is probably not going to be forthcoming.
Views: