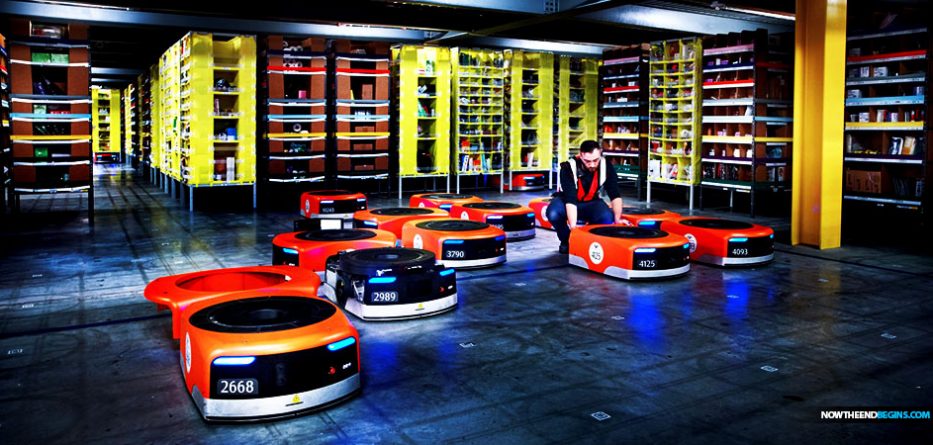 Amazon is staffing up for the holiday rush with around 100,000 additional hires. As big as that number sounds, it's actually fewer people than the e-commerce giant added in either the 2016 or 2017 holiday seasons, when it brought in 120,000 additional workers
Most people are not aware the extent to which robots are replacing humans in the workforce. Mega-companies like Amazon, Google and Apple have been spending billions on robotics and AI, as companies like Tesla and others work to perfect the self-driving automobile. Wages are going up for existing employees, but new hires are dropping drastically.
Don't think that robots can replace humans? Just remember that there was a time, not all that long ago, when people who made horse carriages and other parts could not envision being put out of work because you can't travel from place to place without using horses, right? Just as cars replaced horses, at the start of the twentieth century, so robots are replacing and indeed will replace humans to an astonishingly high degree.
Amazon is hiring fewer workers this holiday season, a sign that robots are replacing them
FROM QUARTZ: Citi analyst Mark May says he thinks the reduction in seasonal hiring is strong evidence that Amazon is succeeding with plans to automate operations in its warehouses.
"We've seen an acceleration in the use of robots within their fulfillment centers, and that has corresponded with fewer and fewer workers that they're hiring around the holidays," May told CNBC on Nov. 2. He added that 2018 is the "first time on record" Amazon plans to hire fewer holiday workers than it did the previous year.
Amazon Warehouse Robots : Mind Blowing Video
"Since the last holiday season, we've focused on more ongoing full-time hiring in our fulfillment centers and other facilities," Amazon spokesperson Ashley Robinson said in an email, adding that the company has "created over 130,000 jobs" in the last year. "We are proud to have created over 130,000 new jobs in the last year alone."
Amazon bought robotics company Kiva Systems for $775 million in 2012, and began using its orange robots in warehouses in late 2014. By mid-2016, it had become clear just how big a difference those robots were making. The little orange guys could handle in 15 minutes the sorting, picking, packing, and shipping that used to take human workers an hour or more to complete. In June 2016, Deutsche Bank predicted Kiva automation could save Amazon nearly $2.5 billion (those savings dropped to $880 million after accounting for the costs of installing robots in every warehouse). READ MORE
Views: