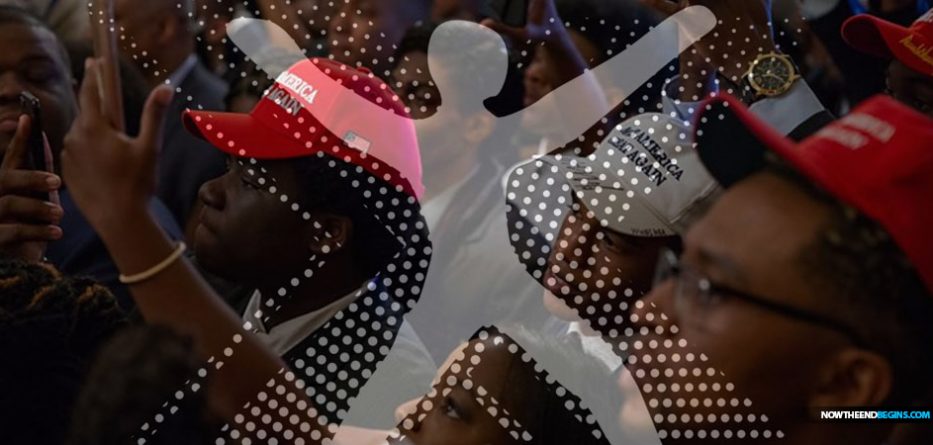 Several hundred black youth leaders met in Washington DC for the inaugural conference this weekend. The group was invited Friday to the Trump White House where President Trump spoke to the gathering
The Left's worst case scenario happened over the weekend, and fake news media is working overtime to make sure you don't know about the BLEXIT Movement, and it's potentially devastating impact it will have on the Democratic Party.
Black youth in America have been warned for generations not to leave the political plantation known as the Democrat Party, and for generations they obeyed that command. Now, Conservative political commentator Candace Owens, who is black, young and Republican, is challenging that assertion. She and others have launched BLEXIT as a clarion call to black voters across America to walk away from a party  that has done nothing but betray them and use them to enrich themselves.
Can someone say Red Wave 2018?
The Remarkable Candace Owens Launches Blexit Movement at TPUSA Youth Black Leadership Conference
FROM THE GATEWAY PUNDIT: For decades, the black community has been in an emotionally abusive relationship with the Democrat Party. Our fidelity to leftist politicians coupled with our false belief that a larger government might facilitate solutions, has led to the overall collapse of our families, neighborhoods, and incidentally, our futures.
We are primarily funded by readers. Please subscribe and donate to support us!
---
BLEXIT IS A NATIONAL MOVEMENT OF MINORITIES THAT HAVE AWAKENED TO THE TRUTH. IT IS FOR THOSE WHO HAVE TAKEN AN OBJECTIVE LOOK AT OUR DECADES-LONG ALLEGIANCE TO THE LEFT AND ASKED OURSELVES "WHAT DO WE HAVE TO SHOW FOR IT?"
The media has betrayed our focus. They have learned the value of our untethered emotionality and have chosen to emphasize certain topics in an effort to suspend our rational thinking. This is why in 2016, the 16 unarmed black men shot and killed by police officers took headline-precedent over the approximate 330,000 black babies aborted each year.
Amazing moment from #Blexit: "While Hillary Clinton viewed us as 'super predators,' while CNN views us as 'token negros who don't read,' Donald Trump views us as Americans."

The crowd erupts with cheers and chants of "USA!" pic.twitter.com/xA03aGF6rz

— Alana Mastrangelo (@ARmastrangelo) October 29, 2018
This is why the topic of illegal alien children being separated at the border earned excessive coverage, while the 70% black single motherhood rate — a tragedy encouraged by our government welfare programs — is ignored.
The investment into our permanent state of outrage is opportune; it inspires a predictable outcome at the polls. Until now. READ MORE
Trump Approval Today Back at 50%

Black Voter Approval at Record High.t.co/mazBCW77nY pic.twitter.com/gQiNHhJmhX

— Rasmussen Reports (@Rasmussen_Poll) October 29, 2018
Candace Owens: The Republican Party is 'coming together' around President Trump
Candace Owens, Communications Director at Turning Point USA, says that the Republican party is rallying around President Trump during this midterm election cycle.
Views: 0