by Saad Ullah
New fall is ahead as new bearish pattern emerges on the stocks of the biggest technical company.
Apple, the largest tech company by market capitalization, has been slowly declining in recent weeks. However, this is probably not the end of the bearish trend that has gripped the stock.
According to a technical analysis by the Market Rebellion portal, the stock will face another decline as a bearish wedge pattern has been recorded.
$AAPL – Bearish pattern active (wedge).  Market Rebellion via Twitter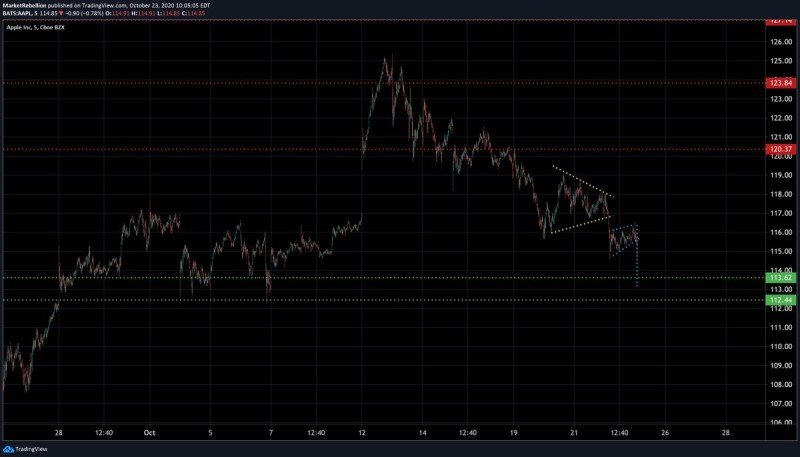 Image Source: Twitter @MarketRebels
When the company's shares break through the support line of the emerging pattern, it will fall to the level of $113-114 per share. On the chart, analysts note that a bearish wedge has been forming recently, which led to a drop in Apple's price to the current level of $115-116 per share.
After a crazy bull rally in the summer that propelled the company to its second-in-history to hit a 2 trillion market cap, the market has not been overly supportive of the tech giant. Apple became one of the flagships of the September correction, having lost more than 16% in a few weeks relative to its all-time high price.
Ahead of the presentation of new products in October, the company's shares were able to add more than 6% in one day, but the day of the presentation itself and all subsequent ones completely neutralized this growth, since then the shares have decreased by more than 7.5%.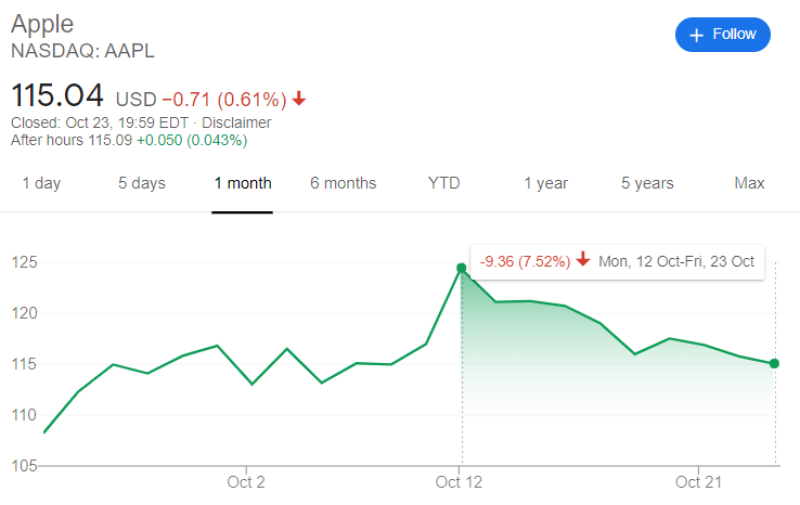 Image Source: Google Finance AAPL
Nevertheless, analysts are looking favorably on the long-term prospects for the company, given the release of the iPhone 12, the first smartphone to use innovative 5G technology. The next week is important for the company due to the publication of quarterly reports, which will take place on October 29.
257 views