by Sven Carlin
Summary
Great investment returns come from buying things nobody wants to touch with a ten foot pole.
Argentina might be such a case.
The MSCI Argentina ETF is definitely not the way to get exposure to the Argentinian bargains.
A look at the Argentinian stocks traded on the NYSE shows how there are good businesses there.
Figure 1 Argentinian stocks traded on American exchanges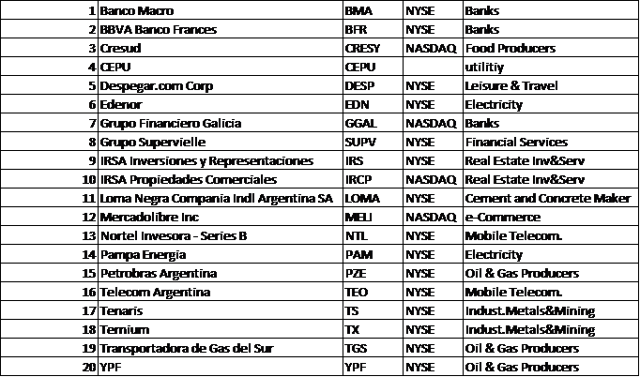 Source: Author's data
Most companies are directly related to the Argentinian economy which has recently been re-categorized as an emerging market. That is the first sign of a possible rebirth. However, Argentina still has lots of issues like political risk and economic stagnation. But, to reach great investment returns, it is better to buy when there is blood on the streets. I think that there is still negative sentiment which can offer positive asymmetric risk reward investing opportunities.
Nevertheless, investing in Argentina is not an easy straightforward process. A look at the holdings of the iShares MSCI Argentina ETF (ARGT) (AGT) shows how Mercadolibre (MELI) makes 24% of the index while Tenaris (TS) makes up 17%. The two companies, the first being a LATAM growth promise story and the second a global steel pipe maker, are certainly not the way to invest in Argentina. An investor can get much better exposure by carefully selecting specific stocks with lower valuations.
Enjoy the video where we give a quick overview on 10 stocks that might be worth a further look.
Disclosure: I/we have no positions in any stocks mentioned, and no plans to initiate any positions within the next 72 hours.
I wrote this article myself, and it expresses my own opinions. I am not receiving compensation for it. I have no business relationship with any company whose stock is mentioned in this article.
Disclaimer: Consult your financial professional before making any investment decision.
605 views