Wolf Richter wolfstreet.com, www.amazon.com/author/wolfrichter
In a few days, automakers are going to report their new vehicle deliveries for March. TrueCar, Kelley Blue Book, and LMC Automotive are predicting total vehicle sales slightly above the flat-line compared to March a year ago, though sales were down year-over-year in both January and February.
TrueCar forecasts an increase of 0.2% year-over-year to 1.586 million new cars and light trucks, with retail deliveries (excluding fleet sales) growing 1% to 1.276 million units. J.D. Power and LMC Automotive said on Friday that they expect an increase of 1.9%, to 1.62 million units, with retails sales up 1%, boosted by record incentives.
If sales nevertheless fall, everyone will blame the winter storm that arrived in the winter – "unexpectedly" or something. And it is possible that sales might fall. There was no winter storm in February, which was one of the warmest Februaries on record. Yet, sales in February fell 1.1% year-over year. They edged down in January too. And sales in both months combined fell 1.4% from the same period a year ago.
It's not like automakers haven't been trying. They paid out record incentives to accomplish this feat of slowing down the sales decline. In February, the industry in the US shelled out on average $3,587 per vehicle in incentive spending, per TrueCar. It was the highest ever for a February.
We'll get to the March incentives in a moment. Just a quick word on what transpired in February. The table below shows average incentive spending per unit sold: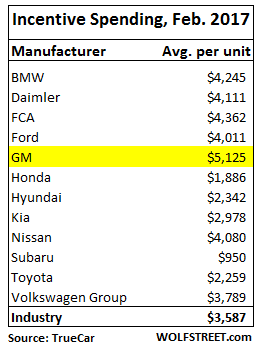 Some standouts among US brands:
GM clocked in at over $5,125 per unit in incentives. That's apparently what it took to get its sales to rise 4% year-over-year.
Ford, which has been priding itself in its "disciplined approach" to incentives, spent over a grand less, $4,011 on average, and its sales declined 4%.
Fiat Chrysler may be beyond help. That's perhaps why CEO Sergio Marchionne has been so desperately looking for a buyer. FCA spent $4,362 per unit on incentives in February, as total sales still plunged 10% and are down 11% for the first two months.
Car sales for GM, Ford, and FCA plunged 23%, 24%, and 26% respectively. While GM and Ford showed gains of 16% and 5% respectively in light truck sales, FCA couldn't even do that, and its trucks sales fell 7%.

These are averages per unit: At $5,125 per unit at GM, there may be some models with $10,000 in incentives and others with none, depending on what GM needs to move at the moment, based on inventories on dealer lots, production, and profit margins (that range from very fat on high-end pickups to very slim on small cars).
For March, J.D. Power and LMC Automotive pegged incentives at $3,768 per new vehicle sold – the highest ever for any March. The prior record for March was achieved in 2009 as the industry was collapsing. In June 2009, GM filed for bankruptcy.
By these estimates, the incentives in March would amount to 10.4% of suggested retail price, in the double digits for the first time since 2009. These are some seriously desperate incentives!
TrueCar estimates that incentive spending in March rose 13.4% year-over-year to an average of $3,511 per vehicle sold. But this would be 2.1% lower than the desperate incentives in February: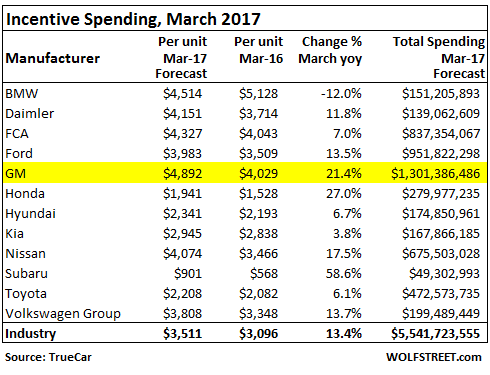 Some standouts:
GM cranked up its incentives by 21.4% from a year ago, but dialed it back 4.5% from February.
Honda increased incentive spending 27% year-over-year, and increased it 2.9% from February.
FCA, which had already been dousing the market with incentives a year ago, increased it another 7% year-over-year, but remained about flat with February.
Subaru, lowest on the list with a modest $901 in incentives per unit sold, nevertheless felt it needed to crank them up by 59% from a year ago.
And look at the total dollar amounts spent in March: $5.54 billion! In just one month! GM alone spent $1.3 billion in March.
If GM piles on incentives at this rate three months in a row, it would spend nearly $4 billion on incentives, in just that quarter, just in the US alone. How much dough is that for GM? In Q1 2015, GM reported global net income of $2.0 billion. In Q1 2015, it reported global net income of $0.9 billion. These incentives can eat an automaker's lunch in no time. And they did in the years before the industry collapsed during the Great Recession.
For consumers in the mood, there's an old saw: "Good deals are made in tough times."
But not for automakers. They face another reality: Sales have peaked. The seven-year up-trend has ended. Pent-up demand from the Great Recession has disappeared. Trading is getting more difficult, with falling used vehicle prices and rising interest rates. Subprime lending is facing real hardship. And these enormous incentives are now required just to keep sales from falling more quickly, and to defend market share against other desperate automakers and their incentives.
After the credit bubble comes the credit bust. Read…  Subprime Auto Loans Crushed Worse than in 2009, Auto Industry Bleeds, Knock-on Effects Commence
1,171 views