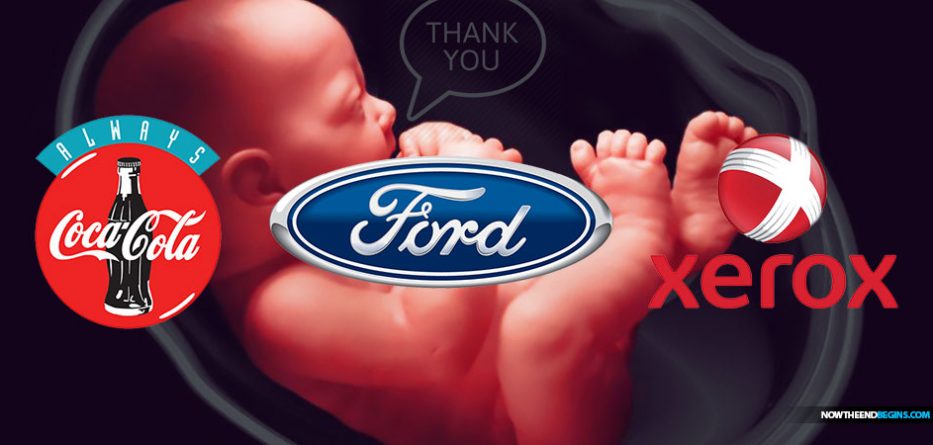 Three corporate giants from completely different industries have made a shocking announcement. Coca-Cola, Ford Motor Co. and Xerox stated that they no longer donate to Planned Parenthood.
In 1921, when Margaret Sanger started the American Birth Control League based on the Nazi theories of eugenics, she knew she was onto something big. Her baby killing start-up became Planned Parenthood in 1942, and with the passage of Roe v. Wade in 1973, taxpayer-funded abortion became a billion dollar business.
"I call heaven and earth to record this day against you, thatI have set before you life and death, blessing and cursing: therefore choose life, that both thou and thy seed may live:" Deuteronomy 30:19 (KJV)
Everything hummed along pretty good until the videos showing Planned Parenthood executives making money off the sale of aborted baby parts, which was then followed by multistate investigations of corruption and black market fetal tissue sales. One by one, Planned Parenthood's big money donors began to pull away and distance themselves from what most people can clearly see – the end of Planned Parenthood.
COCA-COLA, FORD AND XEROX BOLDLY ANNOUNCE: 'WE NO LONGER DONATE TO PLANNED PARENTHOOD'
FROM THINK AMERICANA: Planned Parenthood has been falsely advertising that the companies do still donate, on their website. Once brought to the companies' attention, they have each asked the abortion business to immediately remove their names from the list of corporate donors.
A Coca-Cola representative confirmed to the The Daily Signal that they do not donate to Planned Parenthood as a company, and they also do not match donations given by employees. "We'll ask them to correct the information," the representative said in relation to their name being on the donor website.
Similarly, a Ford representative stated, "We are making sure that Ford Motor Company is not listed as a Planned Parenthood contributor on their website. In addition, we do not offer an employee match for charitable contributions."
A representative from Xerox, who was also listed as a corporate donor, said "We checked our files for the last 20 years and have no record of Xerox Corp. contributing to Planned Parenthood."
I wonder how many other companies used to donate to Planned Parenthood in the past, but have since stopped, are still listed as corporate donors.
Planned Parenthood parades around, waving their list of supporters, but their list is not even updated or accurate. Their biggest scare tactic is their giant backing. However, their bluff is crumbling quickly as the truth comes out. READ MORE
Margaret Sanger's Sinister Agenda
915 views