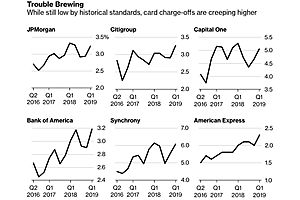 Capital One CEO sees 'degradation' in customer credit quality

Fairbank also questions whether credit reports are misleading
Red flags are flying in the credit-card industry after a key gauge of bad debt jumped to the highest level in almost seven years.
The charge-off rate — the percentage of loans companies have decided they'll never collect — rose to 3.82 percent in the first three months of 2019, the highest since the second quarter of 2012, according to data compiled by Bloomberg Intelligence. And loans 30 days past due, a harbinger of future write-offs, increased at all seven of the largest U.S. card issuers.
Rates for home loans ticked up slightly, a reminder that the easy-money era for mortgages will likely have to end at some point.
The 30-year fixed-rate mortgage averaged 4.20% during the April 25 week, Freddie Mac said Thursday. That was up three basis points during the week and marked the fourth straight weekly rise for the popular product. The 15-year fixed-rate mortgage averaged 3.64%, up from 3.62%.
The 5-year Treasury-indexed hybrid adjustable-rate mortgage averaged 3.77%, down one basis point.
Those rates don't include fees associated with obtaining mortgage loans.
593 views