BAML has just called a peak in home sales!
Citing declining affordability (makes sense given rising mortgage rates = headwind), housing market underperformance as economy grew (relative terms). @mtmalinen @LizAnnSonders @BValentineCFA @anilvohra69 @MI_Investments @SoberLook pic.twitter.com/gT8D3O5qXT

— Taylor-Swift Yield Spread (@TayTayLLP) September 21, 2018
And so It Begins: "Home Sellers Slash Prices, Especially in California"
sale had a price drop, according to Redfin, a real estate brokerage.
The supply of homes for sale increased annually in August for the first time in more than three years, according to the National Association of Realtors.
The average rate on the popular 30-year fixed mortgage loan is up more than a quarter of a percentage point in the past month and is knocking on the door of 5 percent, a level not seen in nearly a decade.
More than 40% of all U.S. corporate bonds have the lowest investment-grade credit rating, the biggest proportion on record: ICE data services t.co/XXUrHMp8cp pic.twitter.com/JUniMVcxkc

— Lisa Abramowicz (@lisaabramowicz1) September 21, 2018
2018 isn't over yet and this is already the fourth worst year for investment grade corporate bonds in nearly three decades, Goldman Sachs notes, only faring better than 1994 "great bond massacre," the 2008 global financial crisis, and the 2013 "taper tantrum." pic.twitter.com/LXkyPMujJd

— Robin Wigglesworth (@RobinWigg) September 21, 2018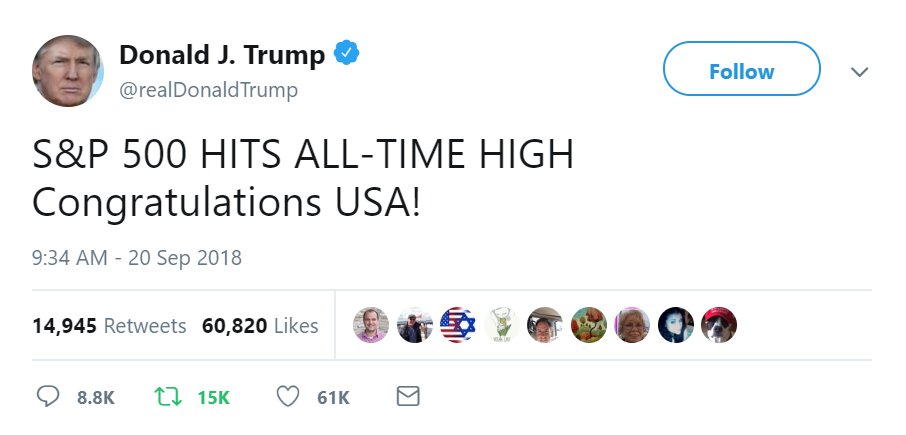 President Trump's stock market bubble cheerleading means that he now has ownership of it, which is a double-edged sword – it makes him look great as the bubble inflates, but it could easily destroy his political career and legacy when it inevitably bursts. t.co/hRvW7BKndl

— Jesse Colombo (@TheBubbleBubble) September 20, 2018
After yet another speculative burst, the median trailing P/E multiple in the S&P 500 has expanded to 21.6x. A sign that the overvaluation has spread beyond FAANG stocks. Only 6% of the time has the market been this expensive. pic.twitter.com/22tVI1vuq3

— David Rosenberg (@EconguyRosie) September 21, 2018
Seems to us that the next market event – which could trigger monday if $SPX gaps down – will make January/February look small

— mcm-ct.com (@mcm_ct) September 21, 2018
Here is a picture pic.twitter.com/V5DuvidjIc

— mcm-ct.com (@mcm_ct) September 21, 2018