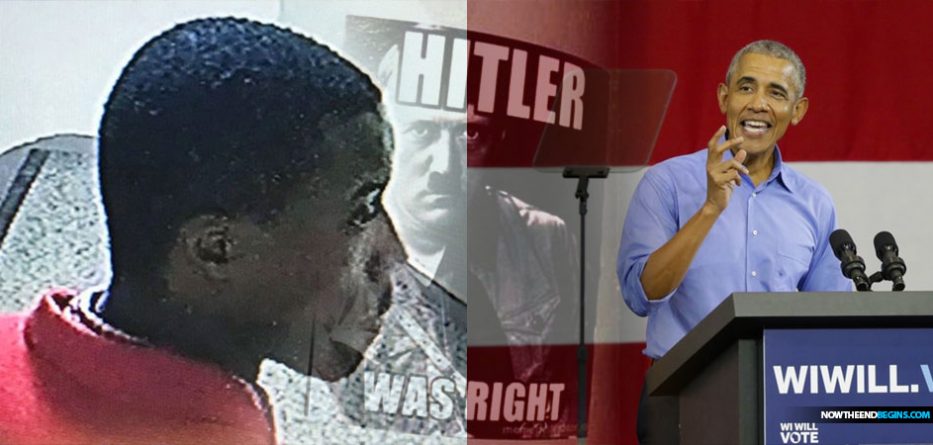 The New York City Police Department arrested a Democratic activist on Friday night for allegedly vandalizing a synagogue in New York City with vile anti-Semitic messages. This comes just days after 11 people were murdered at a Pittsburgh synagogue in what was the deadliest anti-Semitic attack in U.S. history
Take a quick peek over on fake news CNN, MSNBC or any of the other pre-programmed robot talking head facilities, and see if you read anything about the arrest of former Obama campaign volunteer James Polite. Wait, let me save you some time. None of the fake news outlets are talking about this story so don't bother looking for it.
Barack Obama has been on the campaign trail this week, speaking to crowds of hundreds with a fiery, anti-Trump message. Obama, long known for his hatred of Israel in general, and for his hatred of Israeli PM Benjamin Netanyahu in particular, seems to have inspired one of his loyal followers to vandalize a Jewish synagogue in NYC. This coming less than a week after the slaughter of 11 Jews at the Tree of Life synagogue in Pittsburgh.
Yet amazingly, not one reporter in all of fake news land wants you to know about Obama campaign volunteer James Polite and his caustic death threats against Jews in Brooklyn. I wonder why that would be? But you can best believe if James Polite was a Republican, it would be the #1 top news story from now until Midterm elections on Tuesday. Oh wait a minute, I think I just figured out by the Liberal media isn't talking about this.
FROM THE DAILY WIRE: Authorities arrested 26-year-old James Polite, a former volunteer on Obama's first presidential campaign, for allegedly vandalizing Brooklyn's Union Temple on Thursday with anti-Semitic messages that included "die Jew rats we are here," "Jews better be ready," and "Hitler."
Polite interned with Christine C. Quinn, the former Democratic Speaker of the New York City Council, for several years and worked "on initiatives to combat hate crime[s]," The New York Times reported in 2017.
THE DCNF REVIEWED POLITE'S FACEBOOK AND DETERMINED THAT IT WAS THE SAME JAMES POLITE PROFILED BY THE NEW YORK TIMES.
UPDATE: The individual wanted for anti-Semitic graffiti at Union Temple in #Brooklyn has been APPREHENDED thanks to the hard working officers that are out there every day and night keeping this city safe. #NYPDProtecting t.co/zLFiDe2GCp

— NYPD NEWS (@NYPDnews) November 3, 2018
According to the DCNF, Polite wrote a post this week that stated: "A dream with eyes wide open. civil war is here. Nobody gotta die. Mexico, latin America, caribbean vs. Jew n***er pigs. One person touch me this whole s*** a smoking."
Polite also "posted a cell-phone picture of a burning American flag, with the caption 'Sometimes things take a lil heat to grow,'" the DCNF's report added. "Police suspect him of setting fires at 'seven shuls and yeshivas in Williamsburg' that same night, before the temple vandalism. Security footage captured that, too."
"IF ANTI-SEMITISM BYPASSES CONSIDERATION AS A SERIOUS PROBLEM IN NEW YORK, IT IS TO SOME EXTENT BECAUSE IT REFUSES TO CONFORM TO AN EASY NARRATIVE WITH A SINGLE IDEOLOGICAL ENEMY," THE NEW YORK TIMES' REPORT ADDED. "DURING THE PAST 22 MONTHS, NOT ONE PERSON CAUGHT OR IDENTIFIED AS THE AGGRESSOR IN AN ANTI-SEMITIC HATE CRIME HAS BEEN ASSOCIATED WITH A FAR RIGHT-WING GROUP, MARK MOLINARI, COMMANDING OFFICER OF THE POLICE DEPARTMENT'S HATE CRIMES TASK FORCE, TOLD ME."
A report this week from The New York Times revealed that "contrary to what are surely the prevailing assumptions, anti-Semitic incidents have constituted half of all hate crimes in New York this year, according to the Police Department. To put that figure in context, there have been four times as many crimes motivated by bias against Jews — 142 in all — as there have against blacks. Hate crimes against Jews have outnumbered hate crimes targeted at transgender people by a factor of 20." READ MORE
1,972 views