By Gabrielle Seunagal
The First Amendment clearly states that Americans have the right to peaceably assemble. Peaceful assembly permits coming together in a civil manner and promoting ideals or engaging in civil protests. The occurrences on Wednesday proved that leftists lack the comprehension to differentiate between civil protests and belligerent riots. In Berkeley, California, angry liberals burned cars, assaulted people, and blocked highways to stop Milo Yiannopoulos from speaking on campus.  The Left has a loathsome pattern of resorting to violence as a means of censorship, despite their declarations of support for free speech.
Left: February 2006 riots over Muhammad cartoon in Syria
Right: February 2017 riots over Milo talk in Berkeley pic.twitter.com/SRqs5d37mn

— Skeletaster 🐉🎲🐺 (@neontaster) February 2, 2017
Riots were so severe and catastrophic that Yiannopoulos' Wednesday speaking event at Berkeley College was called off. According to CNN, two Berkeley College Republicans were physically assaulted by rioters while conducting an interview. Thankfully, the vandals were swiftly taken into custody, but these acts of violence unmask the true nature of the Left. Where is the liberal tolerance that they pride themselves on? During a Fox News interview, Milo Yiannopoulos correctly stated the Left does not have the facts and is used to bullying people into silence. The Left lacks the character to have an affable discussion or debate. Instead, they result to crime because they have been brainwashed into thinking that this conduct is satisfactory. This must end now.
This Is Political Violence': MILO Talks to Tucker About Fiery Berkeley Riots 🔊
STOP FEDERAL FUNDING #UCBERKLEY #1At.co/uWykJQahZy pic.twitter.com/4pQlL5yYdK

— Kristin Billitere (@SpecialKMB1969) February 3, 2017
Malicious and homicidal thugs must be arrested and charged. They are a menace to themselves, others around them, and the community. On Wednesday, rocks and commercial grade fireworks were hurled at police officers. Windows on the Berkeley student union campus were smashed and at least six people were injured. All participants should be arrested and charged with inciting a riot, disturbing the peace, destruction of property, the list goes on. America needs to send a message that this comportment will no longer be condoned. The agitators had no respect or consideration for the people who were looking forward to Milo's speaking engagement.
I am sick of violent degenerates who continue to infringe on the rights of others. Democrats preach about tolerance, but they have no tolerance for those who think differently from them. How long will the madness ensue?  $100K worth of damages was caused by rioters. Who will pay for the repairs? Taxpayers? Why should people like you and I pay for damages that were not caused by us? At some point, people must accept accountability for their behavior, even if it has to be forced upon them.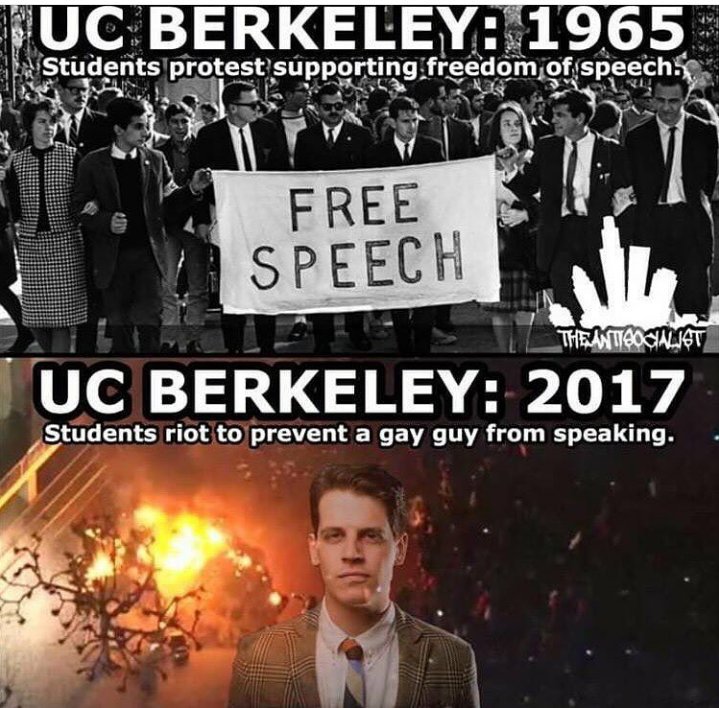 Many Berkeley rioters were professional anarchists known as the Black Bloc, a gang that has apparently been causing discourse in the community for years according to Berkeley officials.  Anarchy has no place in America; we are a country of law and order, not unruliness. Signs reading "No safe space for racists," and "This is war," were displayed during the riot while violent agitators demolished metal barriers, set campus bookstores on fire, and defaced the construction site of a new dorm. A female Trump supporter was even pepper sprayed in the face while being interviewed by a CNN affiliate. Democrats love women… unless they support Trump, liberals love gays…unless they're conservative, and leftists love minorities and immigrants…until they vote Republican. The double standard on the Left is deplorable.
What happened to "When they go low, we go high?" That doltish phrase coined by Michelle Obama is nothing more than meaningless words that sound catchy. Democrats have stooped to lengths lower than anyone could have imagined. Committing arson, demolishing public property, and battering civilians is the antithesis of "going high." These insignificant, pathetic people lack dignity, class, and decency. Their reign of terror is coming to an end though. With President Trump in office, the rioters will be subdued if they do not control themselves. Enough is enough.
Views: