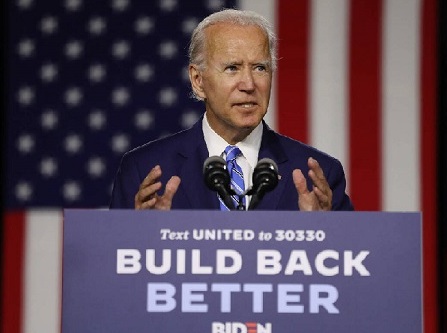 Biden has targeted guns with the end goal to disarm America entirely. He has stated: "No amendment to the Constitution is absolute." The real objective is to compel everyone to register every gun so they can enter your house without a warrant to seize your weapons. What they are doing is dripping out their real objective, one tiny drop at a time. The Biden Administration is now also urging the Supreme Court to let police bust into your home and seize guns without a warrant. The end game is to disarm Americans completely in hopes of preventing a revolution when they even end the right to vote in any meaningful way as in Europe.
The Fourth Amendment declares,
"The right of the people to be secure in their persons, houses, papers, and effects, against unreasonable searches and seizures, shall not be violated, and no warrants shall issue, but upon probable cause, supported by oath or affirmation, and particularly describing the place to be searched, and the persons or things to be seized."
James Otis (1725-1783)
The entire American Revolution was born over illegal searches by the king. It is very sad that Biden and the Democrats have no respect for the Constitution whatsoever. John Adams, Second President, listened to the four-hour speech of the defense lawyer James Otis (1725-1783) who argued against the king's Writs of Assistance in February 1761 that allowed the government to arbitrarily search whatever they suspected for any reason. History repeats. This is precisely what the Democrats are arguing before the Supreme Court to eliminate the Fourth Amendment. This is devastating to human rights and the very idea of a free society of "We the People." It is a terrible day we face and this is why I say republics are the worst form of government. Biden never said anything about these objectives. He gets people to vote for him on a false agenda, no different than a fund manager given a false report claiming he made 300% last year when he really lost 50%. This is outright FRAUD!
Otis argued that the Writs of Assistance which required no probable cause placed "the liberty of every man in the hands of every petty officer." This was in February 1761, in Boston, and the famous debate in which it occurred was perhaps the most prominent event, which inaugurated the resistance of the colonies to the oppressions of the mother country. "Then and there," said John Adams, "then and there was the first scene of the first act of opposition to the arbitrary claims of Great Britain. Then and there, the child Independence was born." History indeed repeats. The tyranny of the Biden Administration is unfolding as was the case under King George III.
Here are a few excerpts from that famous speech of James Otis that so moved John Adams and inspired the birth of the American Revolution.
I will to my dying day oppose, with all the powers and faculties God has given me, all such instruments of slavery on the one hand and villainy on the other as this Writ of Assistance is. It appears to me the worst instrument of arbitrary power, the most destructive of English liberty and the fundamental principles of law, that ever was found in an English law-book…  
The writ prayed for in this petition, being general, is illegal. It is a power that places the liberty of every man in the hands of every petty officer. I say I admit that special Writs of Assistance, to search special places, may be granted to certain persons on oath. But I deny that the writ now prayed for can be granted…
In the first place, the writ is universal, being directed "to all and singular justices, sheriffs, constables, and all other officers and subjects"; so that, in short, it is directed to every subject in the King's dominions. Everyone with this writ may be a tyrant; if this commission be legal, a tyrant in a legal manner, also, may control, imprison, or murder any one within the realm.   In the next place, it is perpetual; there is no return. A man is accountable to no person for his doings. Every man may reign secure in his petty tyranny, and spread terror and desolation around him, until the trump of the Archangel shall excite different emotions in his soul. In the third place, a person with this writ, in the daytime, may enter all houses, shops, etc., at will, and command all to assist him. Fourthly, by this writ not only deputies, etc., but even their menial servants, are allowed to lord it over us…  
One of the most essential branches of English liberty is the freedom of one's house. A man's house is his castle; and whilst he is quiet, he is as well guarded as a prince in his castle. This writ, if it should be declared legal, would totally annihilate this privilege. Custom-house officers may enter our houses when they please; we are commanded to permit their entry. Their menial servants may enter, may break locks, bars, and everything in their way; and whether they break through malice or revenge, no man, no court can inquire. Bare suspicion without oath is sufficient. 
Let me make something  VERY clear. Part of the Build Back Better agenda from the World Economic Forum is to eliminate all democratic rights. To enter your home without a warrant means they do not have to claim there is probable cause that you even have a weapon. That means every home can be violently searched at will. The Biden Administration is attacking every amendment head-on, from free speech, religion (e.g., locking down churches), to the Second Amendment right now. They already have obliterated Due Process of Law and want to repeal the Fourth Amendment effectively. If you disarm Americans, then there is also no reason for the police to be armed, as is the case in London.
He states to justify this order: "Every day in this country, 360 people are shot. Every single day 106 of them die." On average, there are 16,438 car crashes per day in the US. In 2016, 37,416 people died in car crashes, which is 102.6 people per day die. So should Biden issue an executive order outlawing all cars?

The Democrats are systematically altering the entire country and overturning the Constitution, which stands in their way of Marxism. The Democrats have no mandate. They hold power by a slim 50.4%. There was certainly no mandate in the outcome of the last election that justifies anything they are doing of this magnitude. The November 2020 election simply confirmed that the US remains split precisely down the middle, 50-50. This has been the case really for at least 20 years, ever since the deadlock of Al Gore and George W. Bush. If the 2020 election meant anything at all, it once again just confirmed that the nation is trapped with irreconcilable differences, and like a marriage, the only possible solution is DIVORCE. That means revolution!
Views: