Bloomberg: Grim Stock Signals Piling Up as Wall Street Mulls Recession Odds
Nine turbulent weeks and a correction in U.S. stocks have left analysts with a thorny question. What's the market saying about the economy?
And while few see incontrovertible signs investors are bracing for a recession, it's a word that's been coming up more as they seek a signal in the chaos.
From the ascent of defensive industries to the sudden craze for companies that resist volatility, stocks are acting in ways that have presaged slowing growth in the past. That makes sense: gains in the economy and corporate earnings are forecast to ease in 2019 from this year's torrid pace.
Befitting that, most of the charts that follow reflect observations by analysts who don't see a recession as the most obvious conclusion. Many view the sell-off as healthy after a 10-year run of gains. But with a trade war flaring and the Federal Reserve set to boost interest rates again, the number of stock researchers who are at least willing to mention the possibility is rising.
"What's driving the sell-off? The idea that the market sees something that we don't," said Bruce McCain, chief investment strategist at KeyBank. "That global growth and the global economy are much weaker than you would've thought otherwise reinforces concern that there aren't too many places to hide."
It doesn't take a degree in technical analysis to be concerned. More than $3 trillion has been lopped from U.S. equity values since late September, a sell-off that has driven the S&P 500 down 10 percent and tech stocks well past the threshold for a correction.
To see how violent it's been, look at the number of stocks where this year's once-robust price momentum has come asunder — those trading below their 200-day average. Support is wearing thin, with just 37 percent of S&P 500 companies exceeding their long-term moving mean. Futures on the benchmark gauge signaled some respite on Monday, gaining 0.5 percent during the Asia trading session.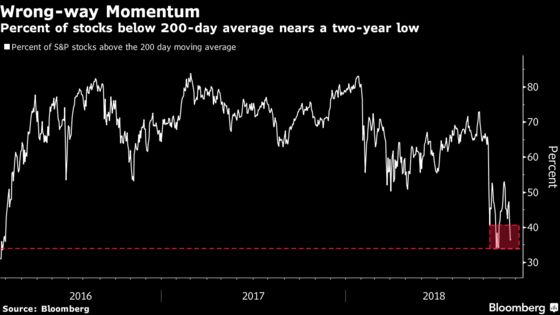 As Americans borrowed well beyond their means during the Fed-driven 0%-interest-rate party years, housing was bid up with relentless ferocity. The roller coaster has peaked and paused, and all that's left is the fall.
Higher mortgage rates following a multi-year period of almost impossibly low mortgage rates. Real estate investment buyers outbidding other speculators, driving up the prices of houses nationwide, as flipping came back into vogue.
When there's next-to-free money to be borrowed, you can bet it will be borrowed. By anyone who can get it, for any reason at all.
Lots of ZIRP-driven mortgage date was originated over the past decade. Now, with mortgage rates near 8-year highs, money isn't so free anymore.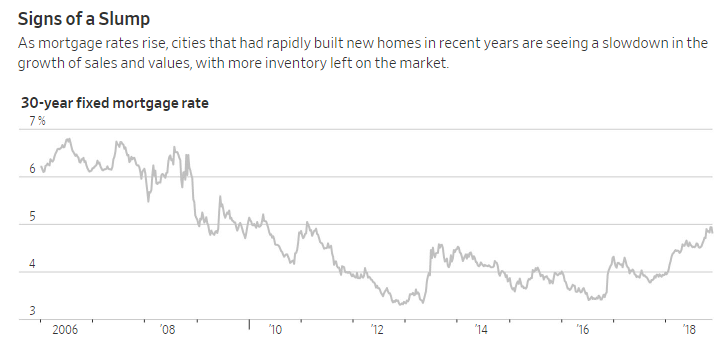 And sellers now find a wildly frothed-out market desperately trying to maintain nosebleed pricing in the face of housing starts that are still ramping up despite falling sales.
And inventories are spiking dramatically in what were the hottest housing markets, yet sellers are still holding out for peak-bubble pricing.
….
—-
END OF QE IS COMING…. I'm sure this strong world economy won't notice the end of free liquidity. Probably saved by tax cut and debt funded share buybacks. Global markets down ~14%, if this is not time to BTFD I would blame: @OccupyWisdom pic.twitter.com/NXAkoAUUa4

— CreditCrumble (@credit_crumble) November 26, 2018
Billionaires Are Leveraging Up in Case of Downturn, Banker Says t.co/eIY541f2HA

— mcm-ct.com (@mcm_ct) November 26, 2018
863 views