Challenged aircraft-maker Boeing reported a smaller quarterly loss – helped by an improvement in aircraft deliveries as its 737 MAX jets come back on line and airlines prepare for a recovery in travel this summer – even as it missed adjusted EPS expectations despite beating on revenue.
Below is a snapshot of the company's Q1 results:
Adj EPS Loss $1.53 vs. Loss $1.70 Y/Y, Est. loss 1.16
Neg Operating Cash Flow $3.39B, Est. Negative $3.12B
Neg Adj Free Cash Flow $3.678B, Est. Negative $3.34B
Revenue $15.22B, down from $16.9B Y/Y; Est. $15.12B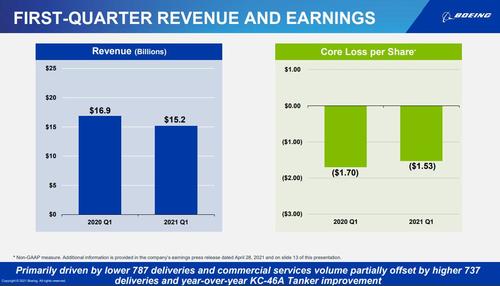 Boeing had a -69.55% negative earnings surprise.
While the company missed EPS, it's worth noting that Boeing's tax rate was 1.9% in the quarter, reflecting a benefit from its pre-tax losses and "true-ups to tax benefits previously recorded in 2020." Translation: it's loss would have been even worse.
A breakdown of revenue:
Commercial Airplanes: 4.27bln (exp. 4.96bln)
Global Services: 3.75bln (exp. 3.93bln)
Integrated Defense, Space And Security: 7.19bln (exp. 6.36bln)
According to the company, revenue was primarily driven by lower 787 deliveries and commercial services volume, partially offset by a resumption of 737 deliveries and higher KC-46A Tanker revenue. A breakdown of revenue by segment:
Commercial Airplanes: 4.27bln (exp. 4.96bln)
Global Services: 3.75bln (exp. 3.93bln)
Integrated Defense, Space And Security: 7.19bln (exp. 6.36bln)
Boeing said it expects to see passenger traffic return to 2019 levels in 2023-2024 and return to long-term trends thereafter. That said, for now the company sees Airlines as remaining under pressure and adjusting operations and fleet planning. The company expects to incur around $5BN of abnormal production costs on a cumulative basis in its commercial airplanes segment.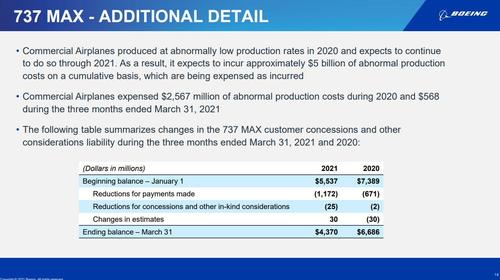 Some more headlines:
Continued Progress on Safe Return to Service of 737 Max
737 Program Is Currently Producing at A Low Rate
Boeing to Gradually Boost 737 Production to 31/MO in Early 2022
Boeing Still Expects to Deliver First 777x in Late 2023
Boeing Also Resumed 787 Deliveries in Late March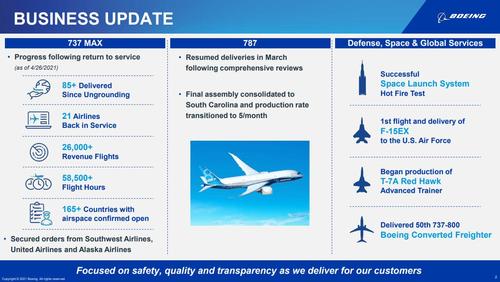 Of note, Boeing revealed a $318 million charge at its defense unit in the quarter on its contract to manufacture replacements for Air Force One presidential aircraft. Boeing says the charge was "largely due to Covid-19 impacts and performance issues at a key supplier."
In its slide deck (see below), Boeing stated the obvious saying that "2021 financials hinge on commercial market recovery" and cited four key risks and opportunities:
The pace of vaccinations and coronavirus case rates
Airline passenger traffic recovery
Remaining regulatory approvals for the 737 Max
U.S.-China relations
Separately, the company's total backlog reversed its ongoing decline and grew to $364 billion as Commercial Airplanes added 76 net orders.
Boeing's inventories also grew by $953 million to $82.7 billion in the quarter even as the company cranked up 737 Max deliveries. This more than likely was driven by the inspections and repairs that caused Boeing to halt 787 Dreamliner deliveries for five months. The company had around 96 of the wide-body jets parked around its factories and in the California desert as of the end of March, estimates Robert Spingarn, an analyst with Credit Suisse. That would equate to about $12 billion of inventory.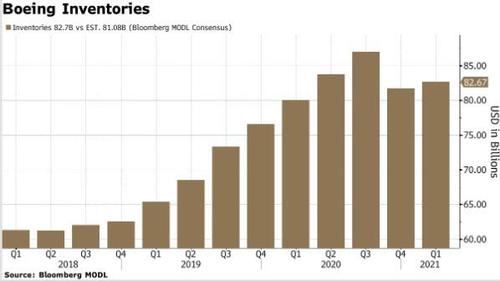 Commenting on the quarter, CEO Dave Calhoun said that "while the global pandemic continues to challenge the overall market environment, we view 2021 as a key inflection point for our industry as vaccine distribution accelerates and we work together across government and industry to help enable a robust recovery."
Boeing "made important strides this quarter, and we must stay diligent as we navigate through this global pandemic together. Challenges remain, and we will continue to monitor the global trade environment as well as Covid-19 trends across the globe," Calhoun said in a message to employees.
Airlines have been ramping up flight capacity as rising vaccination rates make travelers confident about traveling once again. That has boosted deliveries of Boeing's fast-selling 737 MAX plane after it was cleared by regulators to re-enter service late last year following two fatal accidents, lifting revenue and cash flow at the planemaker.
To be sure there were the usual Boeing-related setbacks: One disappointment for investors: Boeing again refrained from offering investors guidance for the company's full-year financial performance. In Boeing's slide presentation, the company provided an broad financial outlook by saying it expects "higher revenue, lower use of cash" in 2021. It said that would primarily come from higher 737 and 787 deliveries even as it continues to pay compensation for 737 Max delays.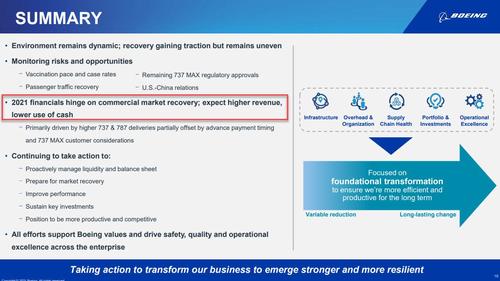 Another disappointment: while Boeing's results were generally in line with expectations, for yet another quarter Boeing burned more cash than expected as plunging 787 Dreamliner deliveries offset the benefits of the 737 Max's return following the longest jetliner grounding in U.S. history; Q1 adjusted Free Cash Burn of $3.68BN was about $1BN better than a year ago but worse than the $3.34BN expected.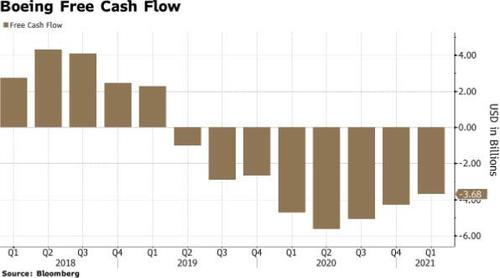 As a result, while the company's cash declined by almost $4BN, its debt remained at a staggering $62BN. The longer Boeing is unable to reduce its debt load, the more likely it will lose its Baa2/BBB- investment grade rating.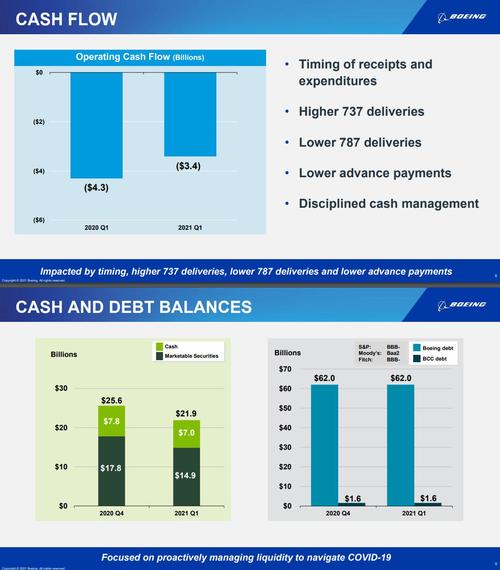 There was more: Boeing said it's still working on potential electrical faults on the 737 Max, i.e., the company doesn't yet have a solution to a problem that has forced a suspension of deliveries. That's a topic that's sure to come up on the conference call. For now, Boeing says this: "We are working closely with the FAA and our customers to address electrical issues identified in certain locations in the flight deck of select 737 Max airplanes."
As Bloomberg summarizes investor sentiment, Boeing cash burn missed expectations after plunging 787 Dreamliner deliveries blunted the benefits of the 737 Max's return following the longest jetliner grounding in U.S. history. The shaky performance underscored the challenges ahead for Boeing as it emerges from one of the toughest two-year stretches in its century-long history.
While the results were a little worse than expected, the report was the first in a while that didn't include a messy array unusual items. "So all in all, there was a little less drama" although one exception was a $318 million charge related to problems at a supplier in the program to replace Air Force One jets.
Looking ahead, CEO Dave Calhoun says Boeing expects 2021 to be a "key inflection point" for the aviation industry as Covid-19 vaccines gain ground. The recovery will be gradual, with passenger traffic expected to return to normal in the 2023-2024 time frame.
The company is still working on 737 Max "electrical issues"that have forced a suspension of deliveries. While a fix isn't expected to be cumbersome, that's a big watch item for investors since the Max is the company's best-selling plane.
Investors were clearly less optimistic, and the stock dropped modestly in premarket trading on the latest disappointing cash burn numbers from the company.
Boeing Q1 invest presentation below (pdf link here).
Yes, Boeing's stock has plummeted in line with declining EPS.
Boeing's stock price plunged after the negative earnings announcement.
722 views