Boris Johnson confirms bid for Tory leadership
Boris Johnson has said he will run for the Conservative Party leadership after Theresa May stands down.
Asked at a business event in Manchester if he would be a candidate, the former foreign secretary replied: "Of course I'm going to go for it."
Mrs May has said she will resign once MPs back her Brexit deal.
A decision on her exit timetable will now take place after the House of Commons votes on her Brexit bill early next month.
Sir Graham Brady, chairman of the 1922 Committee of backbench Conservative MPs, made the announcement following a meeting between the prime minister and his committee's executive on Thursday. He said it would bring "greater clarity" to Mrs May's intentions.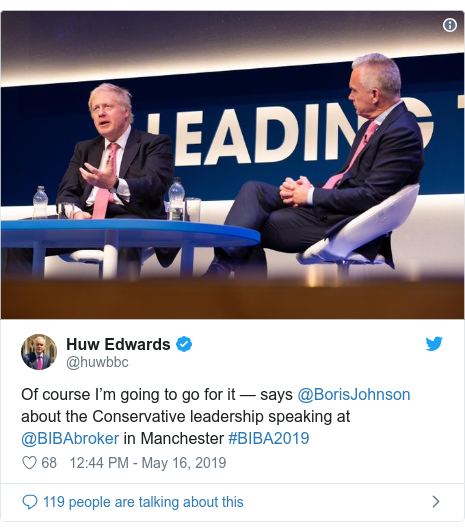 Britain's May to agree departure after latest Brexit deal bid
* PM did not set out firm departure date in talks with party
* May to try fourth attempt to get her Brexit agreement approved
* Will agree exit timetable after vote on deal (Adds reaction)
By Kylie MacLellan and Elizabeth Piper
LONDON, May 16 (Reuters) – British Prime Minister Theresa May will set out a timetable for her departure in early June after the latest attempt to get her Brexit deal approved by parliament, the chairman of a powerful Conservative Committee said on Thursday.
Three years after Britain voted to leave the European Union, there is little clarity over when, how and even whether Brexit will happen, prompting some in her party to call for a new approach to the country's biggest policy shift in more than 40 years.
May has promised to step down after her Brexit deal is approved by lawmakers. But many in her party want her to set out clearly when she will quit if the agreement is rejected for a fourth time, and others are demanding her immediate departure.
552 views