via Bloomberg:
Hong Kong's banks are staring at a tough year for business, marred by lower demand for loans and a peak in local property prices.
Goldman Sachs Group Inc. cut the lenders' loan-growth estimates and target prices on Tuesday. Citigroup Inc. said the banks' shares may drop as much as 15 percent in 2019.
"A cyclical slowdown in loan growth has been happening recently as rates started to rise and macro slowed this year," Goldman analysts Gurpreet Singh Sahi and Ethan Liu said in the note. "Whether this slowdown follows the recent historical one-to-two years 'shallow' pattern or becomes longer and deeper would depend on how the current 'financial' cycle in Hong Kong unfolds."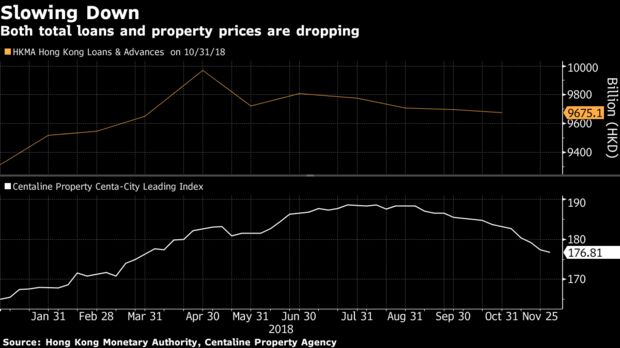 Hong Kong's banks grew their balance sheets when money sloshed around in the aftermath of the global financial crisis, which boosted their revenue and profit. Now global authorities are withdrawing stimulus and concern about leverage in China is pushing policy makers to reduce risk in the financial system, hurting demand for loans.
543 views