California's Gov. Gavin Newsom signs law to put illegals on state boards
Talk about disenfranchisement. In California, seems it's not enough that foreign nationals who've just spilled over the U.S. border from the south can get free education, free health care, free housing, and all that — now it looks as though locals may just find themselves lorded over by foreign nationals with zero loyalty to the United States making policy, now that Gov. Gavin Newsom has signed SB225, a bill to allow illegals to "serve" 9and be paid) on state boards that make policy in California. If your interests conflict with theirs, too bad about yours:

According to the San Francisco Chronicle:

SACRAMENTO — Undocumented immigrants [sic] and other non-citizens will be allowed to serve on state boards and commissions after Gov. Gavin Newsom signed a package of bills Saturday intended to integrate immigrants further into society.

SB225 by Sen. Maria Elena Durazo, D-Los Angeles, expands eligibility for state appointments to any California resident over the age of 18.

In a signing message, Newsom said applicants deserved to be considered on their merits, rather than their immigration status.
---
From SB-225:
California has made great strides in integrating our immigrant population in all aspects, including passing laws that authorize health care for all children, professional licenses, driver's licenses, college grants, loans, and in-state tuition for eligible residents, regardless of their immigration status.
This is ridiculous. The only way we're going to get better is if the president cuts off all federal funding to the state. This and the state board thing is equal to enabling a drug addict by paying for his drugs and giving him a place to live.
People keep asking how he can be so bad. It is a mafia that has been running California as their territory for decades. They really don't care if they destroy California, the only citizens they care about are themselves, and they are doing great.
"We are truly excited about the about the new voting system and want you to be too!"
That was the message from Los Angeles County Supervisor Sheila Kuehl in an email blast to share the news that the most populous county in California, with more than 5.3 million registered voters, is introducing new voting machine technology, abolishing precinct polling places, and throwing the doors open for 11 days of in-person voting, just in time for the March 2020 primary.

Instead of local polling places that are open only on Election Day, there will be 1,000 Vote Centers that will be open for 11 days. Registered voters will be able to vote at any Vote Center just by walking in and giving their name and address. They'll be able to change their address, or their party preference, or their preference for by-mail or in-person voting. They'll be able to request a new ballot. And they'll be able to vote the same day that they make any of these changes.

No identification is required.

Here's the security procedure to make sure people really are who they say they are.

Want to hear it again?

That's right, there is no security whatsoever to protect against voter impersonation.

By coincidence, or maybe not by coincidence, these three states (that don't require any ID to vote) have some of the highest tax rates in the country. It almost makes you wonder who's voting for those, and who's voting for the elected officials who are voting for those.

In California, statewide ballot measures have been used to raise taxes. Often. And in November 2020, that could happen again.

Who's voting in Los Angeles County? The truth is, we'll never know.
CHANGE: 'Basic income' experiment offers Stockton residents a glimpse of the California Dream.
I'm (just) old enough to remember when the California Dream meant pulling up stakes back east, and heading west to find a good job and a new life in a sandy, sunny paradise. Now it means qualifying for unrestricted welfare in a trash-strewn, poop-filled place where they can't even keep the lights on.
MEANWHILE, OVER AT VODKAPUNDIT: California Turns Off a Lot More Than Just the Lights.
Difficult to give you a juicy excerpt from this one, since the euphemistically named "Public Safety Power Shut-Offs" cause such a broad swathe of problems. But I think you'll find it's worth a few minutes of your time.
THE RETURN OF THE PRIMITIVE: No Power? Then Say Goodbye To Security, NorCal CRE Says.
In the throes of PG&E's unprecedented Public Safety Power Shut-Off, office and multifamily experts say security was their primary concern until power could be restored.

The silver lining of this kind of outage, which commercial real estate fears may be the region's new normal, compared to a natural disaster is the modicum of forewarning the bankrupt company can provide a few days ahead of time, but constantly changing weather forecasts rendered part of that seeming advantage useless.

"It seems really haphazard," Transwestern Northern California Vice President of Asset Services Blake Peterson said of PG&E's notifications and plans.

Indeed, PG&E CEO Bill Johnson admitted as much Thursday night during a press conference.

"Our website crashed several times. Our maps are inconsistent and maybe incorrect. Our call centers were overloaded," Johnson said. "To put it simply, we were not adequately prepared to support the operational event."

The result, according to multiple property management sources, was a scramble to provide darkened buildings the bare-essential services, like security and elevator power.
What could go wrong? Pretty much everything.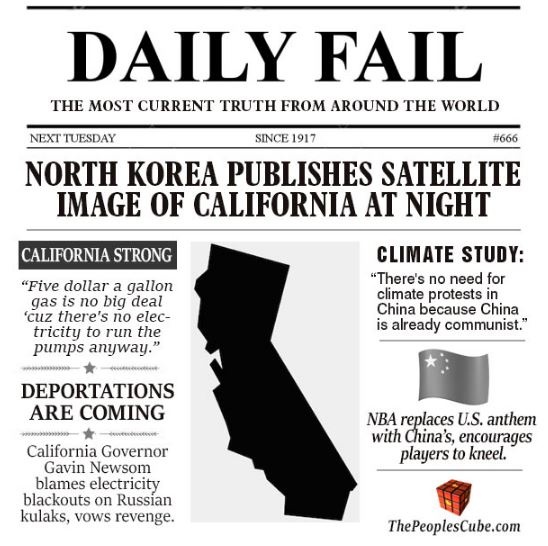 NOTHING TO SEE HERE. MOVE ALONG. CalPERS is Heavily Invested in Chinese Companies. "As NBA frets over PRoC, Yu Ben Meng bets big with dollars from America's largest pension fund."
California's public employees should know that their retirement funds have invested in companies controlled by the Chinese military, which manufacture parts for the DF-41 missile, along with a range of aircraft, unmanned aircraft systems, and airborne weapons.

For that matter, these pension funds not only invest in Chinese companies (and index funds, tracked by mutual funds, that are heavily weighted with Chinese companies) directly involved in manufacturing military equipment and surveillance equipment, they also invest in Chinese companies involved directly or indirectly in human rights, labor rights, and environmental protection violations all over the world.

California's largest public employee pension fund, CalPERS, provides a case in point. Despite its quest for the elusive 7 percent annual return, CalPERS nonetheless foregoes investments in Iran, Sudan, assault rifles, tobacco products, and thermal coal. Yet CalPERS continues to invest in Chinese companies.
Read the whole thing.
Drugs, needles, feces, rats and STDs, oh my! STD cases hit 30-year high in California
From KTLA: Sexually transmitted diseases reached epidemic levels in California last year, with three STDs hitting their highest levels in the state in 30 years, according to a report released Tuesday.

For 2018, the California Department of Public Health saw an increased number of reported syphilis, gonorrhea and chlamydia cases. The number of cases also rose significantly from a decade ago.

Syphilis had the most dramatic spike over the 10-year period in terms of percentage; the 25,344 diagnoses represents a sharp rise of 265% from 2008, according to the report.

Chlamydia had the most cases last year with 232,181, up 56% over the past decade. And there were 79,397 cases of gonorrhea, 211% more than 10 years ago.

But what was particularly concerning for health officials was the number of congenital syphilis diagnoses which rose 14% from the previous year and increased for a sixth consecutive year. Since 2012, the number of infants diagnosed with the potentially lethal disease skyrocketed 900%.

 
h/t LSR