Average home price in 2018 fell for first time since 2008, largest decline in the data going back to 2001. 
By Steve Saretsky, Vancouver, Canada, Vancity Condo Guide:
National home sales across Canada slipped for the second consecutive year, dropping 11% when compared to 2017. It was indeed the steepest annual decline since the Financial Crisis in 2008. As a result, the average home price leaked lower to $488,699, a 4% decline from last year. The decline marked the first year-over-year drop since 2008, when the national average slipped a mere 0.71%.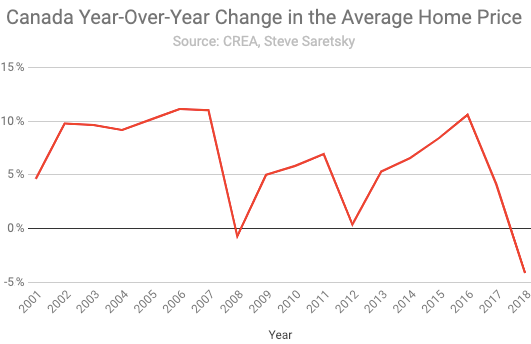 The slowdown prompted the concerns of RBC's Chief Economist Richard Hogue who put a particular focus on the nations most expensive housing stock. "The evolution of Vancouver's market bears watching closely because the recent bout of weakness suggests that the correction has further to run. Prices are poised to depreciate more—potentially a lot more considering the degree to which they are still unaffordable to average buyers."
The bearish sentiment protruding from one of Canada's more respected bank economists warrants further discussion as to the role of behavioral economics within financial markets. Human sentiment and narratives play a large role in the price action of financial assets, particularly for real estate.
As famed American Economist Robert Shiller writes, this sentiment is largely shaped by the news media. "The media actively shape public attention and categories of thought, and they create the environment in which the speculative market events we see are played out."
Cue Vancouver Headlines from 2016:
"Metro Vancouver housing market sets new sales record in 2015 as prices keep climbing" – Financial Post, January 2016

"Unconditional offers are new normal in Vancouver real estate market" – Globe & Mail, February 2016″

"Vancouver area benchmark house price now $1.4M, up 30% in 1 year" – CBC News, May 2016
But as Shiller writes, all mania's eventually come to an end, and the media plays an equal role in compounding the role of public sentiment in the opposite direction.
More Recent Vancouver Headlines:
"Buyers retreat from Metro Vancouver housing market over new taxes" – Vancouver Sun, September 2018

"Vancouver Real Estate Slowdown Expected to Persists in 2019 As Cooling Measures Take Effect"- Globe & Mail, December 2018

"Metro Vancouver housing sales hit nearly 20 year low"- January, 2019
Indeed the evolution of Vancouver's market bears watching closely, and so too does the evolution of the media coverage of the market. The winds of sentiment are blowing in the opposite direction. By Steve Saretsky, Vancity Condo Guide
With Seattle's economy still strong, the downturn isn't caused by layoffs & defaulting mortgages. The fabulous bubble has run out of steam on its own. Read…  Housing Bubble Trouble in the Seattle-Bellevue Metro 
1,104 views