From Bloomberg:
The equity rally that saw the S&P 500 Index cap its third straight weekly advance — the best start since 1987 — is being driven by two things: Upward earnings revisions and the crush of money flowing into stocks. Optimism that the advance fueled by Donald Trump's presidency will keep going is high among institutions and mom-and-pop investors alike. A survey by the University of Michigan shows that a record 66% of Americans believe the stock market will climb in the next year.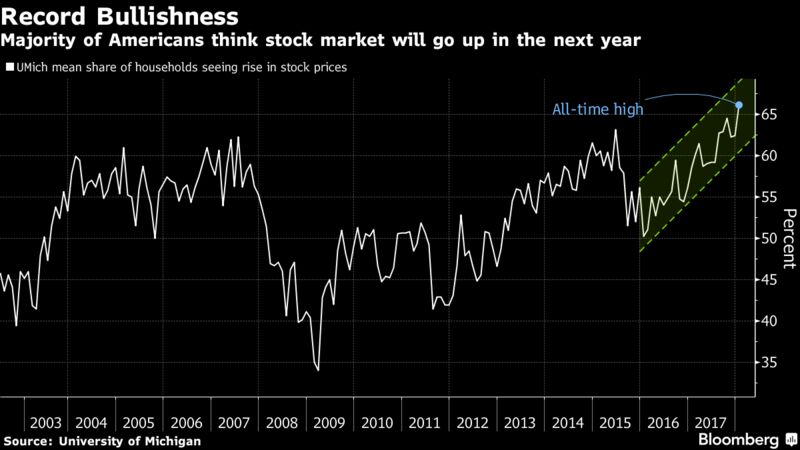 twitter.com/NorthmanTrader/status/955533541391126529
US 2-Year Yields…
Jan '12: 0.26%
Jan '13: 0.26%
Jan '14: 0.44%
Jan '15: 0.53%
Jan '16: 0.88%
Jan '17: 1.16%
Today: 2.08% (9-Year high) pic.twitter.com/k3LplUGHJO

— Charlie Bilello (@charliebilello) January 22, 2018
holy shit. +$40 billion in net spec longs in S&P futs since early december pic.twitter.com/tytVTA5Bf4

— Movement Capital (@movement_cap) January 21, 2018
Global Equity Valuation Breadth t.co/lyq7QfYZn8 pic.twitter.com/pXToNw4hb7

— Topdown Charts (@topdowncharts) January 23, 2018
Wait. I thought earnings were the thing that was powering the market???
From Factset: "The fourth quarter marked the 18th time in the past 20 quarters in which the bottom up EPS estimate decreased during the quarter while the value of the index increased over this same period." pic.twitter.com/kbGntSkIpF

— steph pomboy (@spomboy) January 19, 2018
"Justified" pic.twitter.com/g1g1AiULn0

— Alastair Williamson (@StockBoardAsset) January 23, 2018
lol of the week pic.twitter.com/at6jE0lWRh

— Alastair Williamson (@StockBoardAsset) January 23, 2018
The next recession will be harder to fight because public debts are so much higher
World finance now more dangerous than in 2008, warns top central bank veteran
This Rare Bear Who Called the Crash Warns Housing Is Too Hot Again
Homebuilders, which have focused on pricier homes since the market bottomed in 2012, are now getting ready for a wave of first-time buyers left with little to choose from on the existing-home market. Investors are rushing to builders of starter homes, because lower-priced homes in the U.S. are in the shortest supply. Shares of LGI Homes Inc., which targets renters with ads that trumpet monthly payments instead of prices, rose 161 percent last year. D.R. Horton Inc., the biggest builder, powered by its fast-selling Express entry-level brand, gained 87 percent.
Overall, the S&P 500's index of homebuilders increased 75 percent last year, about four times as much as the stock market as a whole. A subset that includes just the three largest builders was the best performer of the 158 S&P groups.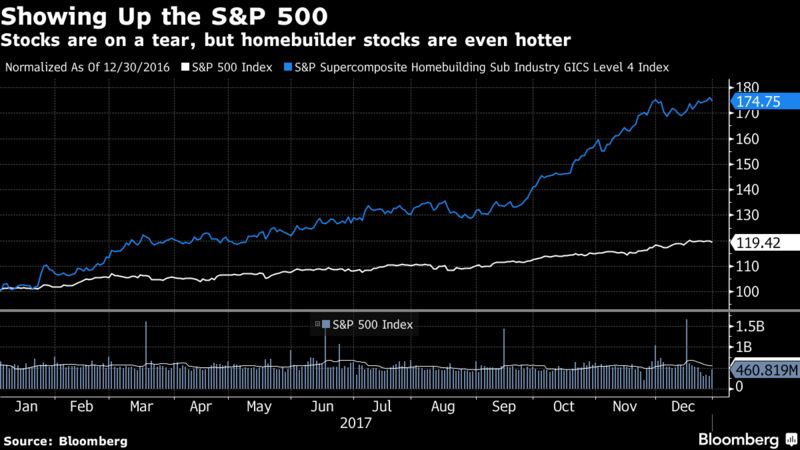 "Over the past year, we've really seen a pickup in the first-time buyer, and that's what's driving a lot of the stocks," said Samantha McLemore, who co-manages Bill Miller's Miller Opportunity Trust, which has stakes in PulteGroup Inc. and Lennar Corp. "In the long term, we continue to see strong earnings growth for years to come."