China Warns on Debt, But Bond Buyers Shrug
National policy makers nowadays have prioritized reducing risk in the financial system, and part of that involves telling local authorities to let LGFVs stand on their own, without the backing of the state. Some have listened — for example, Moody's Investors Service and Fitch Ratings have said debt repayment failures are becoming more likely.
Who's not listening? Bond buyers. The yield premium on LGFV five-year notes rated AA — a typical grade — over government securities has dropped 61 basis points from a June high, to 163 basis points, according to data compiled by ChinaBond. That means they've broadly kept pace with the rest of the corporate-debt market, outperforming during a time when government bonds have tumbled, sending yields to three-year highs….
Investors have yet to see eye-opening defaults, analyst says. Risk is continued capital misallocation: BNP Asset Management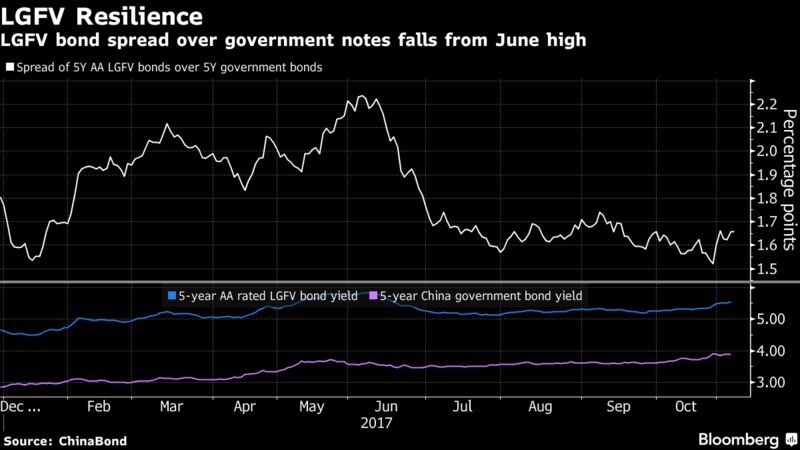 "Deleveraging is at the top of Xi's agenda and LGFVs are part of it," said Chi Lo, greater China senior economist at BNP Paribas Asset Management in Hong Kong, referring to President Xi Jinping, who reiterated the need to reduce financial risks at last month's Communist Party congress. "If the issue isn't solved, the capital mis-allocation problem will remain, and the excess capacity problem won't go away."
www.bloomberg.com/news/articles/2017-11-07/china-s-warnings-ignored-by-bond-buyers-loving-local-debt-units?utm_content=markets&utm_campaign=socialflow-organic&utm_source=twitter&utm_medium=social&cmpid%3D=socialflow-twitter-markets
China's Central Bank Chief Warns of 'Sudden, Contagious and Hazardous' Financial Risks
Here are some of the other points Zhou made:
On risks and regulation
China's financial system faces domestic and overseas pressures; structural imbalance is a serious problem and regulations are frequently violated
Some state-owned enterprises face severe debt risks, the problem of "zombie companies" is being solved slowly, and some local governments are adding leverage
Financial institutions are not competitive and pricing of risk is weak; the financial system cannot soothe herd behaviors, asset bubbles and risks by itself
Some high-risk activities are creating market bubbles under the cover of "financial innovation"
More companies have been defaulting on bonds, and issuance has been slowing; credit risks are impacting the public's and even foreigners' confidence in China's financial health
Some Internet companies that claim to help people access finance are actually Ponzi schemes; and some regulators are too close to the firms and people they are supposed to oversee
China's financial regulation lags behind international standards and focuses too much on fostering certain industries; there's a lack of clarity in what central and regional government should be responsible for, so some activities are not well regulated
China should increase direct financing as well as expand the bond market; reduce intervention in the equity market and reform the initial public offering system; pursue yuan internationalization and capital account convertibility
China should let the market play a decisive role in the allocation of financial resources, and reduce the distortion effect of any intervention
China should improve coordination among financial regulators
www.bloomberg.com/news/articles/2017-11-08/trump-scraps-surprise-dmz-visit-amid-heavy-fog-in-south-korea
China Traders Take on Risk as Margin Debt Tops One Trillion Yuan
Outstanding margin debt on local bourses climbed above 1 trillion yuan ($151 billion) on Monday for the first time since January 2016 as the Shanghai Composite Index rallied 12 percent from this year's low in May. That's helping lifting sentiment toward brokerages, with Citic Securities Co. rising to a one-month high on Wednesday.
Still, with the government emphasizing the need for stability and reduced leverage in the financial sector, any sharp increase in borrowed money is unlikely. Margin debt — which helped fuel the boom to bust two years ago — is still less than half of its 2015 peak, and has barely increased as percentage of market capitalization this year. New investors have also not rushed in.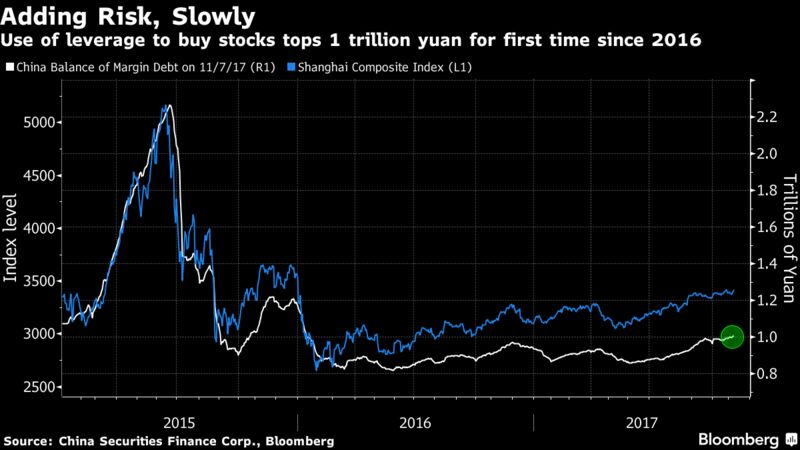 www.bloomberg.com/news/articles/2017-11-08/china-traders-take-on-risk-as-margin-debt-tops-1-trillion-yuan
China's Former Top Graft-Buster Warns of Plots to Seize Power
China must step up vigilance against plots to grab power, as political corruption is the worst form of corruption, Wang Qishan, the country's still influential former top graft-buster, wrote on Tuesday.
www.reuters.com/article/us-china-corruption/chinas-former-top-graft-buster-warns-of-plots-to-seize-power-idUSKBN1D70HR?utm_campaign=trueAnthem:+Trending+Content&utm_content=5a0159f304d3016d0cff00f3&utm_medium=trueAnthem&utm_source=twitter