China's Economy Slows Sharply, in Challenge for Xi Jinping
DONGGUAN, China — China's consumers and businesses are losing confidence. Car sales have plunged. The housing market is stumbling. Some factories are letting workers off for the big Lunar New Year holiday two months early.
China's economy has slowed sharply in recent months, presenting perhaps the biggest challenge to its top leader, Xi Jinping, in his six years of rule. At home, he faces difficult choices that could rekindle growth but add to the country's long-term problems, like its heavy debt. On the world stage, he has been forced to make concessions to the United States as President Trump's trade war intensifies.
How badly this hurts him could depend on the extent to which Chinese workers like Yu Hong find their jobs disappearing. On a recent afternoon, Mr. Yu, 46, was boarding a train home, to Hubei Province in central China, for a nearly three-month unpaid holiday. The lamp factory in Dongguan where he works had drastically reduced pay and cut hours.
"The whole environment is different now," Mr. Yu said. "For migrant workers like us, we just want to earn more money."
Gauging the magnitude of the slowdown is difficult, given the unreliability of China's economic data. But there are signs that the country's problems are deepening.
The Incredible Shrinking Profits of Chinese Industrial Corporations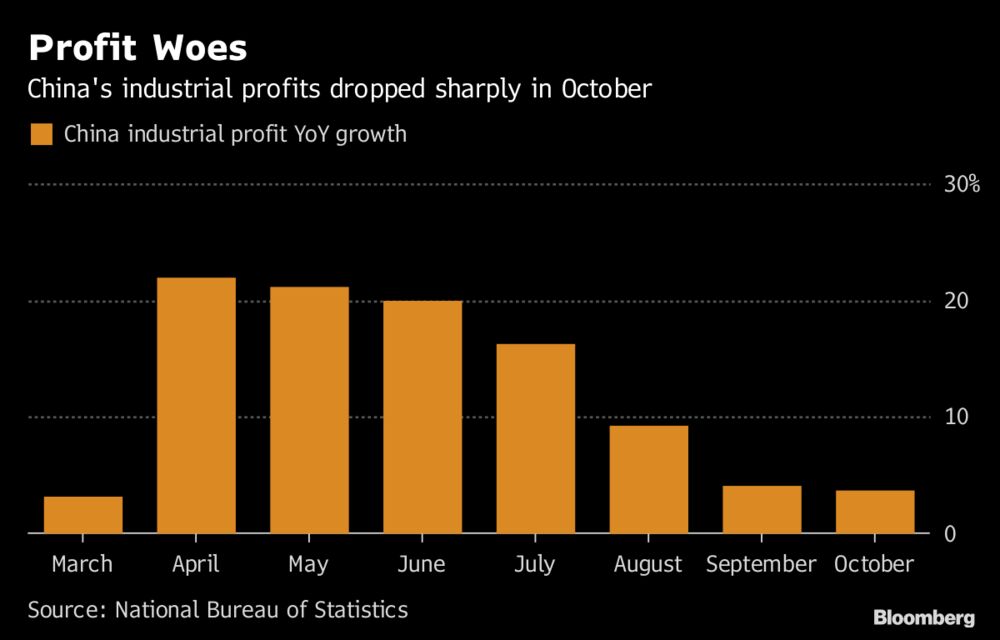 Japan cuts GDP, CPI forecasts on disasters and trade war
TOKYO (Reuters) – Japan's government revised down its forecasts for economic growth and consumer prices for the current and next fiscal years as natural disasters and weakening export demand weighed on the economy, the Cabinet Office said on Tuesday.
The forecast cuts follow disappointing data on quarterly gross domestic product and machinery orders, highlighting the growing downside risks posed by a trade war between the United States and China.
The government will use the forecasts to finalize the state budget for the next fiscal year starting in April, which could present policymakers with a host of challenges as they prepare to raise the nationwide sales tax.
Japan's economy will grow 0.9 percent in fiscal 2018, which ends in March, the Cabinet Office said. That is down from its previous projection of 1.5 percent growth.
US Stock Market Having the Worst December Since the Great Depression
"December is typically a very positive month for markets. The Dow has only fallen during 25 Decembers going back to 1931."
Fed Survey: Recession Chances Now at Highest Level of Entire Trump Presidency
"Respondents boosted the chance of recession, reduced their support for the president's handling of the economy and lowered their outlook for economic growth and Fed rate hikes."
926 views