"A building binge leaves cities with 65 million empty apartments"
TOKYO/HONG KONG — For many single men in China, buying an apartment is a prerequisite for marriage. Yan Zhong, a 34-year-old resident of the northern city of Jinan, has hopes to do both. But lately, he has started to have second thoughts — at least about buying the apartment.
"I'm considering holding back on my house purchasing plans for a while," he said.
Yan still intends to marry someday, but he is growing concerned about China's housing market. Even in a so-called second-tier city like Jinan, a 100-sq.-meter apartment would cost him about 2 million yuan ($297,000). Yan, who makes roughly 6,000 yuan a month working for a local environmental nonprofit organization, is only able to afford half of that, despite years of saving and generous support from his parents.
"Much of my salary will have to be spent on the mortgage, forcing me to lower my quality of life," he said. "If I find a girlfriend who does not mind renting, I would not be interested in buying a flat at all."
China's once-sizzling property market is showing signs of a slump, adding to a growing list of warning signs about the Chinese economy. Measures of consumer spending and confidence are sagging as businesses continue to absorb the impact of the U.S. trade war. Adding to the downbeat mood, China's economic growth in 2018 was the slowest since 1990.
Signs that China's real-estate bubble will burst and take the economy with it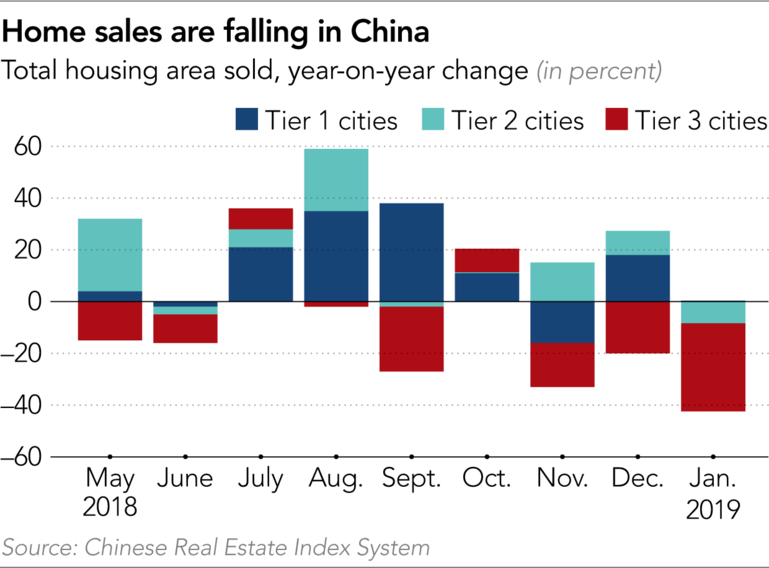 China's real-estate bubble is the largest in human history, and despite years of warning signs, it has grown and grown, spilling over into the rest of the world.
It's hard to overstate just how crazy China's real-estate market is: 25% of the country's GDP comes from construction, and 80% of the nation's wealth is in domestic property holdings. That's $65T, nearly double the size of the economies of every G7 nation combined.
The market has been kept afloat through China's massive "shadow banking" system, itself such a systemic risk that the Chinese government has been forced to crack down on it. Now, China's massive, blue-chip property developers have had their debt downrated to CCC and are struggling to issue new bonds — Moody's rates the debt of 51 out of 61 Chinese property companies as "junk."
China has 65 million vacant residences, but prices remain stubbornly high, even in "tier-two" cities like Jinan, where a 1000sqft apartment costs RMB2M, while a worker may only earn RMB6,000/month.
This has tanked sales volume (down 44% year-on-year in the first week of 2019), but developers are not able to lower their prices in the face of popular uprisings from people who have overleveraged themselves to buy into the tier-one city markets. In one case, a cut to the price of unsold units sent Shanghainese property owners into the streets chanting and holding up signs reading "Give us our hard-earned blood-and-sweat money back!"
The nation is staggering under massive real-estate debt, $3.4 trillion worth of it, and 47.1% of that is tied up in vacant properties, and the people who borrowed that money are not receiving rental income, nor are they living in those properties. The banks that lent that money could face a massive wave of defaults.
533 views