by AMY S.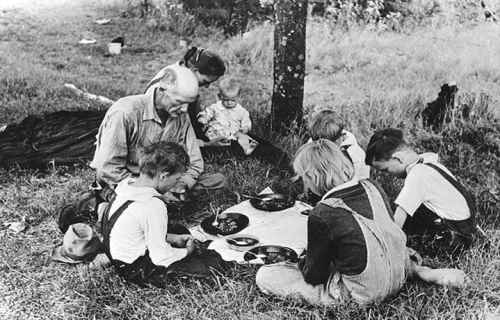 The Great Depression caused many hardships, but the cuisine that came from it proves how resilient people can truly be. These Depression-era recipes are proof that food from the 1930s is worth revisiting.
People at the time were forced to find cheap and creative ways to use food efficiently, resulting in some dishes you may not think of making today, but that was what the resources of the time allowed for.
Rice, beans, and cheese were major sources of protein, instead of meat, which was much more expensive. Of course, people didn't go entirely without meat. Substitutes for popular meats, like spam or bologna, were used instead. When families did get their hands on good meat, it was a real treat, and they would prepare the meat extraordinarily well, as well as preserve it in salt to make it last longer.
Great Depression Era Food Facts
1. Milk was considered a highly nutrient-rich food source and was either incorporated into most dishes or served as a beverage.
2. Italian immigrants were said to have eaten Dandelion greens, sauteing them with olive oil, during this time and were, in hindsight, one of the healthiest classes of people. They didn't eat much meat, because of how expensive it was at this time, and instead, filled up on delicious pasta dishes, which happened to be quite nutrient rich.
3. Relief meals were purposely made bland in an effort to force people to get jobs in order to become "excited about food" again. The thought was, if people were not excited about their meals, they would work harder in order to buy the spices and condiments that would make eating something to look forward to again.
4. Preparing one-dish suppers and attending potlucks were how people during the Great Depression were able to have fun and share food.
5. Some women were known to use the wrappers on margarine to butter their baking pans.
Our society faces a few problems, not the least of which is the ability to grow our own food. In the 1930's we didn't have frozen dinners, fast food restaurants and microwaves. Most rural families had their own gardens. If we were to suffer an event now, like the great depression that saw 25% of all workers out of a job, there would be a lot of people unable to eat. That is one of the reasons preppers talk about starting to garden now so that you will not be behind the curve when it's too late.
If it does come to that and you find it is time to tighten your belt and start making do with less, I thought it would be a good idea to look back in time to see some of the depression recipes that people used to make. I know that we stock up on food that we eat now in the hopes that we will have enough to last us, but I doubt anyone here has stocked up 10 years' worth of food. If another great depression happens, we will be required to be more frugal and these depression recipes allow you to feed your family with much less.
Smothered Cabbage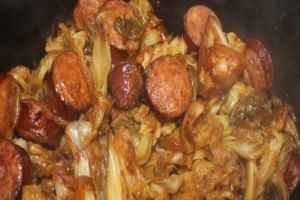 Prep Time: 5 minutes
Cook Time: 20 minutes
Total Time: 25 minutes
Serving Size: 4
Ingredients
1 head of cabbage, shredded
1 pack of bacon, sliced
1/2 cup chicken broth
1 tablespoon Slap Ya Mama Seasoning
1 tablespoon garlic powder
1 tablespoon onion powder
1/2 tablespoon black pepper
1 bell pepper, diced
1 onion, diced
1 stalk of celery, diced
3 cloves of garlic, minced
1 teaspoon apple cider vinegar
extra virgin olive oil
hot sauce
Instructions
In a large skillet, heat about 2 tablespoonfuls of olive over medium heat,add bacon and fry until crispy. Remove bacon from pan and drain on paper napkin.
Add bell pepper, onion, and celery to bacon grease. Saute for about 5 minutes, add garlic and cook 1 minute more. Add spices and mix well.
Add cabbage and mix well. Cook cabbage about 10 minutes then add broth. Allow cabbage to cook 10 minutes more. Add apple cider vinegar, toss in bacon and cook 5 minutes more.
Serve with black eyed peas, rice and lots of hot sauce!
Old Fashioned Macaroni Salad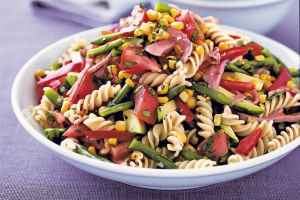 This Old Fashioned Macaroni Salad is just like Mom used to make, and it's the perfect summertime potluck dish. This easy macaroni salad is great served hot or chilled, is portable and simple to make for a crowd. Just mix together macaroni noodles, mayonnaise, mustard, relish, and freshly chopped onions and peppers, and you'll have a homemade macaroni salad that's as tasty as can be. Enjoy this wonderful side this summer or anytime you're searching for a quick-fix, bring along side dish.
Serves10
Easy
Ingredients
3 large eggs
1 (8-ounce) package elbow macaroni
1 cup mayonnaise
1 tablespoon cider vinegar
1 tablespoon yellow mustard
1/2 teaspoon salt
fresh ground pepper
1 cup finely diced celery (about 2 stalks)
1/2 cup finely diced bell pepper, red or green or both
1/2 cup finely diced sweet pickles or pickle relish
1/4 cup finely diced onion
Instructions
Put eggs into a small pot of water to cover. Bring to a boil, then lower heat to a simmer and cook for 10 minutes.
Drop the eggs into a bowl of ice water to cool, then peel and chop.
In a large pot bring 4 quarts of water and 1 Tbsp salt to the boil. Cook macaroni until just tender, 6 – 8 minutes per package directions. Drain and cool.
In a large bowl, whisk together the mayonnaise, vinegar and mustard plus salt and pepper until smooth. Stir in the vegetables.
When pasta has cooled to room temperature, toss with the dressing and vegetables. Add eggs last and stir gently. Taste, adding salt and pepper as desired.
Cover and chill in the refrigerator for at least 1 hour or up to 1 day before serving, checking flavors and adding more salt and pepper if needed just before serving.
Amish Buttermilk Biscuits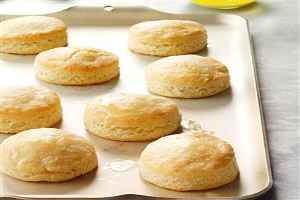 Prep Time
10 mins
Cook Time
15 mins
Total Time
25 mins
You'll love how easy these soft, flaky Amish Buttermilk Biscuits are. They come together in less than 30 minutes. Hints for making them perfectly.
Course: Bread
Cuisine: American
Servings: 10
Calories: 152 kcal
Ingredients
2 cups flour
3/4 teaspoon salt
3 teaspoons baking powder
1 teaspoon baking soda
4 tablespoons shortening (chilled)
1 cup buttermilk
Instructions
Combine the dry ingredients together in a bowl.
Mix in the shortening until the mixture is crumbly.
Add the buttermilk and mix just until combined. The dough will be sticky.
Turn out the dough on a floured surface. Roll out to 1/2 inch thickness. Use a biscuit cutter to cut about 10 biscuits, rerolling the dough as needed.
Place biscuit on a greased baking sheet.
Bake at 425 degrees for 15 minutes.
Leftover Mashed Potato Cakes
Potato cakes are one of my all-time favorite recipes. I don't make them very often though, because shredding, pressing and draining the potatoes can be quite time-consuming.
I had this sudden idea that I could try making potato cakes from leftover mashed potatoes, and I have to say – they turned out better than the real deal!
They come together in 5 minutes, and they cook in about 10. So basically that's food on the table in 15 minutes, which is pretty amazing in my books.
INGREDIENTS
2 cups cold mashed potatoes
2 large eggs
2 ounces finely shredded cheddar cheese
6 tablespoons flour or more depending on how creamy your potatoes are
Oil or nonstick cooking spray for frying
Apple sauce & cranberry sauce to serve (optional)
INSTRUCTIONS
Stir the mashed potatoes, eggs, cheese and flour together in a large bowl. Start with 6 tablespoons of flour and add more if needed. You should end up with a slightly sticky, soft dough that can be shaped into disks.
Simple Shepherd's Pie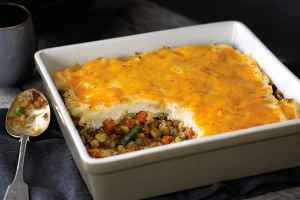 It doesn't get simpler than this easy ground beef casserole, otherwise known as a Shepherd's pie. This classic favorite never gets old! Make up a Simple Shepherd's Pie for a wonderful weeknight meal. It's an easy dish that will comfort you and your family on chilly winter nights, and it's also a great recipe to make for the holidays. Comfort food is always a staple during the winter and this Shepherd's pie recipe is no exception. Simple ingredients come together to create a delectable ground beef and potato forward recipe that you won't be able to stop yourself from enjoying every last bite of!
Serves: 4
Ingredients
2 pounds ground beef
1/2 onion, chopped
garlic powder and seasoning salt to taste
3/4 ounce package brown gravy mix
2 cans (10 3/4-ounce) cream of mushroom soup
2 1/2 cups water
1 1/2 cup frozen sliced carrots, thawed
10 ounces package frozen peas, thawed
salt and pepper to taste
2 1/2 to 3 cups potatoes, peeled, cooked and mashed
paprika to taste
Instructions
Preheat oven to 350 degrees F.
Brown beef and onion in a skillet; season to taste with garlic powder and seasoning salt. Drain; pour into a large bowl.
Stir in gravy mix, soup, water, carrots and peas; mix well.
Spoon into a greased 9 inch deep-dish pie plate; sprinkle with salt and pepper.
Spread mashed potatoes over top; bake at 350 degrees F for 45 minutes. Sprinkle with paprika.
Wacky Cake 
This gained fame during the depression because unlike traditional cake recipes, the wacky cake didn't need milk or eggs. It is still delicious!
Ingredients
1 1/2 cups all-purpose flour
1 cup white sugar
4 tablespoons unsweetened cocoa powder
1 teaspoon baking soda
1/2 teaspoon salt
1 teaspoon vanilla extract
1 tablespoon cider vinegar
6 tablespoons vegetable oil
1 cup water
Instructions
Preheat oven to 350 degrees F (175 degrees C).

Sift flour, sugar, salt, soda, and cocoa together into an 8×8 inch ungreased cake pan. Make three depressions. Pour oil into one well, vinegar into second, and vanilla into third well. Pour water over all, and stir well with fork.

Bake at 350 degrees F (175 degrees C) for 30 to 40 minutes, or until tooth pick inserted comes out clean. Frost with your favorite icing.
Depression Bread
Ingredients:
4 cups flour
2 cups warm water
2 Tbsps. yeast
Instructions:
Pour flour into a large bowl and create a hole in the center. Pour the yeast and warm water in the center, then combine with the flour until you form a ball. Cover with a towel and allow to rise for 30 minutes, or until it's doubled in size.
Knead the dough and split into two loaves, then allow to rise one more time. Bake at 300 °F until golden.
When you think of the Great Depression, you probably think of long bread lines and grandma's stories of modest meals that were scraped together with whatever ingredients they could afford. You might think cuisine back then would be considered #strugglemeals today, but you'd be surprised to learn that some dishes from the era are as tasty as they are affordable. Check out this list of recipes from the Great Depression that are sure to satisfy—and fit into your budget. Depression-Era Recipes That Are Good Enough To Eat Today
Views: