Wolf Richter wolfstreet.com, www.amazon.com/author/wolfrichter
It's just a question of how disruptive the adjustment will be, whether it will be just a painful sell-off or junk-bond mayhem.
Treasury securities have been selling off and Treasury yields have been rising, with the two-year yield at 2.15% on Friday, the highest since September 2008, and the 10-year yield at 2.84%, the highest since April 2014. Rising yields mean that bond prices are falling, and this selloff has been an uncomfortable experience for holders of Treasury securities.
But corporate bonds have been in their own la-la-land, and even Tesla, despite its cash-burn rate that should scare the bejesus out of investors, was able to sell $546 million in bonds last week – bonds collateralized by lease payments it receives from customers that have leased its cars.
S&P rates Tesla "B-minus," a highly speculative rating just one notch above the deep-junk rating of triple-C. But no problem. Yield-desperate, risk-blind bond investors had the hots for these auto-lease-backed securities, according to Bloomberg:
The sought-after debt deal allowed Tesla to slash the risk premiums it would pay on the notes. They were sold to yield between 2.3 percent and 5 percent. At initial offered prices, investors had put in orders for as much as 14 times what the electric-car maker intended to sell on some slices of an asset-backed security, according to people familiar with the matter.
Junk-rated and cash-burning Netflix, or oil-and-gas companies drilling billions into their fracking endeavors, and many other junk-rated companies such as Fiat-Chrysler are in hog-heaven, with high demand for their debt, which pushes down the yield for investors and the costs of borrowing for the companies.
And the spread between average junk-bond yields and equivalent Treasury yields has now fallen to just 3.29 percentage points. That's the premium investors demand to be paid for taking on the additional risk of junk bonds versus Treasury securities.
This is the narrowest spread since July 2007, just before credit froze as the Financial Crisis began to unfold, and numerous of these junk-rated companies, cut off from further funding and losing money as they went, ended up in bankruptcy court, an experience during which stiffed bondholders and other creditors re-learned to appreciate the notion of risk.
This chart of the BofA Merrill Lynch US High Yield Option-Adjusted Spread, retrieved from the St. Louis Fed, shows the minuscule premium investors are currently demanding for holding high-risk junk bonds versus nearly risk-free Treasuries, and just how far in denial the corporate junk-bond market is: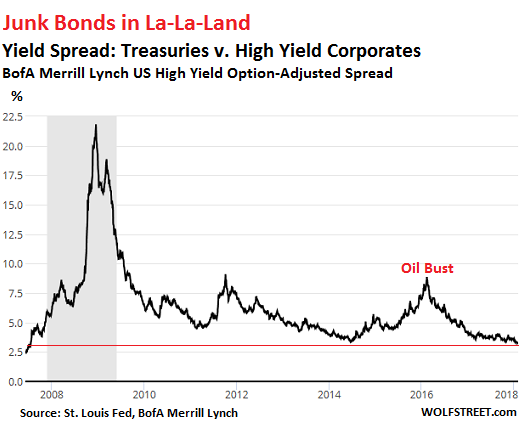 Investment-grade bonds, issued by the corporations that are deemed to be financially among the most stable, are showing a similar pattern.
The premium investors demand to be paid for taking on the additional risk of corporate bonds versus Treasury securities has now dropped to just 90 basis points (0.9 percentage points), according to the BofA Merrill Lynch US Corporate Master Option-Adjusted Spread index. This is the lowest since March 2007. During the subsequent Financial Crisis, major investment-grade rated corporations – including GE – suddenly couldn't borrow anymore even to meet payroll, and the Fed, in its function as lender of last resort, began bailing them out with special loan programs.
The chart below of the BofA Merrill Lynch US Corporate Master Option-Adjusted Spread index, retrieved from the St. Louis Fed, shows the la-la-land that the corporate bond market thinks it's in: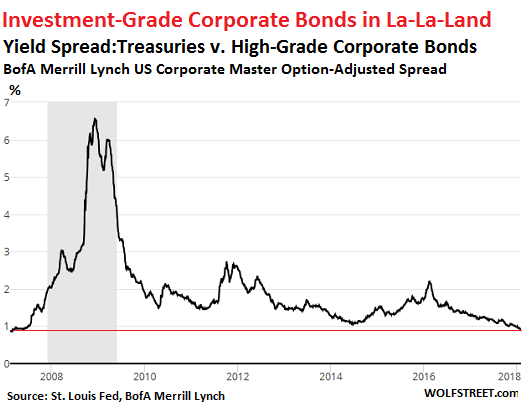 Here's how this is going to work out:
The Fed will continue to raise its target range for the federal funds rate.
The 10-year yield will follow.
As the Treasury yield curve, which is still relatively flat, steepens back to some sort of normal-ish slope, the 10-year yield will make up for lost time over the past year and will rise faster than the Fed's target range for the federal funds rate.
Corporate bonds will follow, but they have even more catching up to do, and so they will rise even faster than the 10-year yield, as yield spreads between the 10-year Treasury and corporate bonds widen back to some sort of normal-ish range.
In other words, corporate yields will rise further and faster than Treasury yields, just to catch up, thus pushing down prices with gusto. Junk bonds are more volatile and will react more strongly. Junk-rated companies will find it more difficult to raise new money to service their existing debts and fund their money-losing operations, and there will be more defaults, which will push yields even higher as the risks of junk bonds suddenly become apparent for all to see. This will make it even tougher for companies to raise funds needed to service their existing debts and fund their operations.
This is not a secret. It's just how it works. The initial moves are what the Fed wants to accomplish. It wants to tighten the current extraordinarily loose financial conditions. Yield spreads and corporate bond yields are a big part of those financial conditions. This will happen, it always does. It's just a question of how fast and how disruptive the adjustment will be, how many junk-rated companies find themselves unable to raise funds to service their debts and keep going, and whether it will be just a painful sell-off or junk-bond mayhem.
The QE Unwind is now in full swing, with a sense of urgency. No more dilly-dallying around. Read…  Fed's QE Unwind Accelerates Sharply
627 views