De Blasio Instructs Tracers Not to Ask New Coronavirus Patients if They Attended Protests.
"We ask them questions about where they've been so that we can gauge who may be at risk. It may come out as part of the interview, but we ask more open-ended questions."
The City reported that New York City Mayor Bill de Blasio instructed "test and tracers" not to ask anyone who tests positive for the Wuhan coronavirus if they attended any of the protests or riots in response to the death of George Floyd.
De Blasio made this decision despite having concerns the protests and riots could spark another wave and his city being the epicenter of America's outbreak.
From The City:
The hundreds of contact tracing workers hired by the city under de Blasio's new "test and trace" campaign have been instructed not to ask anyone who's tested positive for COVID-19 whether they recently attended a demonstration, City Hall confirmed to THE CITY.

"No person will be asked proactively if they attended a protest," Avery Cohen, a spokesperson for de Blasio, wrote in an emailed response to questions by THE CITY.

Instead, test-and-trace workers ask COVID-positive individuals general questions to help them "recall 'contacts' and individuals they may have exposed," Cohen said. Among the initial questions: "Do you live with anyone in your home?"

Tracers then ask about "close contacts" — defined as being within six feet of another person for at least 10 minutes.

It's up to tested individuals to volunteer whether any of those close contacts occurred during protests. "If a person wants to proactively offer that information, there is an opportunity for them to do so," Cohen wrote.
De Blasio announced the "test and trace" campaign on May 8. NYC officials said most people have cooperated with the tracers, but others "have refused to volunteer any information about their close contacts."
NEW YORK IS A CLOWN SHOW (CONT'D): Governor Andrew Cuomo Is Talking, No One Is Listening, and de Blasio Is Not Helping.
There are more calls from the left for a football coach to be fired for wearing an OAN shirt than there are for a Democrat Governor who wore Blackface.

Let that sink in.

— Charlie Kirk (@charliekirk11) June 16, 2020
THE NEW YORK POST FRONT PAGE NAILS IT: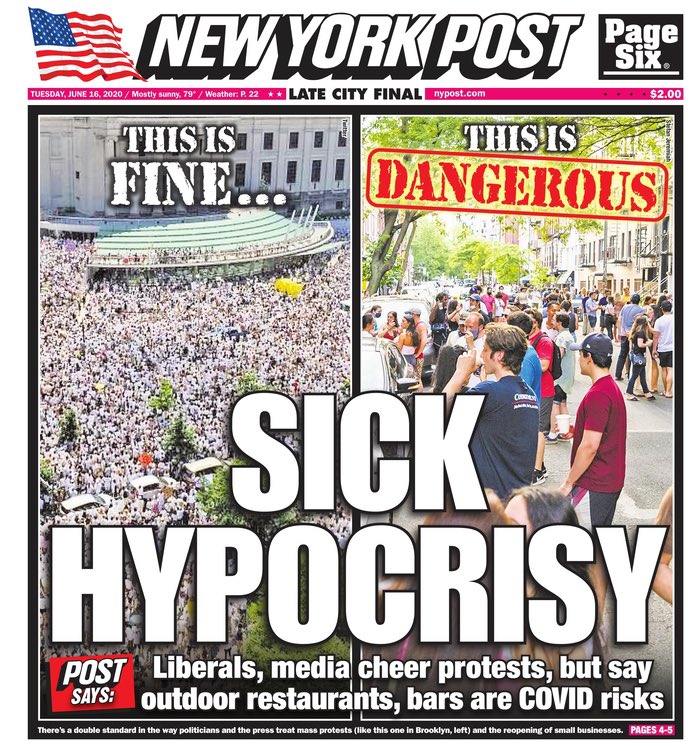 KRUISER'S MORNING BRIEF: Trump's Upcoming Post-COVID Rally Is Just What the Reelection Doctor Ordered. "The overwrought reaction from the media is proof positive that getting back on the campaign trail is the right thing to do. At bare minimum, it's exposing their hypocrisy. After weeks of seeing thousands of people flood the streets for riots and protests that have been championed by the media, the prospect of a Trump rally has suddenly made the brave journalist class oh-so-concerned about COVID-19 again."
YOU CAN'T RALLY. WE CAN RIOT: The staggering hypocrisy of the Democrats over COVID-19.
In the middle of May, DC Mayor Muriel Bowser extended her lockdown order through to the June 8. Two days prior to her own lockdown order was to be reviewed, on June 6, she encouraged mass gatherings of protests, in a tweet saying 'Let's all meet here soon #BlackLivesMatter', with a photo showing off her big block yellow letters painted down a DC street. In a press release about a possible spike in coronavirus cases in her city, after two weeks of protests she encouraged herself, Bowser announced that 'DC Health has confirmed that a new peak was detected in the data, resetting the Districts Phase One count to nine days of sustained decrease.'

Florida congressswoman Val Demings, who features on the shortlist to be Joe Biden's VP nominee, tweeted on June 8 that she had joined a 'Healing and Hope Rally last night to speak with our community as America grieves.' Two days later she scolded the President: planning to hold 'mass rallies in Florida and elsewhere as we experience a resurgence in COVID cases is irresponsible and selfish'.

If there's a gaping lack of curiosity about this blatantly hypocritical behavior from Democratic officials, it's because members of the media are not only purposely ignoring it, but partaking in the same double-standard.
Just NBC the gaslighting!
h/t Sarah Hoyt