via Bloomberg:
Credit market risk is at an all-time high, according to Scott Mather, chief investment officer of U.S. core strategies at Pacific Investment Management Co. The investment firm is defensive on the asset class as it sees high likelihood of a recession over the next three-to-five years.
"We have probably the riskiest credit market that we have ever had," Mather said Wednesday in an interview on Bloomberg Television. Newport Beach, California-based Pimco manages $1.76 trillion in assets.
The increased size, lower quality and lack of liquidity in corporate bond markets are all red flags, Mather said. He also sees credit risk from duration — a measure of the sensitivity of bonds to shifts in interest rates.
"We see it in the buildup in corporate leverage, the decline in credit quality, and declining underwriting standards — all this late-cycle credit behavior we began to see in 2005 and 2006," said Mather.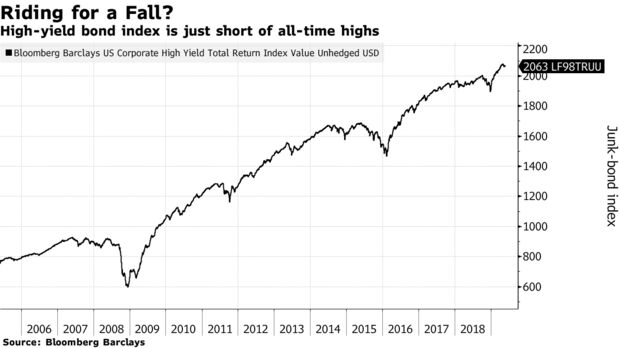 U.S. corporate bond markets have slumped this week, with the benchmark high-yield CDS index hitting a four-month low and junk bond ETFs suffering hefty outflows as equity and oil markets dropped. However, the junk-bond index spread is still just 100 basis points wide of the post-crisis low struck in October.
Credit is "not at the point where it will fall of its own weight, but it certainly is a vulnerability today and all the ingredients are there for that vulnerability to grow," Mather said. He referred to this year's record stock buybacks, much of them financed with leverage, as hazards for corporate bond investors.
835 views