by Ruby Henley
A cross at Ventura Park is still standing after the Thomas Fire devoured all around it.  Many in California see this as a sign of hope while all else around them is lost.  There was little time to gather belongings and flee.  Firefighters died as they fought to save homes, as innocent horses perished in fires that defied anything we have ever seen.
The Serra Cross had stood since World War II, but rumors of the cross burning down had broken on social media. As power lines and everything else around the cross were destroyed, many reported the cross was gone, too.  Yet the cross did survive the fire, and even the Weather Channel recorded this miracle.
The original cross was placed on the hill in 1782. Over the years, the original cross and replacements were lost; however, the present cross has stood atop the hill since 1941.

twitter.com/805foodie?ref_src=twsrc%5Etfw&ref_url=http%3A%2F%2Fwww.breitbart.com%2Fcalifornia%2F2017%2F12%2F13%2Fmiracle-iconic-ventura-cross-still-standing-after-california-thomas-fire%2F
In the below video you will witness the amazing cross yourself. Although flowers and vegetation around this cross burned, the frame of the cross withstood what the flowers could not.
Miracle: Iconic Ventura Cross Still Standing After California Fire t.co/pLJXWtINjr @BreitbartNews

— Adelle Malka Nazarian (@AdelleNaz) December 13, 2017

The below video is one you will want to see to understand the signs we are now witnessing during these present times.

These wildfires have taken lives, and dozens are still missing.  As all of you know this is an unprecedented event.  Some say this is the End Times, but none of us really know but God the Father.
The Bible is the roadmap God gave us to guide us through life.  Of course, the Book of Revelations speaks of the signs that will appear during the final cycle of life on Earth.  It even says the world will end by fire this time around.  In Matthew 24, Jesus speaks of wars, earthquakes, and other signs, but says these are just the beginning of sorrows.  
During the Days of Noah, we all are aware of the flood that cleansed Earth during that time.  Noah foresaw this event through his closeness with God, and he prepared by building the ark.   Again only God knows the exact time; however, man may discern from his spiritual closeness with God a feeling of when that time will be.  
The analogy of childbirth helps us to understand these times very well.  As a woman nears the actual birth of her child, the pains become more frequent and intense. This also describes what the Book of Revelations describes as the signs of the End Times.
Many believe these signs actually began not long after Jesus' day, and as Jesus quoted, the end would not yet be, because this was just the beginning of sorrows.
Throughout history we have seen the pains or signs escalate in frequency and intensity.  Have we reached the moment of birth, when Jesus returns to Earth for the Second Coming?  None of us know, but some of us believe it is true.
What is the truth?  Alas, the truth is only presented to us in each present moment of precious life.  Therefore, this moment is all we really have.  The past is gone, the future has not yet come, the present is all that exists.
The glory of this life as human beings is what we transmute in to during moments of crisis.  Brave firefighters, neighbors helping neighbors, and noble animals all come together to create the glory before us.
Yet, the glory is pain, but it is, also, endurance to the end of life…whenever that may come.
Another aspect that I want to point out is nature is cyclic.  All things live and die, and as they say, everything has its time.  Spring is birth of life on earth, summer is living of that life, fall is the gradual pulling away from life, and winter is the death or transition to another reality.
Cycles are the giving and taking of life, as nature's rhythm dictates, but souls are more than "ashes to ashes, dust to dust."  Souls are infinite and the God spark within that does not perish. This is our great comfort during times such as these…our salvation.   
UPDATE ON THE CALIFORNIA WILDFIRES:  www.cnn.com/2017/12/14/us/california-fires/index.html?utm_source=feedburner&utm_medium=feed&utm_campaign=Feed%3A+rss%2Feditious+%28RSS%3A+CNNi+-+U.S.%29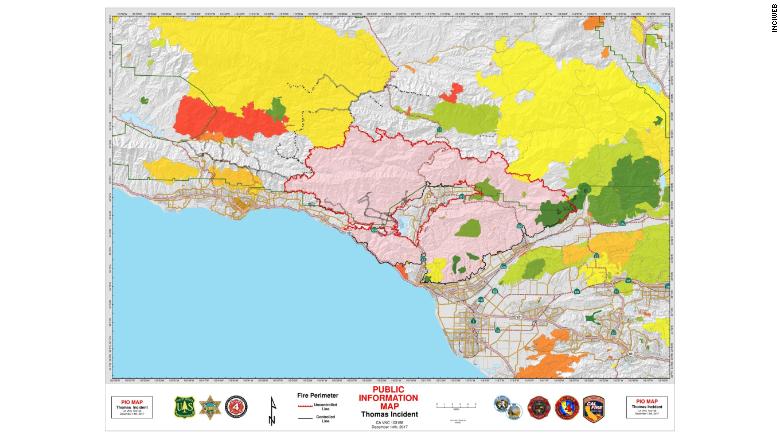 twitter.com/VCFD_PIO/status/941560396925714432/photo/1?ref_src=twsrc%5Etfw&ref_url=http%3A%2F%2Fwww.cnn.com%2F2017%2F12%2F14%2Fus%2Fcalifornia-fires%2Findex.html
One of six major wildfires burning in Southern California, the Thomas Fire is already the fourth largest in California history, CalFire said. Nearly 1,000 fire engines and 27 helicopters are involved in battling the Thomas Fire alone, the agency said.
Fire threatened the communities of Santa Barbara, Carpinteria, Summerland and Montecito, according to CalFire. Crews worked to build fire lines north of those areas.
The Thomas fire broke out December 4 in Ojai, northwest of Los Angeles. Aided by the strong Santa Ana winds, it quickly spread to the city of Ventura, according to the federal InciWeb fire information website.
At least 95,000 residents have been evacuated in Southern California, CalFire said.
High winds and dry conditions continue to hamper efforts to contain California's massive Thomas Fire, with few signs of improvement heading into the weekend.
While most recent wildfires in southern California are at or near containment, the Thomas Fire was 35% contained by Thursday night, covering 249,500 acres in Ventura and Santa Barbara counties, officials with California Department of Forestry and Fire Protection, known as CalFire, said in a Thursday night news conference.
The blaze has grown rapidly, killing a firefighter on Thursday. Cory Iverson, 32, was a fire apparatus engineer from San Diego.
Santa Ana winds will continue on Friday and into Saturday and Sunday, said Rich Thompson with the National Weather Service. A red flag warning is in effect for Ventura County until 10 a.m. local time on Friday, and a fire weather watch is in effect through the weekend. Winds are expected to reach up to 30 miles per hour on mountain ridgetops.
"It's gonna be a very challenging few days," fire behavior analyst Tim Chavez said Thursday night.