Howard Schultz: The $21 trillion national debt is the 'greatest threat domestically to the country'
Howard Schultz rips Democrats for veering too far left from CNBC.
"I think the greatest threat domestically to the country is this $21 trillion debt hanging over the cloud of America and future generations," Schultz tells CNBC.
He also says "the economy is strong" and gives Trump "some" credit for the gains.
He also cautions that "I don't believe that the stock market is going to continue to grow at the level it has between now and 2020."
TREASURY TO BORROW $1 TRILLION FOR SECOND YEAR TO FINANCE DEBT
(Bloomberg) — The U.S. Treasury Department is set to maintain elevated sales of long-term debt to finance the government's widening budget deficit, with new issuance projected to top $1 trillion for a second-straight year.
Many strategists at primary-dealer firms predict that this Wednesday's quarterly refunding announcement will see the Treasury maintain note and bond sales at the record high levels they have boosted them to in recent months.
The total amount of 3-, 10- and 30-year securities to be offered at next week's refunding auctions is seen by most at $84 billion. While that's $1 billion more than the total for these maturities three months ago, that's only because the size of the three-year sale was already nudged higher in December.
A heightened supply of Treasury securities follows tax cuts and government spending increases implemented under the current administration. That's darkening a fiscal outlook already made worrisome by rising entitlement-program expenses and higher costs to service America's nearly $16 trillion in debt. The Federal Reserve's balance-sheet runoff is also adding to supply, forcing Treasury Secretary Steven Mnuchin to tap the public for more funding.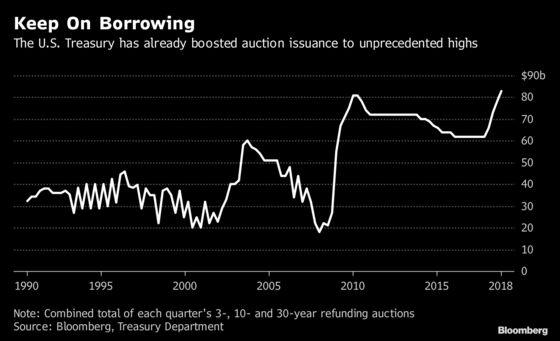 "We've seen deficits continue to blow out," said Brian Edmonds, head of interest-rates trading at Cantor Fitzgerald in New York. "We are going to see more and more supply."
Cantor, along with dealers including Citigroup Inc., TD Securities, Deutsche Bank AG and Wells Fargo Securities, sees the Treasury keeping auction sizes unchanged for nominal coupon-bearing debt.
A few dealers, including NatWest Markets and UBS Securities Inc., expect the Treasury to notch coupon-bearing debt sales slightly higher again. Among these outliers are strategists at UBS Securities Inc. who predict the 3-, 10-, and 30-year refunding issues will each be increased by $1 billion over the coming three-month period.
After focusing last year on increasing nominal debt, prior guidance from the Treasury has dealers saying more detail is likely in the coming months on plans to boost auction sizes for Treasury Inflation-Protected Securities, or TIPS. That's on top of the new five-year October TIPS that's already been slated for the calendar.
Such changes may result in additional net TIPS issuance of $26 billion this year, according to a note from Zachary Griffiths, a strategist at Wells Fargo Securities.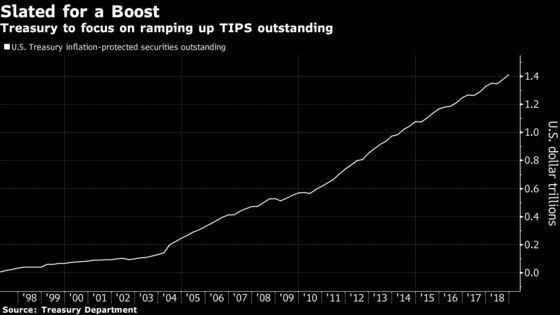 788 views