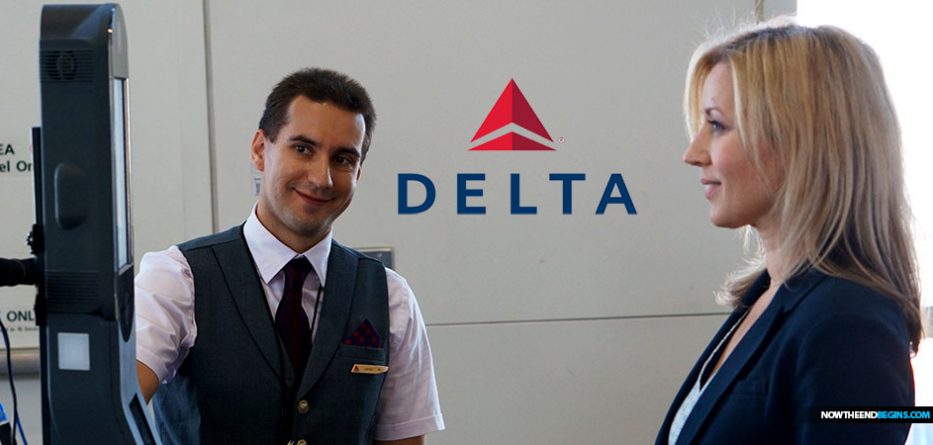 Delta says the Atlanta airport's Terminal F has become the 'first biometric terminal' in the United States where passengers can use facial recognition technology "from curb to gate."
Back in the 1970's, when I was but a wee laddie, one of the commercials that got everybody talking was the "you got chocolate in my peanut butter" from the makers of Reese's Peanut Butter Cups. Basically, it was showing that chocolate and peanut butter was a perfect match, and you know what? They were right! So delicious. Why do I bring this awesome cultural reference before you today?
"And he causeth all, both small and great, rich and poor, free and bond, to receive a mark in their right hand, or in their foreheads: And that no man might buy or sell, save he that had the mark, or the name of the beast, or the number of his name." Revelation 13:16,17 (KJV)
Because as you can see in today's article, biometric airport terminals have officially arrived. Delta has done it in Atlanta and Chicago, and the other airlines are busy rolling theirs out as well. So if biometric airport terminals are the 'chocolate', what might be the perfect match 'peanut butter'? Human implantable microchips, of course. How silly of you to even ask. Tech companies like Three Square in Wisconsin are already producing the chips, and they are already inside their employees.
This is your captain speaking, enjoy your flight!
Delta says USA's 'first biometric terminal' is ready to go at Atlanta airport
FROM USA TODAY: And Delta has already announced plans to offer the technology at another of its hubs: Detroit. In Atlanta, Delta has been rolling out biometric features gradually since October. Now, starting on Dec. 1, all Delta passengers traveling on flights to international destinations will be able to take advantage of the biometric options for all parts of their journey when departing from the airport's Terminal F.
"We're removing the need for a customer checking a bag to present their passport up to four times per departure – which means we're giving customers the option of moving through the airport with one less thing to worry about, while empowering our employees with more time for meaningful interactions with customers," Gil West, Delta's COO, said in a statement touting the airline's effort to outfit Terminal F with the biometric technology.
The option also will be available to international passengers flying nonstop from Atlanta on Delta's partner airlines Aeromexico, Air France-KLM or Virgin Atlantic.
How will it work?
Delta says customers enter their passport information during online check-in. Or, at the airport, customers can scan their passport to check in. Next, passengers can click "look" as they check in at one of Delta's automated kiosks. Travelers' face scans will be matched to passport or visa photos on file with U.S. Customs and Border Protection. Delta says customers have the same option as they "approach the camera at the counter in the lobby, the TSA checkpoint or when boarding at the gate."
As Delta has rolled out the option in Atlanta prior to the formal launch, the carrier said it has received positive feedback and that it's helping to speed up the boarding of its international flights.
"Nearly all 25,000 customers who travel through ATL Terminal F each week are choosing this optional process, with less than 2 percent opting out," Delta said in a statement. "And, based on initial data, the facial recognition option is saving an average of two seconds for each customer at boarding, or nine minutes when boarding a wide body aircraft."
Delta plans to make its Detroit hub the next of its terminals to get the "curb to gate" biometric option. The features will be added there beginning next year, Delta said.
"It is a great honor for Detroit Metropolitan Airport to become one of the nation's first biometric terminals," said Chad Newton, the interim CEO of the Wayne County Airport Authority that runs the Detroit airport. "We look forward to partnering with Delta, CBP and TSA to provide passengers with the option to utilize facial recognition throughout their entire travel process. READ MORE
Fly the friendly skies with Antichrist
If only Tim LaHaye had lived long enough to see his 'Left Behind' world becoming a reality. 
790 views