Wolf Richter wolfstreet.com, www.amazon.com/author/wolfrichter
You just have to love Deutsche Bank. I mean, how could you not? It's Germany's iconic bank. It's like Wells Fargo for Americans: It just cannot do right. It tries, but it just doesn't work out. On Friday, when no one was supposed to pay attention, and after it already released its Q4 and annual results on February 2, it released its Annual Report.
It says that the bank had a net loss of €2.425 billion for Q4, which brought its net loss for 2017 to €735 million.
"Our results were actually better than they may seem at first glance," the Annual Report started out hilariously, because these results were even worse than the results the company had initially reported on February 2, when it disclosed the impact of the US tax reform.
On February 2, the earnings report was titled: "Deutsche Bank reports pre-tax profit of 1.3 billion euros and net loss of 0.5 billion euros for 2017." At the time, it reported net loss of €2.2 billion which brought the loss for fiscal 2017 to €497 million.
CEO John Cryan said at the time:
"In 2017 we recorded the first pre-tax profit in three years despite a challenging market environment, low interest rates and further investments in technology and controls. Only a charge related to US tax reform at the end of the year meant that we had to post a full-year after-tax loss. We believe we are firmly on the path to producing growth and higher returns with sustained discipline on costs and risks."
Sure sounded good at the time. But it was contradicted today, albeit with a lot less fanfare.
Today, in its Annual Report, the bank reported a loss for Q4 and the full year that was €238 million higher than the loss reported for the same periods on February 2. An appropriate finale for the third year in a row of annual losses.
Aggrieved shareholders, whose dividends had gotten slashed back in the day, have had to watch the shares in their portfolio plunge nearly 80% over the past ten years: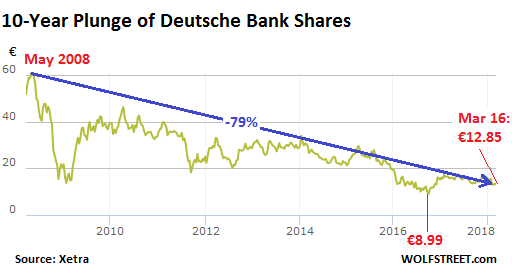 In terms of its cost cutting plans, which had been hyped endlessly in 2017 and 2016 – well, they've now been abandoned for 2018 due to unfortunate circumstances, described in the Annual Report thusly:
In March 2017, we announced an adjusted costs target of circa €22 billion for 2018 including circa €900 million of planned cost savings through business disposals. While we made progress on planned disposals, some of them have been delayed or in some cases suspended. As a result, we currently do not expect the planned €900 million of cost savings to materialize in 2018.
Furthermore, we expect higher costs from Brexit and MiFID II implementation in 2018.
Additionally, some of the cost synergies we expected to materialize in 2018 from the merger of Postbank into our German banking entity have been delayed as we expect this merger to be completed in the second quarter of 2018. Those savings are now expected to be realized in 2019 [to be postponed indefinitely since "synergies" hardly ever materialize?].
But there's new hope for some cost cuts elsewhere, including assumptions about "foreign currency rates," no kidding:
Nonetheless, we have been taking additional measures to offset these impacts and also benefit from current foreign currency rates in our reported costs relative to our earlier assumptions.
Therefore, we now expect our adjusted costs in 2018 will be circa €23 billion, which reflects our original €22 billion target plus the cost impact of the delayed and suspended business disposals.
Then there's the part in the Annual Report that Germans really love about Deutsche Bank, much like Americans love it about Wells Fargo: when it comes to bonuses, there are a few ceremonial cuts at the top, but overall it's no holds barred.
Even while Deutsche Bank spread the good news about having incurred even bigger losses in 2017 than previously stated, and even as it warned about higher costs and failed, abandoned, or delayed cost cuts in 2018, it also reported that it had more than quadrupled the amount in bonuses it paid for 2017, to €2.3 billion.
Back in 2016, under pressure from huge losses and a blistering fine from US regulators for the behavior of its bankers leading up to the Financial Crisis, and amid revelations of other scandals and misdeeds perpetrated by its bankers since the Financial Crisis, it reduced bonuses to them to €546 million.
But this is like so forgotten. Now Cryan told his aggrieved shareholders, who're still smarting from having their dividends slashed and having the value of their shares crushed — and who might by be dreaming of investing in gold instead — that this was needed in order to retain staff. Were these the same folks that profited from misdeeds that, when found out about, threatened to take down the bank? We don't know. Cryan only said this:
"If we want to live up to our claim of being the leading European bank with a global network, we have to invest in our employees so that we can continue to provide the best solutions for our clients."
Private equity firms, an integral part of Wall Street, piled into the leveraged-buyout boom before the Financial Crisis, and now these companies are collapsing into bankruptcy under their own debts, one after the other. Read… Bain Capital Wins Again: $20-Billion Leveraged-Buyout Queen Topples, Biggest in Years, Another Private Equity Casualty
2,177 views