Its gains for the year, the voices saying it may be the start of a deeper selloff are growing louder.
"Risk factors such as the Iran deal have emerged on top of an already weak environment for emerging markets because of the rising dollar and U.S. yields," said Motoko Miyano, deputy general manager of the treasury in Bangkok at Sumitomo Mitsui Banking Corp. "Foreign investors have been selling emerging markets, and that's starting to deepen the selloff in emerging-market currencies."
After clocking up the best start to any year since 2012, the MSCI Emerging-Market Currency dropped on Wednesday by 0.3 percent, wiping out its entire year-to-date advance, repeating a feat accomplished by an index of stocks last week. And if the options market is anything to go by, the weakening trend has further to go. Bears outnumber bulls in every emerging-market currency, according to three- and six-month risk reversals.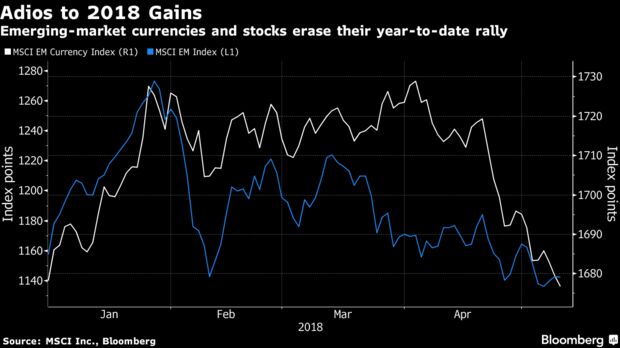 While there have been plenty of catalysts to the retreat — from concerns over a global trade war to evidence of faster U.S. inflation — currencies extended their declines Wednesday after President Donald Trump's decision to withdraw the U.S. from the 2015 accord to curb Iran's nuclear program, sending Treasury yields back to 3 percent-level, the dollar to a four-month high and U.S. crude through $70 a barrel.
The selloff is a shift for developing-nation assets, which enjoyed a two-year rally that drove stocks and a gauge of currencies to the highest level since at least 2007. Global investors dumped emerging-market bonds for a second straight week in the period ended May 2, the first time that's happened since November 2016, according to EPFR data compiled by Jefferies Hong Kong.
Unquestionably, emerging markets still have their champions. Even Federal Reserve Chairman Jerome Powell said Tuesday the developing economies are well-placed to navigate a period of rising U.S. interest rates.
And idiosyncratic issues in Turkey and Argentina have a lot to do with the current nervousness. The Argentine peso has lost 17 percent this year and the Turkish lira 11 percent as the two countries have grappled with accelerating inflation and investor skepticism about central bank policy. The lira on Wednesday reversed its losses after President Recep Tayyip Erdogan was said to summon economy officials to discuss the slide the currency.
Yet they're only two of five currencies that have weakened more than 5 percent this year, and the Colombian peso, Malaysian ringgit, Chinese yuan and Thai baht are still showing gains, evidence that Asia is a relative haven amid the turmoil.
The MSCI Emerging Markets Currency Index declined to 1,677.27 as of 10:11 a.m. in London, on track for its lowest close this year. The measure tracking equities added 0.1 percent, curbing its drop this year to 1.3 percent. The Bloomberg Barclays index of local-currency government bonds slipped 0.3 percent on Tuesday, trimming its 2018 gain to 0.3 percent.
Below are some views from investors and analysts who are becoming less sanguine about the outlook for emerging markets:
****
EEM (monthly) topping?
742 views