It is time for some good news for the US economy! US existing home sales rose 24.7% MoM to 5.86 million units in July.
"Housing demand is absolutely on fire," Stephen Stanley, chief economist at Amherst Pierpont Securities LLC, said in a note. "There are plenty of areas of the economy to worry about, but housing is most assuredly not one of them."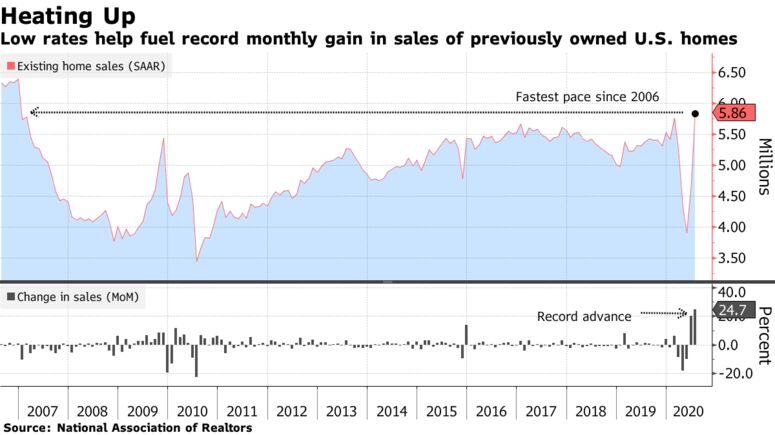 Cheaper borrowing costs, pent-up demand and greater interest in suburban markets following the pandemic-related shutdowns earlier in the year are so far generating plenty of momentum in housing. At the same time, lean inventory, higher asking prices, and the coronavirus itself represent hurdles to further outsize gains.
Stocks extended this week's gains after the report and separate data showing firmer business activity in August. Treasuries and the dollar also climbed.
"The housing market is past the recovery phase and is now in a booming stage," Lawrence Yun, NAR's chief economist, said on a call with reporters. "Certainly, record-low mortgage rates are bringing more buyers into the market."
There were 1.5 million existing homes for sale last month, down 21.1% from July 2019, the 14th straight year-over-year decline. It was the leanest supply for any July on record.
The number of houses for sale would last 3.1 months at the current sales pace. Anything below five months is seen as a tight market.
Median Price
Properties remained on the market for an average of 22 days, the shortest timespan on record, the NAR said. The median home price increased to an all-time high of $304,100 last month and compared with $280,400 a year earlier. Note that inventory remains low!
Purchases of previously owned single-family homes rose 23.9% and sales of condominiums increased nearly 32%, according to the NAR data.
"With the sizable shift in remote work, current homeowners are looking for larger homes and this will lead to a secondary level of demand even into 2021," Yun said in a statement.
Yes, this is the long-awaited transition from herding people into office space and allowing them to work from home.
How about an upbeat Bruce Springsteen song?
162 views