Exuberant stock market, disappearing middle class, history repeats itself [ A 32-year-old mother of 7 children called Florence Owens Thompson, Nipomo, California. February 1936.]


One in five American households have 'zero or negative' wealth
U.S. homes have regained value since the Great Recession, but many households have not
Millions of Americans are living on the edge.
One in five households has zero or negative wealth, according to a report released this week by the Institute for Policy Studies, a progressive think tank based in Washington, D.C. What's more, an even greater share of African-American (30%) and Latino (27%) households are "underwater" financially. The combined impact of $1 trillion in credit-card debt, $1.4 trillion in student loan debt, and stagnant wages are taking a toll.
U.S. homes have regained value since the Great Recession, but many households have not. "Millions of American families struggle with zero or negative wealth, meaning they owe more than they own," the report found. "This means that they have nothing to fall back on if an unexpected expense comes up like a broken down car or illness." And inequality could get worse through new tax cuts for the wealthy.
Why are Americans drowning in credit card debt?
When used responsibly, credit cards are a useful addition to your wallet. They're not only safer than cash, they also can build your credit rating. And some cards include rewards programs, helping you save money on future purchases.
But with the accessibility of credit, there also are the risks of overuse and debt. So many people have fallen into the credit card trap, Americans owe a collective $1 trillion in credit card debt, according to the Federal Reserve. And, a recent GOBankingRates survey found respondents have nearly $7,000 in credit card debt, on average.
Among the major reasons people are piling on more credit card debt:
Splurging on a wedding: A fairy-tale wedding can create a memorable day for couples and their guests. But some couples go overboard and end up spending more than they can afford on a wedding. The average cost of a wedding in the U.S. has skyrocketed to a new high of $35,329, according to The Knot 2016 Real Weddings Study.
"Putting most of your wedding expenses on a credit card is a bad idea, and what may not seem like much starts to add up very quickly and soon becomes overwhelming," said Ogechi Igbokwe, a certified financial educator and founder of OneSavvyDollar, a website that helps students manage their personal finances. "It's dangerous to start a wedding on credit because it shows you're not planning adequately as a couple."
Rather than feel the pressure to throw an impressive wedding, be realistic about what you can afford as a couple, create a budget and then stick with this budget.
"The wedding doesn't have to be elaborate as long as both parties are present with their loved ones," Igbokwe said.
Spending more to earn rewards: Credit card rewards programs are attractive and allow you to earn points, miles or cash back on every dollar spent. But the earning potential of a rewards program can also translate into more debt.
"Americans are battling more credit card debt because they are making more purchases with their cards," said Alayna Pehrson, a digital marketing strategist at Best Company, a review website that ranks thousands of companies, including credit cards. "Many Americans reap rewards from using their credit cards, which encourages them to use the cards more frequently."
 
Chart of the Day: Here's Your Report Card, Janet—America's Workers Say Good Riddance!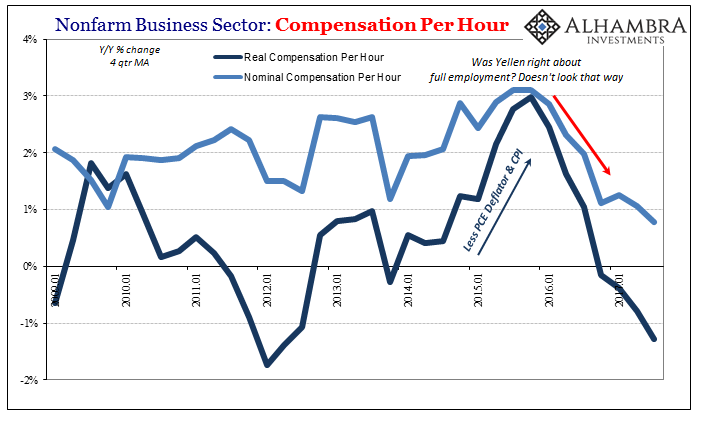 — Alastair Williamson (@StockBoardAsset) December 9, 2017

The economy's biggest mystery — paychecks just aren't growing
 

Wage numbers disappoint despite strong job growth from CNBC.
Friday's nonfarm payrolls report showed solid job growth of 228,000 for November but a mediocre 2.5 percent annualized gain in average hourly earnings.

Economists believed heading into 2017 that the low unemployment rate would push wages higher, but they still haven't broken out.

White House economic advisor Gary Cohn told CNBC that the administration is optimistic that wages will move considerably higher in the year ahead.
Despite a mostly solid run of job growth, 2017 ends pretty much where it began — with a two-speed economy where wage growth is funneling to one end while the other lags behind.
Friday's nonfarm payrolls report brought with it news all too familiar to the post-crisis economy. The 228,000 jobs created formed a solid foundation, but the pedestrian 2.5 percent average hourly earnings growth left many scratching their heads wondering how a 4.1 percent unemployment rate, the lowest in 17 years, still wasn't producing fatter paychecks.
"The lack of wage growth at the aggregate level despite the declines in the unemployment rate and strong job gains remains a mystery," Joseph Song, U.S. economist at Bank of America Merrill Lynch, said in a note to clients.
1,376 views