James Comey's covert Twitter account just discovered under the name "Reinhold Niebuhr". Comey, in his private moments, "liked" a Washington Post story advancing the theme of inappropriate contact between Russia and the Trump team!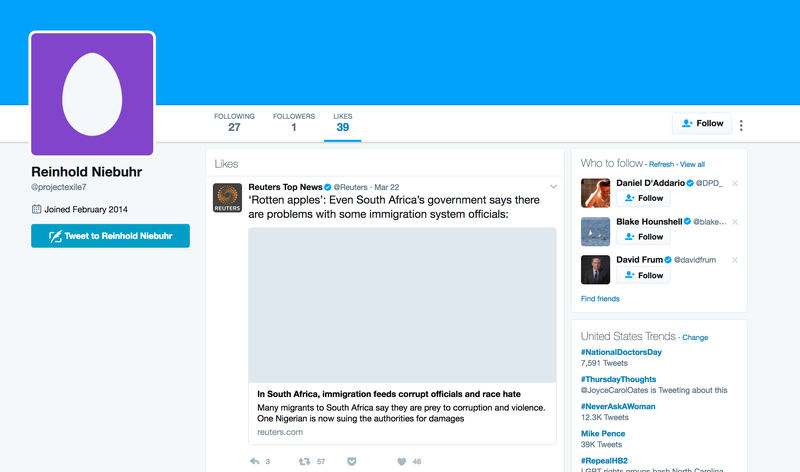 Digital security and its discontents—from Hillary Clinton's emails to ransomware to Tor hacks—is in many ways one of the chief concerns of the contemporary FBI. So it makes sense that the bureau's director, James Comey, would dip his toe into the digital torrent with a Twitter account. It also makes sense, given Comey's high profile, that he would want that Twitter account to be a secret from the world, lest his follows and favs be scrubbed for clues about what the feds are up to. What is somewhat surprising, however, is that it only took me about four hours of sleuthing to find Comey's account, which is not protected.

Last night, at the Intelligence and National Security Alliance leadership dinner, Comey let slip that he has both a secret Twitter and an Instagram account in the course of relating a quick anecdote about one of his daughters.
Fun fact: #FBI director James #Comey is on twitter & apparently on Instagram with nine followers. t.co/lDIFirzVeh

— Kevin Rincon (@KevRincon) March 30, 2017

gizmodo.com/this-is-almost-certainly-james-comey-s-twitter-account-1793843641
Whats done in the dark will be brought into light.
Comey's senior thesis in college was on a philosopher named "reinhold niebuhr".
www.allgov.com/news/appointments-and-resignations/director-of-the-fbi-who-is-james-comey-130610?news=850249