by Ruby Henley
I have been interested in Agenda 21 – 30 for a quiet awhile, and I have questioned how the powers that be would "cull the herd."  In other words how would they remove humanity from their desired "off limits to humans" land areas?  In fact, I live in an area, according to a map, is now a biosphere.  How will they remove me?
How will they put us in "stack cities?"  How will they remove us from these homes and areas of land set aside as strictly for animals and plants?  
The original plan for Agenda 21- now 30 was written by Professor Weishaupt when he founded in 1776 the Order of the Illuminati; actually a fascist Nazi organization, which employs as their frontmen, government leaders, being their visible acting puppet.  Most of our 'elected leaders sold their soul to the satanic bosses to keep them hidden from the public. Those leaders that commit treason or resign are disciplinary penalized by premature death.
What are some of the actions that those, who are Agenda 21 – 30, are committed to?
The creation of racism offences,

Continual change to create confusion,

The undermining of schools and teachers' authority,

The teaching of sex and homosexuality to children,

Huge immigration to destroy national identity,

The promotion of excessive drinking,

The promotion of drugs abuse,

Emptying of churches – undermining any form of social cohesion,

Legal system with bias against victims of crime,

Dependency on the government or government benefits – and erasing these as is happening now,

Control and dumping down of the media,

Encouraging the breaking down of the family,

Depopulation – removing humans from certain land masses – the creation of "stack cities."
I would like to name one person, whom most of us are very familiar with, as he has been in the news for some time now:  John Podesta.  Podesta, founder of the George Soros-funded Center for American Progress and a member of the elitist Trilateral Commission, went to work for Obama as a senior policy consultant on climate change. A liberal Catholic, he has been a professor at Georgetown Law School. One of the leaked emails shows Podesta saying that he applauds the work of Pope Francis on climate change and that "all my Jesuit friends say the Pope is the real deal."
Podesta was picked by U.N. Secretary-General Ban Ki-moon to be a member of the "high-level panel" of "eminent persons" planning the future of the globe. This so-called "High Level Panel on the Post-2015 Development Agenda" released an 81-page report titled, "A New Global Partnership: Eradicate Poverty and Transform Economies through Sustainable Development."
"In simplest terms," explains Patrick Wood, author of Technocracy Rising: The Trojan Horse of Global Transformation, "Sustainable Development is a replacement economic system for capitalism and free enterprise. It is a system based on resource allocation and usage rather than on supply and demand and free economic market forces."
In this context, Wood argues that the major significance of the transfer of the Internet Corporation for Assigned Names and Numbers (ICANN) is not the immediate need by the U.N. or some countries to censor websites, but to generate revenue for global purposes. ICANN will do this, he argues, through management of the so-called Internet of Things (IoT), the links between the Internet and networks, electronic devices and embedded technology with IP addresses. "IoT are the connections between inanimate objects and the humans that depend upon them," he notes. To accomplish this, ICANN has devised a new IP numbering system called IPV6, described as the "vital expansion" of the Internet.
"In terms of 'follow the money,' IoT is expected to generate upwards of $3 trillion by 2025 and is growing at a rate of at least 30 percent per year," Wood argues. "In other words, it is a huge market and money is flying everywhere. If the UN can figure out a way to tax this market, and they will, it will provide a windfall of income and perhaps enough to make it self-perpetuating."
He adds, "Congress never understood this when they passively let Obama fail to renew our contract with ICANN. However, Obama and his globalist handlers understood it perfectly well, which makes the deception and treachery of it even worse."
Before we go any further,  I would like to give you a list of patents on weather manipulation which currently exist. thesiriusreport.com/technology/list-us-patents-related-weather-modification/
0462795 – July 16, 1891 – Method Of Producing Rain-Fall

1103490 – August 6, 1913 – Rain-Maker

1225521 – September 4, 1915 – Protecting From Poisonous Gas In Warfare

1338343 – April 27, 1920 – Process And Apparatus For The Production of Intense Artificial Clouds, Fogs, or Mists

1619183 – March 1, 1927 – Process of Producing Smoke Clouds From Moving Aircraft

1665267 – April 10, 1928 – Process of Producing Artificial Fogs

1892132 – December 27, 1932 – Atomizing Attachment For Airplane Engine Exhausts

1928963 – October 3, 1933 – Electrical System And Method

1957075 – May 1, 1934 – Airplane Spray Equipment

2097581 – November 2, 1937 – Electric Stream Generator – Referenced in 3990987

2409201 – October 15, 1946 – Smoke Producing Mixture

2476171 – July 18, 1945 – Smoke Screen Generator

2480967 – September 6, 1949 – Aerial Discharge Device

2550324 – April 24, 1951 – Process For Controlling Weather

2582678 – June 15, 1952 – Material Disseminating Apparatus For Airplanes

2614083 – October 14, 1952 – Metal Chloride Screening Smoke Mixture

2633455 – March 31, 1953 – Smoke Generator

2688069 – August 31, 1954 – Steam Generator – Referenced in 3990987

2721495 – October 25, 1955 – Method And Apparatus For Detecting Minute Crystal Forming Particles Suspended in a Gaseous Atmosphere

2730402 – January 10, 1956 – Controllable Dispersal Device

2801322 – July 30, 1957 – Decomposition Chamber for Monopropellant Fuel – Referenced in 3990987

2881335 – April 7, 1959 – Generation of Electrical Fields

2908442 – October 13, 1959 – Method For Dispersing Natural Atmospheric Fogs And Clouds

2986360 – May 30, 1962 – Aerial Insecticide Dusting Device

2963975 – December 13, 1960 – Cloud Seeding Carbon Dioxide Bullet

3126155 – March 24, 1964 – Silver Iodide Cloud Seeding Generator

3127107 – March 31, 1964 – Generation of Ice-Nucleating Crystals

3131131 – April 28, 1964 – Electrostatic Mixing in Microbial Conversions

3174150 – March 16, 1965 – Self-Focusing Antenna System

3234357 – February 8, 1966 – Electrically Heated Smoke Producing Device

3274035 – September 20, 1966 – Metallic Composition For Production of Hydroscopic Smoke

3300721 – January 24, 1967 – Means For Communication Through a Layer of Ionized Gases

3313487 – April 11, 1967 – Cloud Seeding Apparatus

3338476 – August 29, 1967 – Heating Device For Use With Aerosol Containers

3410489 – November 12, 1968 – Automatically Adjustable Airfoil Spray System With Pump

3429507 – February 25, 1969 – Rainmaker

3432208 – November 7, 1967 – Fluidized Particle Dispenser

3441214 – April 29, 1969 – Method And Apparatus For Seeding Clouds

3445844 – May 20, 1969 – Trapped Electromagnetic Radiation Communications System

3456880 – July 22, 1969 – Method Of Producing Precipitation From The Atmosphere

3518670 June 30, 1970 – Artificial Ion Cloud

3534906 – October 20, 1970 – Control of Atmospheric Particles

3545677 – December 8, 1970 – Method of Cloud Seeding

3564253 – February 16, 1971 – System And Method For Irradiation Of Planet Surface Areas

3587966 – June 28, 1971 – Freezing Nucleation

3601312 – August 24, 1971 – Methods of Increasing The Likelihood oF Precipitation By The Artificial Introduction Of Sea Water Vapor Into The Atmosphere Winward Of An Air Lift Region

3608810 – September 28, 1971 – Methods of Treating Atmospheric Conditions

3608820– September 20, 1971 – Treatment of Atmospheric Conditions by Intermittent Dispensing of Materials Therein

3613992 – October 19, 1971 – Weather Modification Method

3630950 – December 28, 1971 – Combustible Compositions For Generating Aerosols, Particularly Suitable For Cloud Modification And Weather Control And Aerosolization Process

USRE29142 – May 22, 1973 – Combustible compositions for generating aerosols, particularly suitable for cloud modification and weather control and aerosolization process

3659785 – December 8, 1971 – Weather Modification Utilizing Microencapsulated Material

3666176 – March 3, 1972 – Solar Temperature Inversion Device

3677840 – July 18, 1972 – Pyrotechnics Comprising Oxide of Silver For Weather Modification Use

3722183 – March 27, 1973 – Device For Clearing Impurities From The Atmosphere

3769107 – October 30, 1973 – Pyrotechnic Composition For Generating Lead Based Smoke

3784099 – January 8, 1974 – Air Pollution Control Method

3785557 – January 15, 1974 – Cloud Seeding System

3795626 – March 5, 1974 – Weather Modification Process

3808595 – April 30, 1974 – Chaff Dispensing System

3813875 – June 4, 1974 – Rocket Having Barium Release System to Create Ion Clouds In The Upper Atmosphere

3835059 – September 10, 1974 – Methods of Generating Ice Nuclei Smoke Particles For Weather Modification And Apparatus Therefore

3835293 – September 10, 1974 – Electrical Heating Apparatus For Generating Super Heated Vapors

3877642 – April 15, 1975 – Freezing Nucleant

3882393 – May 6, 1975 – Communications System Utilizing Modulation of The Characteristic Polarization of The Ionosphere

3896993 – July 29, 1975 – Process For Local Modification of Fog And Clouds For Triggering Their Precipitation And For Hindering The Development of Hail Producing Clouds

3899129 – August 12, 1975 – Apparatus for generating ice nuclei smoke particles for weather modification

3899144 – August 12, 1975 – Powder contrail generation

3940059 – February 24, 1976 – Method For Fog Dispersion

3940060 – February 24, 1976 – Vortex Ring Generator

3990987 – November 9, 1976 – Smoke generator

3992628 – November 16, 1976 – Countermeasure system for laser radiation

3994437 – November 30, 1976 – Broadcast dissemination of trace quantities of biologically active chemicals

4042196 – August 16, 1977 – Method and apparatus for triggering a substantial change in earth characteristics and measuring earth changes

RE29,142 – February 22, 1977 – Combustible compositions for generating aerosols, particularly suitable for cloud modification and weather control and aerosolization process

4035726 – July 12, 1977 – Method of controlling and/or improving high-latitude and other communications or radio wave surveillance systems by partial control of radio wave et al

4096005 – June 20, 1978 – Pyrotechnic Cloud Seeding Composition

4129252 – December 12, 1978 – Method and apparatus for production of seeding materials

4141274 – February 27, 1979 – Weather modification automatic cartridge dispenser

4167008 – September 4, 1979 – Fluid bed chaff dispenser

4347284 – August 31, 1982 – White cover sheet material capable of reflecting ultraviolet rays

4362271 – December 7, 1982 – Procedure for the artificial modification of atmospheric precipitation as well as compounds with a dimethyl sulfoxide base for use in carrying out said procedure

4402480 – September 6, 1983 – Atmosphere modification satellite

4412654 – November 1, 1983 – Laminar microjet atomizer and method of aerial spraying of liquids

4415265 – November 15, 1983 – Method and apparatus for aerosol particle absorption spectroscopy

4470544 – September 11, 1984 – Method of and Means for weather modification

4475927 – October 9, 1984 – Bipolar Fog Abatement System

4600147 – July 15, 1986 – Liquid propane generator for cloud seeding apparatus

4633714 – January 6, 1987 – Aerosol particle charge and size analyzer

4643355 – February 17, 1987 – Method and apparatus for modification of climatic conditions

4653690 – March 31, 1987 – Method of producing cumulus clouds

4684063 – August 4, 1987 – Particulates generation and removal

4686605 – August 11, 1987 – HAARP Patent / EASTLUND PATENT – Method and apparatus for altering a region in the earth's atmosphere, ionosphere, and/or magnetosphere

4704942 – November 10, 1987 – Charged Aerosol

4712155 – December 8, 1987 – Method and apparatus for creating an artificial electron cyclotron heating region of plasma

4744919 – May 17, 1988 – Method of dispersing particulate aerosol tracer

4766725 – August 30, 1988 – Method of suppressing formation of contrails and solution therefor

4829838 – May 16, 1989 – Method and apparatus for the measurement of the size of particles entrained in a gas

4836086 – June 6, 1989 – Apparatus and method for the mixing and diffusion of warm and cold air for dissolving fog

4873928 – October 17, 1989 – Nuclear-sized explosions without radiation

4948257 – August 14, 1990 – Laser optical measuring device and method for stabilizing fringe pattern spacing

1338343– August 14, 1990 – Process and Apparatus for the production of intense artificial Fog

4999637 – March 12, 1991 – Creation of artificial ionization clouds above the earth

5003186 – March 26, 1991 – Stratospheric Welsbach seeding for reduction of global warming

5005355 – April 9, 1991 – Method of suppressing formation of contrails and solution therefor

5038664 – August 13, 1991 – Method for producing a shell of relativistic particles at an altitude above the earths surface

5041760 – August 20, 1991 – Method and apparatus for generating and utilizing a compound plasma configuration

5041834 – August 20, 1991 – Artificial ionospheric mirror composed of a plasma layer which can be tilted

5056357 – October 15, 1991- Acoustic method for measuring properties of a mobile medium

5059909 – October 22, 1991 – Determination of particle size and electrical charge

5104069 – April 14, 1992 – Apparatus and method for ejecting matter from an aircraft

5110502 – May 5, 1992 – Method of suppressing formation of contrails and solution therefor

5156802 – October 20, 1992 – Inspection of fuel particles with acoustics

5174498 – December 29, 1992 – Cloud Seeding

5148173 – September 15, 1992 – Millimeter wave screening cloud and method

5242820 – September 7, 1993 – Army Mycoplasma Patent Patent

5245290 – September 14, 1993 – Device for determining the size and charge of colloidal particles by measuring electroacoustic effect

5286979 – February 15, 1994 – Process for absorbing ultraviolet radiation using dispersed melanin

5296910 – March 22, 1994 – Method and apparatus for particle analysis

5327222 – July 5, 1994 – Displacement information detecting apparatus

5357865 – October 25, 1994 – Method of cloud seeding

5360162 – November 1, 1994 – Method and composition for precipitation of atmospheric water

5383024 – January 17, 1995 – Optical wet steam monitor

5425413 – June 20, 1995 – Method to hinder the formation and to break-up overhead atmospheric inversions, enhance ground level air circulation and improve urban air quality

5434667 – July 18, 1995 – Characterization of particles by modulated dynamic light scattering

5441200 – August 15, 1995 – Tropical cyclone disruption

5486900 – January 23, 1996 – Measuring device for amount of charge of toner and image forming apparatus having the measuring device

5556029 – September 17, 1996 – Method of hydrometeor dissipation (clouds)

5628455 – May 13, 1997 – Method and apparatus for modification of supercooled fog

5631414 – May 20, 1997 – Method and device for remote diagnostics of ocean-atmosphere system state

5639441 – June 17, 1997 – Methods for fine particle formation

5762298 – June 9, 1998 – Use of artificial satellites in earth orbits adaptively to modify the effect that solar radiation would otherwise have on earth's weather

5800481 – September 1, 1998 – Thermal excitation of sensory resonances

5912396 – June 15, 1999 – System and method for remediation of selected atmospheric conditions

5922976 – July 13, 1999 – Method of measuring aerosol particles using automated mobility-classified aerosol detector

5949001 – September 7, 1999 – Method for aerodynamic particle size analysis

5984239 – November 16, 1999 – Weather modification by artificial satellite

6025402 – February 15, 2000 – Chemical composition for effectuating a reduction of visibility obscuration, and a detoxifixation of fumes and chemical fogs in spaces of fire origin

6030506 – February 29, 2000 – Preparation of independently generated highly reactive chemical species

6034073 – March 7, 2000 – Solvent detergent emulsions having antiviral activity

6045089 – April 4, 2000 – Solar-powered airplane

6056203 – May 2, 2000 – Method and apparatus for modifying supercooled clouds

6110590 – August 29, 2000 – Synthetically spun silk nanofibers and a process for making the same

6263744 – July 24, 2001 – Automated mobility-classified-aerosol detector

6281972 – August 28, 2001 – Method and apparatus for measuring particle-size distribution

6315213 – November 13, 2001 – Method of modifying weather

6382526 – May 7, 2002 – Process and apparatus for the production of nanofibers

6408704 – June 25, 2002 – Aerodynamic particle size analysis method and apparatus

6412416 – July 2, 2002 – Propellant-based aerosol generation devices and method

6520425 – February 18, 2003 – Process and apparatus for the production of nanofibers

6539812 – April 1, 2003 – System for measuring the flow-rate of a gas by means of ultrasound

6553849 – April 29, 2003 – Electrodynamic particle size analyzer

6569393 – May 27, 2003 – Method And Device For Cleaning The Atmosphere

0056705 A1 – March 17, 2005 – Weather Modification by Royal Rainmaking Technology

6890497 – May 10, 2005 – Method For Extracting And Sequestering Carbon Dioxide

7965488 – November 9, 2007 – Methods Of Removing Aerosols From The Atmosphere

8048309 –  August 28, 2008 – Seawater-Based Carbon Dioxide Disposal

8012453 – October 27, 2008 – Carbon Sequestration And Production Of Hydrogen And Hydride

7645326 – January 12, 2010 – RFID environmental manipulation

7655193 – February 2, 2010 – Apparatus For Extracting And Sequestering Carbon Dioxide

8079545 – December 20, 2011 – Ground based Manipulation and Control of Aerial Vehicle during nonflying operations

0117003 – October 5, 2012 – Geoengineering Method Of Business Using Carbon Counterbalance Credits – alternate link

8373962 – February 12, 2013 – Charged seed cloud as a method for increasing particle collisions and for scavenging airborne biological agents and other contaminants
And there are more, but the above are a few.  It is a very real fact that weather manipulation and chemtrails are legitimate in this day and age.  They are a tool for Agenda 21 – 30, and at this time in 2017, they are being used in full force.
Unfortunately today too many people are too complacent and ignorant to the many warnings that are visible all around them. They still think that authorities are taking care of them, so, above view would be impossible and consequently are dismissed as conspiracy.
Since the massive flooding from Hurricane Harvey in Texas, most people do believe we are living in monumental times of "climate change or global warming being caused by the carbon footprints of humans."  Yes, these are monumental times, but it is not because of "human carbon footprints."  It is because the global elite have given rise to the "beast system." And they now have forms of control over the masses never seen before.
What do I mean when I say the "beast system?"  I ask you to consider what Lucifer/Satan did to God, the Father/Creator?  He was God's creation; instead of loving and supporting God,  Lucifer began to compete with God for control over God's creation.  He thought he could do better, and he became the opposite of God.  He became the "beast" of darkness and evil manipulation.  Jesus Christ was sent here as the "son of God" to show human beings the truth and the light.  Basically to unlock the prison gates of earth to allow humans, who chose to trust and accept Christ, to escape this "beast" system.
Those, who belong to the beast system have chosen Lucifer over God, and they are Luciferians or Satanists.  They seek to dominate and steal the power of other human beings, and they use innocent children in ways that define the most powerful tool of Lucifer.  To destroy the soul of an innocent child is the worst evil man can do.  It is an act, which has spread like an epidemic, although it has always been performed by those practicing Satanism.  The bottom line is those who practice Satanism seek control over earth and her children.  We must fight back.
We are seeing in this present time, the worst mass shooting in history, the worst hurricane in history, and the worst fires in history.  Some ask how could God do this to us?  I say "the beast system has risen."
Just how high up does Agenda 21-30 go?  The Pope gave his of approval for Agenda 2030. He is probably the most politically powerful religious leader on the entire planet, and so his endorsement is huge, because hundreds of millions of people follow him. However, the Pope has allowed the beast system to climb the Vatican walls! The 2030 Agenda is a tool that the elite plan to use to push us toward a one-world system, to be implemented not later than by the year 2030.  
The UN says that this new Agenda is "voluntary", and yet virtually every single-puppet-nation on the entire planet is willingly signing up for it. In the official document that all of these nations are agreeing to, there are 17 sustainable development goals and 169 very specific sustainable development targets. The program is being shrouded in deceit; who wouldn't want to end global poverty? But look deeper into what the UN is trying to do; hopefully you will be able to see through the smoke and shadows.
www.paulmcguire.us/nwv092815.html  Paul McGuire writes in his book, writes in his new book "The Babylon Code:"
"The UN is not asking permission, but issuing a command that the entire planet will commit to 17 sustainable development goals and 169 sustainable development targets designed to radically transform our world by 2030. The UN 2030 plan promoted by the Pope will advance Agenda 21 on steroids. Through a controlled media the mass populations will be told that this is all about saving the environment and "ending poverty." But that is not the true agenda of Agenda 21. The true agenda of Agenda 21 is to establish a global government, global economic system, and global religion. When UN Secretary General Ban Ki-Moon spoke of "a dream of a world of peace and dignity for all" this is no different than when the Communists promised the people a "workers paradise."
Remember we were warned by God of the "great deception."  Discern carefully, for now is the time.
Here is the newest map for Agenda 30:  www.chemtrailplanet.com/Agenda21Info.html


The following is a new video on Agenda 2030:
www.youtube.com/watch?time_continue=8&v=fYfxk_-RTRQ
www.america2050.org/content/megaregions.html#more
"As metropolitan regions continued to expand throughout the second half of the 20th century their boundaries began to blur, creating a new scale of geography now known as the megaregion. Interlocking economic systems, shared natural resources and ecosystems, and common transportation systems link these population centers together. As continued population growth and low density settlement patterns place increasing pressure on these systems, there is greater impetus to coordinate policy at this expanded scale.
Most of the nation's rapid population growth, and an even larger share of its economic expansion, is expected to occur in 11 megaregions: large networks of metropolitan regions, each megaregion covering thousands of square miles and located in every part of the country.  
The megaregions of the United States are defined by layers of relationships that together define a common interest; this common interest, in turn, forms the basis for policy decisions. The five major categories of relationships that define megaregions are:
   Environmental systems and topography

   Infrastructure systems

   Economic linkages

   Settlement patterns and land use

   Shared culture and history
While every megaregion may not share every one of these characteristics, the possession of several indicates a stronger and more cohesive megaregion. For instance, the Northeast Megalopolis, identified as early as 1961 by geographer Jean Gottman, is defined by relationships in each of these categories and, accordingly, is one of the strongest and most easily recognizable megaregions. "
Let's talk about the latest wildfires in California and what some saw in the sky:  lasers striking the land.

www.youtube.com/watch?v=D2-NaTaWnRw
www.pressdemocrat.com/news/7572376-181/fire-scorched-fountaingrove-in-santa-rosa?artslide=0
"I hesitate to even suggest this," said Sonoma County Supervisor Susan Gorin, a former Fountaingrove resident who lost her Oakmont home in the Nuns fire to the south. "But many people are starting to say, why are we — and this is in the city's realm — why are we thinking about permitting the rebuilding of Fountaingrove?"
Next we must talk about weather manipulation, and how authentic it is. There may be some of you, who do not believe this. When you view the materials at
climateviewer.com/2014/03/26/cloud-ionization-electric-rainmaking-laser-guided-weather-modification/, you will no longer doubt the legitimacy of weather manipulation.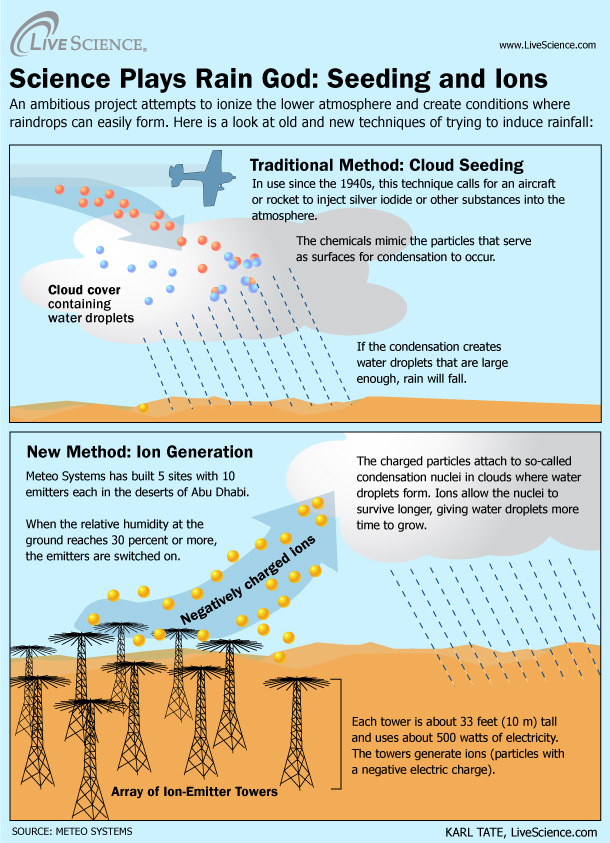 Cloud seeding via ionization technology is highly controversial. When Meteo Systems deployed their WeatherTec system in Abu Dhabi and claimed to make it rain 50 times in the desert, this statement caught the ear of the World Meteorological Organization's Expert Team on Weather Modification, who convened a meeting March 22-24, 2010. Their conclusion: don't believe the hype.  Yeah, right, one had better wake up and understand reality.


www.meteo-systems.com/index.php
"Meteo Systems International AG ("Meteo") is a privately owned Swiss-based technology company incorporated in Zug, Switzerland.  Meteo is focused on providing a rain enhancement service to increase the supply of fresh water in arid regions of the world.  Meteo's main shareholder is Sindicatum Sustainable Resources, a developer, owner and operator of clean energy projects worldwide and producer of sustainable resources from natural products and waste.
Meteo was founded in 2004 and since then has acquired, further developed and tested technologies that meteorological scientists have been studying for many years to enhance natural precipitation.  Various trials have been carried out in Switzerland, Australia and most recently in Abu Dhabi.
As a result of these trials and years of research, under the right meteorological conditions Meteo sees potential for its WeatherTec™ technology to enhance rainfall.  Meteo is now ready to work with select partners to commercialize its technology while continuing to build the empirical body of evidence that supports the technology."
So as you can see the ability to control the weather does exist, as does the reality of Agenda 21 – 30.  Prepare yourselves, as we fight the "beast system."  Pray for discernment, as the root goal is depopulation of this planet.  The elite want our resources to themselves, as they make their plans for "sustainable development."  Don't be fooled by the words they use, as I hope I have provided enough information in this report that you will be able to read between the lines.


Views: