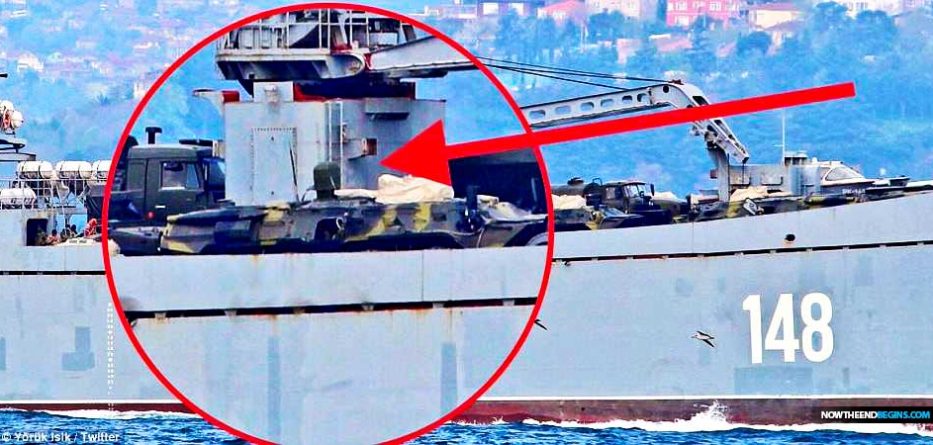 TWO RUSSIAN WARSHIPS LADEN WITH MILITARY VEHICLES HAVE BEEN SPOTTED EN ROUTE TO SYRIA AFTER FRIDAY'S US-LED AIRSTRIKES OBLITERATED THREE SUSPECTED CHEMICAL WEAPONS SITES.
EDITOR'S NOTE: For the past 48 hours, the geopolitical world has been wondering what sort of response Putin was going to have to Friday night's missile attack on Syrian chemical weapons production by Allied forces. Warship and enormous cargo ships filled with Russian military equipment are at this moment steaming towards Syria. Putin has not said exactly what he plans on doing, other than promises  to "respond with consequences" in a meaningful way. But it looks like he's getting ready to respond. 
An Alligator-landing ship was pictured cruising down The Bosphorus on Sunday as the world awaits Vladimir Putin's response to this week's co-ordinated military action against Syria.  The vessel was spotted on its way to the Russian naval base at Tartus on the north Syrian coast.
On its fourth deployment of Russian military equipment to the war-torn country the ship was seen laden with tanks, trucks, ambulances and an IED radar.
A yellow RoRo Alexandr Tkachenko was also pictured heading for Tartus carrying high-speed patrol boats, a temporary bridge structure and several trucks. The images were posted on social media by Bosphorus-based naval observer Yörük Işık.
They come in wake of Friday's US-led campaign against Bashar al-Assad's regime and a chemical weapons attack that brutally murdered 75 civilians.
The blue Project 117 LST Orsk 148 ship was carrying Soviet BTR-80 tanks, Ramaz trucks and a Pelena-1 bomb radar, used to detect IEDs. A second yellow cargo vessel was equipped with a BMK-T boat used for building temporary bridges and an array of other military hardware.
The Russian warships approaching Syria come after the United States outlined new economic sanctions in response to Moscow's continued support of Assad's regime in Syria.
NIKKI HALEY, US AMBASSADOR TO THE UNITED NATIONS, SAID MEASURES TO BE IMPOSED ON MONDAY WILL SEND A MESSAGE TO RUSSIA AFTER IT BLOCKED SIX UN ATTEMPTS TO INVESTIGATE ITS USE OF CHEMICAL WEAPONS.
In Washington President Donald Trump stood by his comments that the strikes he commanded were a 'mission accomplished' after he was slated for repeating George W Bush's controversial use of the phrase during the Iraq war.
Meanwhile French President Emmanuel Macron today insisted the allied forces had not 'declared war' on Syria.
He told a French TV station: 'We have not declared war on the regime of Bashar al-Assad.' During the two-hour interview he also claimed he had 'convinced' Trump to maintain a military presence in Syria after the US leader threatened to pull out of the country entirely.
It emerged that Trump called Mr Macron twice before he shared his intention to strike Syria in a Twitter post. But he failed to call UK Prime Minister Theresa May in the early stages of the operation, giving the French leader the opportunity to claim France is America's leading ally in Europe.
Vladimir Putin condemned Friday's strikes as an 'act of aggression' that will worsen the humanitarian catastrophe in Syria and have a 'destructive influence on the entire system of international relations.
But Trump has vowed to carry out more if Bashar al-Assad's regime dares to use chemical weapons again.
UK Foreign Secretary Boris Johnson today defended Britain's decision to stand up to 'barbarism' amid criticism of Mrs May for agreeing to the strike without a vote in the House of Commons. Mr Johnson said failure to respond to Assad's use of illegal chemical weapons against his own people would have undermined 'civilised values'.
He said 'so far, thank heavens, the Assad regime has not been so foolish to launch another chemical weapons attack,' adding that Britain and its allies 'would study what the options were' in the event of another attack.
But amid fears of revenge attacks by Russia and criticism of Theresa May for acting without a Commons vote, Mr Johnson stressed there was no intention of getting more deeply involved in the Syrian civil war.
Concerns have been raised that a cyber backlash could see vital services including water supplies, gas networks, banks, hospitals and air traffic control affected. source
829 views