by Ruby Henley
There are so many issues to examine in the Las Vegas massacre, one is not able to do this quickly.  Thus, I am doing a series of reports, and clearly I will not allow trolls to stop me.  I will again give legitimate news sources, but I am surprised to see that one source, which I planned to use has abruptly deleted their story.  However, thanks to some users on 4 chan, it was archived!
What I am reporting will be listed as "conspiracy" as that is the mode The Powers That Be are using to suppress legitimate questions on the Las Vegas massacre.  Yet, there are more witnesses coming forward daily to tell their stories of what happened on that horrific night of terror.
I do believe that there was more than one shooter, as there are too many witnesses supporting that theory.  Further there are many videos appearing daily which support that theory, and frankly I have not seen one debunked.  How can you debunk an eyewitness video made by someone in the midst of that attack?  It is plainly an act of terror those victims experienced on October 1, 2017 up and down the Vegas Strip.
The brave men and women of the Las Vegas Police Department and the First Responders were also terrorized by the shooters.  All one has to do is listen to the real-time audio recording made during their chaotic experience.  Apparently some are questioning the validity of that piece of evidence.

A YouTube channel I trust and respect has put out a video which is explains the censorship of the material in the Las Vegas massacre.  
SILENCED – YouTube Strikes AGAIN As Sin City Cries For An Exorcism by Victurus Libertas VL  
Published on Oct 10, 2017
www.youtube.com/watch?v=hv2WnlK_mNo
www.bitchute.com/video/mkgb6Yy6OD8/
Libertas VL is now listing many of his works at www.bitchute.com.

An article which has gone largely unreported I would like to discuss was actually deleted from the original website.  However, it has been archived.  The original article was reported here:  www.kitv.com/.  However, the archived piece is at web.archive.org/web/20171003084931/http://www.kitv.com/story/36505487/hawaii-native-parked-shooters-car
The topic is concerning a young valet, who worked at the Mandalay Hotel, who greeted Stephen Paddock the day he registered into the Hotel.  This is the story:
Hawaii native parked shooter's car Posted: Oct 03, 2017 12:04 AM EDT Updated: Oct 03, 2017 12:04 AM EDT By Moanike'ala Nabarro  QUOTE:
A Kamehameha graduate working as a valet at the Mandalay Bay Resort said he parked the shooter's car on Saturday. The gunman, 64-year-old Stephen Paddock, checked his car into the hotel on Saturday morning.
Valet Chad Nishimura, who is from Mililani, said he spoke briefly with Paddock.
"Just in shock, really. It's scary to know that I was close to someone that was that dangerous. I would've never thought. He seemed like a normal guy. When he came in, nothing too weird about him. He didn't have any crazy bags with him that I can remember. We are a convention hotel so we have a bunch of people that have boxes and multiple carts worth of stuff. There's nothing weird that I can remember," Nishimura said.
Nishimura and hundreds of employees at Mandalay Bay are cooperating with FBI agents as investigations continue.  
A number of people from Hawaii were at Sunday night's concert or nearby. Social media helped connect family and friends worried about their loved ones.
Tara Spangler, originally from Pa'ia Maui, was working close to the concert venue, at the Hooter's Casino.
She posted on her Facebook page that she was safe but said shooting victims fleeing the concert, swarmed into the casino.
"You can just see towels of blood everywhere and people walking past and they have like blood spots on their shirts and even on their face. I remember asking a girl, 'Hey are you OK?' Because she was just covered in blood and she said, 'Yeah, (she was shaking) and said this is not my blood,'" Spangler said.  
Spangler said they could hear bullets firing in the distance. Fearing for her own life, she hid inside a closet. END OF QUOTE
@KITV4 why did you delete the story about the shooters valet??????

— Radical Larry™ (@McMoody17) October 6, 2017

Nishimura cannot be reached, and it seems his social media accounts no longer exist.  One of the missing pieces in the Paddock story is how could he have taken all the weapons up to his room undetected?  That is why this story is so important.

Another story which has been snubbed was broken by investigative reporter, Laura Loomer.  She has done groundbreaking research on the Las Vegas massacre.  
gotnews.com/breaking-lauraloomer-pokes-another-hole-fbis-las-vegas-narrative/  QUOTE:
Loomer, who recently exposed several inconsistencies in the FBI and Las Vegas Metropolitan Police Department's public communications regarding the deadliest shooting in American history, is now challenging another aspect of the official narrative. The former Project Veritas operative has obtained a copy of the last parking garage receipt for Mandalay Bay's valet service on Paddock's van:  END OF QUOTE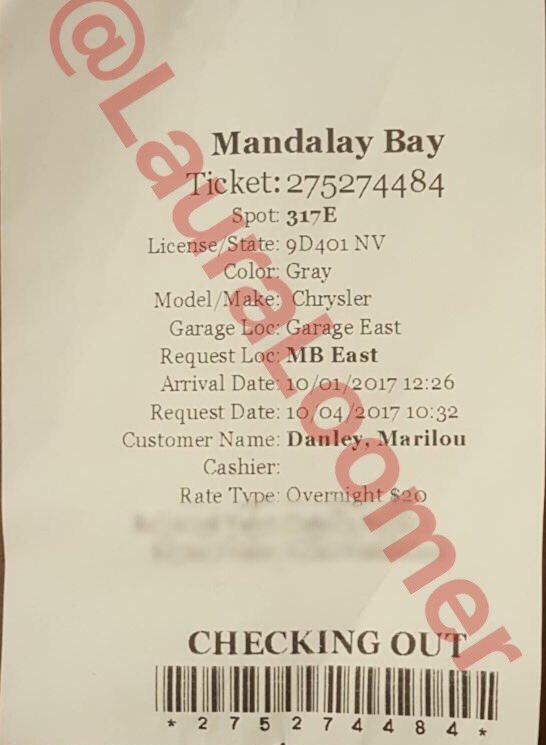 If you question the validity of this story, then prove it is false and the receipt is fake.

Now lets go into some of the videos taken by those on the Vegas Strip at the time of the attack of terror.
www.youtube.com/watch?v=ltgVTVtz4NM
Gio Rios – Las Vegas Eyewitness Report of Multiple Shooters at the Tropicana and NyNy
Gio Rios and his girlfriend were in the front during the music festival. He reported similar testimony to Kymberley Suchomel.
churchmousec.wordpress.com/2017/10/19/mandalay-bay-massacre-what-witnesses-saw/ QUOTE:
Rios and his girlfriend mustered all their adrenaline to keep on the run for four hours, three of which were spent hiding in a dumpster covering themselves with cardboard. When they were running, they ran then ducked to the ground. He said it was exhausting. His girlfriend, naturally, found it hard to keep up but she did.
Rios emphasises that the bullets they experienced that night were coming from a horizontal, not an angled, direction. So, gunmen were shooting directly at people. This wasn't coming from the 32nd floor of the Mandalay.
Furthermore, gunfire was all over the area, wherever they went in the immediate aftermath.
They went to the Tropicana, where they were told to go into the casino. Rios wisely did not want to be around crowds but wanted a quick escape route where they could not be seen and could move relatively easily. Just after a man with a suitcase — he thinks a gun case — told them to go into the casino at the Tropicana, gunfire broke out there (in the casino). Luckily, Rios's wit kept him and his girlfriend from following orders.
They ran past by wounded people, sometimes dead bodies. Women were overcome, and one projectile vomited. There was more gunfire outside once they found a parking garage. A man tried to take Rios's girlfriend by the arm, trying to lead her away. Rios wasn't having that.  A short time later, they found the dumpster, where they hid for three hours, he thinks. They heard a helicopter circling round and round, long after Rios's father sent him a text to say that the gunman had been shot dead.
When everything quietened down, they climbed out of the dumpster and tried to go to their hotel or to the home of Rios's relative. They encountered a policeman. Rios asked if the officer could take them to the relative's home. The officer told them they would have to go to the Tropicana.
There, they were told to go to another floor, walking along a windowed — all glass — hallway to a room where blankets and water were supplied. They stayed there for an hour or so. People from nearby hotels were there. The first allowed to go back to their rooms were those from the Tropicana. Others were released at lengthy intervals to return hotel by hotel.
Once the two were back at their hotel, Rios stayed up to watch what President Donald Trump would say. Rios was deeply disappointed Trump did not call this for what Rios says it was:
a terrorist attack.
I, too, am disappointed that this occurred on Trump's watch, but Trump is also battling the Deep State every day. These black ops — Deep State — operations have been ongoing for decades, getting worse and worse.
Rios gave his testimony by telephone to the FBI. He is still waiting to be called in for an interview. END OF QUOTE

Here is another eye witness report:
LV eyewitness: "I would be completely satisfied with the 1 shooter [narrative] if they just show me the footage."

Survivors want answers. pic.twitter.com/wihrWIthX1

— Laura Loomer (@LauraLoomer) October 15, 2017

The following video is a compilation of different eye witness reports and an in depth bullet analysis. I find it very compelling. I would like to see anyone debunk it.


Published on Oct 6, 2017
Video evidence of multiple gunfire during Route 91 Harvest festival shooting. Recordings and eye witness accounts have placed a gunman at the scene. Combined machine gun fire can be heard in some of the footage confirming two firing positions at the festival. Reload times suggest their may have been another person inside the hotel room cooperating with the shooter in the hotel room. Gunfire from the 32nd floor kept sound echoing as well as blanket fire for the shooter on the ground to open fire. 581 Shots fired from the hotel room in this video. 49-66 Shots were fired near the festival.  
Please share this video for awareness.
My previously uploaded video was just a blinking light from what people are saying: youtu.be/3lW11fLtv8c
Please pray for Las Vegas.
As I conclude this report, I ask anyone, who feels they can debunk any of this to please do so in the following comment section.  However, I ask you to do so respectfully and with links and video to support what you are debunking.  I will not allow trolls to mock my report while not supplying links or video proof of what they are claiming.  "Respectful" is a word I demand to be understood and followed by anyone who comments on my reports.  Respectful debate is always necessary in solving problems and issues within a civil community. When a debate fails to be respectful it always morphs into an attack.  I will not tolerate attacks in the comment section of this report.
2,518 views