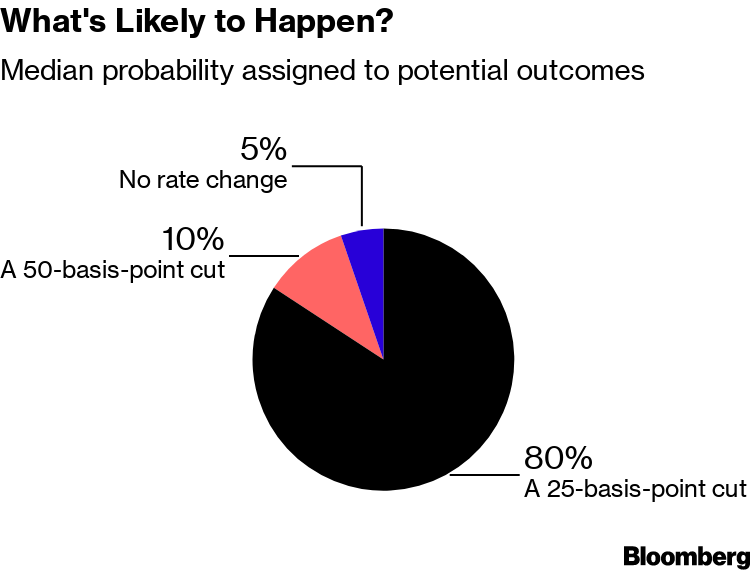 Some Fed watchers predict officials will cut their benchmark by half a percentage point, but the signal is that they will eschew a bigger move in favor of a quarter point reduction. They will likely also leave open the possibility of further action down the road as they seek to sustain the record-long U.S. expansion and kick start inflation.
"While the Fed cutting rates by a quarter point will hardly be a surprise to financial market participants — as it has been well advertised and is priced in with a relatively high probability — the broader question will be how the Fed telegraphs its intentions regarding additional easing," said Carl Riccadonna, chief U.S. economist at Bloomberg Economics. "Policy makers are keen to avoid getting 'bullied' by the markets into more than 50 to 75 basis points of rate reductions."
The Fed isn't the only event with the ability to shape the outlook for the global economy this year.
On Monday, U.S. Trade Representative Robert Lighthizer and Treasury Secretary Steven Mnuchin are set to travel to China for for the first high-level, face-to-face trade negotiations between the world's two biggest economies since talks broke down in May.
Then on Friday, the monthly payrolls report will shed light on whether the Fed's move was necessary. Economists surveyed by Bloomberg predict a 166,000 gain in non-farm jobs in July, slower than the 224,000 of June.
If that's not enough, Bank of Japan policy makers meet on Tuesday amid calls to reinforce their commitment to low rates and Brazil's central bank may cut rates on Wednesday. Thursday sees the release of global manufacturing data amid concerns many industries are already suffering recession.
MORE:
www.bloomberg.com/amp/news/articles/2019-07-28/the-world-economy-s-biggest-week-of-2019-as-fed-prepares-cut
585 views