Global food inflation continues to rise for the fourth consecutive month in November, reaching levels not seen in a decade, led mainly by robust demand for wheat and dairy products, according to a new report via the Food and Agriculture Organization of the United Nations (FAO).
FAO's food price index, which tracks monthly changes in the international prices of food commodities, rose 1.2% to 134.4 in November from October, driven by continued demand for food. The index is up 27.3% YoY.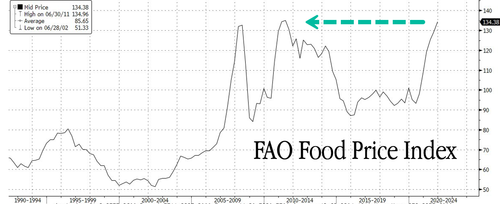 Food prices remain at a decade high and have risen sharply since the beginning of the pandemic, driven by snarled supply chains, harvest setbacks, soaring farm costs, and high demand.
Last month, increases in grains, dairy, and sugar were the primary driver in FAO's food price index. Laggards were meat and vegetable oil.
www.zerohedge.com/commodities/global-food-prices-rise-again-hitting-new-decade-high