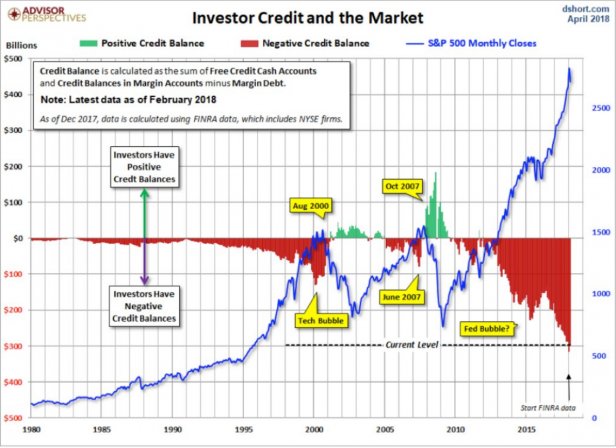 twitter.com/HenrikZeberg/status/1002555553388822528
Corporate debt to GDP is at its high point, all the while the underlying credit rating has continuously deteriorated. Another side affect of easy money. pic.twitter.com/f7vBGkVdiA

— Michael Lebowitz, CFA (@michaellebowitz) May 31, 2018
dshort.com does some of the best work out there! It is a bubble, however as long as job growth and wage growth (very little growth) continue. Bulls will have the ball. Do not get me wrong, this will end badly, but when is the trillion dollar question.
Household #Debt = Highest Level Ever & Rising…
Change vs. Q3:08 = Student +126%…Auto +51%…Mortgage -4%t.co/57r5stFPYY pic.twitter.com/CL1P5Czx42

— THE Crypto Hobbit (@BrianDColwell) June 1, 2018
#StudentLoan #debt is over $1.5 T

🖊You could have spent the YEARLY median #income: $60K every HOUR

📖 which is $1.4 million PER DAY

📕which is $525 million PER YEAR

📗 for 2,850 years since Ancient Greece..

you still wouldn't have spent as much as these "scholars" borrowed pic.twitter.com/ery3R2JHUb

— OW (@OccupyWisdom) June 2, 2018
It's 2007 Again for Commercial Mortgage Bonds, Moody's Says
Commercial mortgage bonds are getting stuffed with the lowest-quality loans since the financial crisis by one measure, according to Moody's Investors Service, a warning sign that the $517 billion market may be headed for harder times.

The securities are backed by as many interest-only mortgages as they were in late 2006 and early 2007, Moody's said. Those loans are riskier because borrowers don't pay any principal early in the debt's life. When that period expires, the property owners are on the hook for much higher payments.

The percentage of interest-only loans in a commercial mortgage bond is an "important bellwether" for the industry, according to Moody's analysts, because the loans are more likely to default and to bring bigger losses to lenders when they do. Underwriters aren't taking steps to fully offset the rising risks, the ratings firm said.

2007 Redux?
Interest-only loans account for a growing percentage of mortgages in CMBS

The riskier debt getting packaged into commercial mortgage bonds mirrors a trend that's infiltrated many corners of the credit markets, from leveraged loans to residential mortgage securities: As investors have flocked to debt investments that seem safe, underwriters have been emboldened to make the instruments riskier and keep yields relatively high by removing or watering down protections.
Contrary to public statements politicians like #debt .. creates short run artificial #economic #growth
Financial institutions get upfront points fees then stand ready for bailouts
As we saw in 2008 cost to average Americans high .. wealthy not so much aka upfront profits
are we having fun yet? pic.twitter.com/2SqFKrarzx

— StockCats (@StockCats) June 1, 2018
opps! pic.twitter.com/JzTyu97o0K

— Alastair Williamson (@StockBoardAsset) June 1, 2018
$DB Deutsche Bank #CDS now wider than #Italy bank Intesa pic.twitter.com/CYzyi0gbL7

— MacroTourist (@Gloeschi) June 2, 2018
7 TRIGGER Events That Could SET OFF the Global Economic Collapse!
All of the debt is just going to accumulate until the pin meets the bubble. Until the trigger is flipped.
Tick, tock. Tick, tock…
What do you think the trigger will be?
Triggers:
Major bank failure (Lehman, Bear Stearns)
INTEREST RATES
Derivatives
Trade issues
OIL
HFT
BLACK SWAN
Real estate
China slowdown
3,216 views